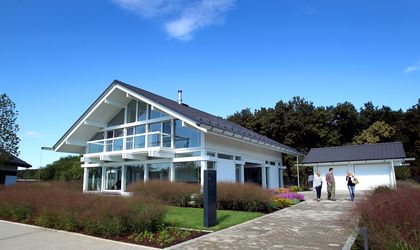 More than 48 hours of assembling, 5 kilometers of cables, 70 reflectors and 500 lightning bulbs, 25 square meters of tent covered with green grass. Over 120 guests. A one star Michelin star Chef. Those were the main coordinates of the event organized by Golin for the launch of the first HUF HAUS houses in Romania, in the residential premium project Dumbrava Vlasiei.
"We were surprised to find out that some of the guests were already following our activity, therefore this event was created in a favorable business context for the company," said  Michael Baumann, sales and marketing director of HUF HAUS.
"The nature plays an important role in the architecture and the design of the HUF HAUS houses and the landscape created by Dumbrava Vlasiei inspired us to propose a concept of secret garden party, through which to monetize the experience offered by the project that is both relaxing and refined," added Theodora Mirea, senior manager at Golin.
The event happened in a tent with the transparent walls that re-created the sensation offered by the Hug Haus houses, with windows that lie from the floor up to the ceiling. The central piece of the evening was the dinner offered by Léa Linster, Chef awarded one Michelin star and the distinction of Maître Cuisinier of Luxemburg, who came for the first time in Romania in order to prepare the menu "al fresco", especially for this occasion.
After the launch event, Golin organized a press conference during which journalists and bloggers were invited to visit the two presentation houses and to find out more about the German company and the residential project Dumbrava Vlasiei.
The HUF HAUS team that handled the launch event comprised Michael Baumann (Sales and Marketing Director) and Ann-Kathrin Laskowski (Marketing & PR), while Dumbrava Vlasiei was represented by Horia Balan (Project Manager). Golin's specialists involved in the project included Theodora Mirea (Senior Manager), Oana Cojocaru (Senior Manager), Simona Lungu (Media Associate), Alexandra Popa (Media Associate), Thedeea Gherlan (Digital Manager), while the BTL team was: Oana Popescu (BTL Manager, MullenLowe) and Mihaela Rotariu (Senior BTL Executive, MullenLowe).
Romanita Oprea