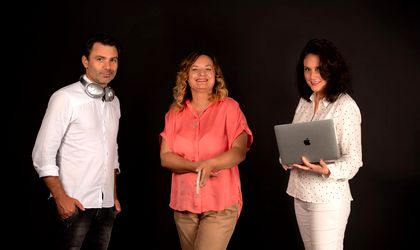 Cognition is the only Romanian agency member of the Neuromarketing Science & Business Association and in defining its digital communication strategies it combines insights, expertise and top-notch technologies, as it owns specialized research tools (GWI Consumer Insights) and digital performance optimization resources.
By Romanita Oprea
Cognition's founding members and partners are Claudia Archip, Alice Gavril and Valentin Văcăruș, Claudia also being the one who will coordinate the agency's activity.
"What differentiates Cognition is the tactical approach of digital as a dynamic ecosystem, in which the brand manifests consistently and coherently while all its needs are being addressed in a synergic manner in all the relevant touchpoints (from brand awareness to sales increase and consumer engagement). We focus on defining an integrated communication strategy and we do not treat projects as one-timers, instead we strive to offer long term sustainable growth to all brands," stated Claudia Archip, Managing Partner Cognition.
Claudia Archip has over 18 years experience in advertising, coordinating the communication for over 100 brands globally, regionally or locally.  Before taking over the managing position within Cognition, she was Operations Director at Hogarth Worldwide Romania.
"I believe in constant development both at a personal and a business level. As such,  Godmother underwent several competences and services development stages through time. We have an extensive experience related to events and creating 360 experiences on site, we have the logistics and know-how for hybrid and online events through PamPam and now, with the launch of Cognition, we add the digital strategy and integrated digital communication components. From now on we can offer complete implementation and communication services for each of the events of our partners," stated Valentin Văcăruș, Managing Director Godmother.
Cognition has an initial team of specialists with extensive experience in various areas, also mirrored by the range of services offered: strategy, concept development, creative content creation/transcreation, UI/UX, art direction & web design, copywriting, social media, influencer marketing, multichannel media strategy & buying, web development, online PR, e-mail marketing and digital events.
Among the clients already in the Cognition portfolio are companies such as: Profi, Novaservis FERRO Group, WebTalk, UTCB, Bioderma, the agency also continuing to manage the digital areas for some of the Godmother clients.