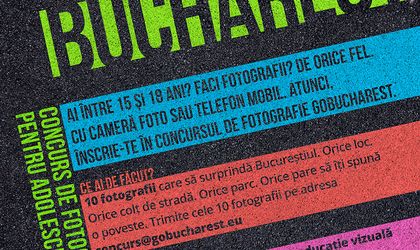 During October 9-31, 111 Film & Entertainment organizes, with the help of the Bucharest School Inspectorate, the second edition of the Visual Education Workshop GoBucharest, targeting teenagers interested in visual arts, cinematography and photography.
The workshop participants will be selected following a photography contest that will take place between September 12 and October 2017. GoBucharest is a cultural project financed during the Bucharest Cultural Program – Participative-City.
Starting September 12 the teenagers with ages between 15 and 19 are invited to submit 10 pictures with Bucharest, as seen through their perspective. The pictures will be send to the address concurs@gobucharest.eu, alongside the full name, age and contact details, until October 2.
Following the photography contest, 20 people will be chosen to take part in an intensive training that will result in 20 short documentary films, having as theme the discovering and interpretation of Bucharest through an artistic and personal perspective. The teenagers will pass through all the stages of realizing a cinematographic production, benefiting from the expertize of some professionals in the cultural world such as the image directors Tudor Lucaciu and Misu Ionescu or the directors Iulia Rugina and Vlad Petri. At the same time, the participants will have at their disposal GoPro cameras, recording and editing their visual creation under the trainers' supervision.
The short films will be created in the visual education workshop with the purpose of capitalizing on the Bucharest's cultural identity, being displayed during a special GoBucharest Gala that will take place at the end of the workshop. The 20 short films created will also be available on the platform www.gobucharest.eu.
Romanita Oprea