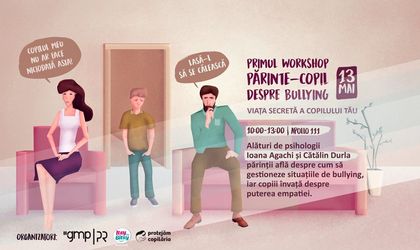 GMP PR agency and Itsy Bitsy radio station have launched the campaign "Viata secreta a copilului tau" (Your child's secret life), an initiative that aims to help the children, the parents and the education system in Romania to fight against bullying and cyberbullying (the harassing through technology), a growing threat around the world for children.
Therefore, the initiative group invites the families with children (5-12 years) on May 13 at the first workshop parent-child supported by psychologists and psychotherapists about bullying and cyberbullying. This meeting will mark the start of the campaign.
Statistics show that 82 percent of the bullying situations took place while the children were in school, according to a study by Children's Phone Association. In Romania, according to a 2017 study published by Save The Children association, one out of three children were humiliated in front of their colleagues and the most affected ones by this emotional and physical abuse were the boys with ages between 9-12 years old.
"The international studies show that in 75 percent of the cases in which people intervened, the bullying stopped. Therefore, the most important role is played by the 'witnesses' of the bullying phenomenon and we will try to address ourselves throughout all the campaign. We are proposing ourselves that until the end of the year we would be able to have a community of parents, children and teachers able to fight with its own forces against the bullying and string enough to intervene when it observes such type of phenomenon," said Ana Maria Diceanu, senior partner at GMP PR.
In addition, according to Brandwatch 2016, 6 out of 10 youngsters will face cyberbullying soon.
"246 million children globally are victims of bullying each year. Romania is, unfortunately, on the cyberbullying's map first place in Europe, with an incidence of 37.3 percent. Even from small ages children have e-mail, Facebook and YouTube accounts. These can be bullying sources. Parents must get involved in their children's online lives and the small one must understand the power of the online words," added Diceanu.
Romanita Oprea