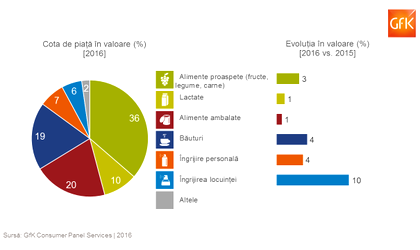 2016 was a good year for the FMCG industry, both for the retailers and the producers. It represented the second year in a row when Romanians had a grown appetite for more expensive products and bigger spending.
The FMCG market grew with 3.4 percent in value compared to 2015. Behind this growth there is also a growth with 3 percent of the bought volumes, as well as the uptrading phenomenon (the orientations of the consumers towards the superior products from the price point of view). Unlike the last year, the uptrading was found both in the modern commerce and the traditional one. This phenomenon determined nationally a rise in the premium brands' procentual point, in the detriment of the other price categories.
Romanians are buying rarely FMCG current goods but are spending more on the buying act. The reducing of the frequency with whom the people are going shopping is seen exclusively to the categories of fresh food, while the household keeping products frequency grew.
Two thirds of the spending went to food
Among the current goods using, the food category products continues to dominate the Romanians' spending and cumulates 66 percent.
The highest growth rhythm was seen at the household keeping products, beverages and personal care products. Still. If we look at the dimension of the categories' segments, the fresh food and beverages have contributed the most at the growth of the FMCG market. Among the categories that registered growth in 2016 are: the seafood and the fish, the frozen food, the exotic fruits (avocado, pomegranates, etc), the cider, the champagne, etc.
The Hypermarket, the most important retail channel
The modern commerce covers 57 percent of the total FMCG market in Romania. During 2016, the modern retailers won 2 percentage points towards 2015.The formats of supermarket and discount types contributed the most at the rising of the modern commerce, winning a half percentage point each. The rising of those formats comes from attracting a bigger number of shoppers in the stores and a rise in the frequency of shopping. Despite having a constant evolution during 2016 while it regards the market share, the hypermarkets continue to remain the most important modern channel, cumulating at a national level more than a quarter of the total sales in home consumption FMCG.
Compared with other years, in 2016 the concentration of the retailers diminished the growth rhythm. The market share of the most important 10 retailers grew with only 1 percent point (compared to 3 points in 2015). Among the most active retailers from the perspective of the rising of the market share, are Lidl and Profi. The traditional commerce had a negative evolution during 2016, the dropping with 2 percent points being determined by a frequency reduction with whom the Romanians are buying from the traditional formats.
What will 2017 bring
Compared to the last years, 2017 will be characterized by inflation, following a fiscal relaxation and the VAT cuts in 2015 and 2016, anticipating a slower growth rate.
Romanita Oprea