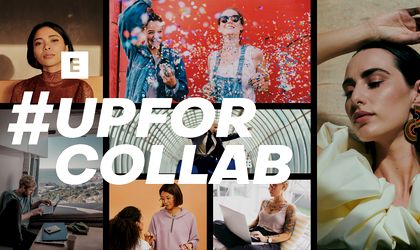 A new initiative called #UpForCollab, an innovative images' platform that dedicates, globally and for the first time, a collection to the creative industry. It's a new resource for the creatives open to collaboration with the brands and the advertising, media or communication agencies.
By Romanita Oprea
The initiative is a collaboration between Eyeem, the global premium stock images and professional photo and video productions platform,  and Geometry – WPP's end-to-end Creative Commerce agency –  in order to support globally the creative industry impacted by the Covid-19 pandemic.
#UpForCollab represents a collection integrated in the EyeEm platform where users are encouraged to publish original, good quality images that can be used by brands and advertising and communication agencies in a moment in which video productions and photo sessions are restricted or cancelled. The idea belongs to the Geometry Bucharest team and EyeEm allows the users that create accounts to upload images with their work, link towards the portfolio or website, in order to promote for free. When the images are bought by the platform's clients, the users receive a percentage from the sales. Moreover, through the EyeEm platforms, they can connect with brands and agencies in order to collaborate on different projects.
"I believe that while it regards the pandemic, the most precious thing we learned was that we can help and support  each other. When you can contribute with something, no matter if it's a simple shopping list, a total spin-off of the production line or a temporary absorption of fresh personnel unemployed due to restrictions, it is worth getting involved. That is how it was born #UpForCollab, in a late evening, on zoom, when we realized that we can do something for us, as an industry," said Bogdan Teodorescu, Creative Director Geometry Bucharest.  
At an international level, Oxford Economics in partnership with the Federation of the Creative Industries, an institution that represents and supports the creative industries in Great Britain estimated in June that more than 400.000 workplaces and 77 billion pounds profit could be lost this year. Even the creative sector in the UK was in an ascendant trend now it was hit two times harder than the rest of the sectors.
"Nobody was prepared for a year like that. And, while the majority of companies are finding slowly their normal work flow, the global creative power tries to make it on its own. There is a significant drop in the work places and projects, a situation that impacts everybody. #UpForCollab is an idea that arrived from Geometry and we considered it to be an excellent manner to support the industry. Thanks to the AI technology that the platform benefits from we can help the community by connecting it with marketing people and clients that are looking for authentic visual images," said Simon Cox, CEO EyeEm.
Till Hohmann, Chief Creative Officer EMEA, Geometry added:
"Our industry showed a real desire of continuing working for clients, just as before, in the context of unprecedented times. Creativity always wins. Therefore, agencies and brands are looking for alternative solutions to support advertising's valuable content, globally. We are responsible to put at the disposition of the creative industry #UpForCollab, a solution from which we can all benefit from."