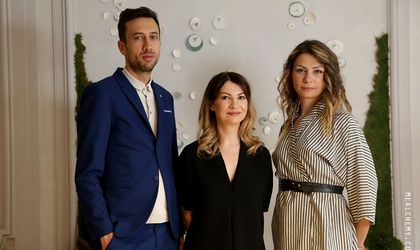 At the 65th edition of the Cannes Lions Festival of Creativity, Romania is represented by the biggest number of jurors ever: Andreea Grigorean – Publicis to evaluate in PR, Dana Bulat – United Media, to evaluate in Media, Irina Pencea – Jazz, to evaluate Brand Experience and Sebastian Catalin Olar – Mainstage, to evaluate Direct. Andreea, Dana, Irina and Sebastian will evaluate the shortlist entries. Their names were selected from a list of 12 jury proposals, three for each discipline.
Andreea Grigorean, PR officer Publicis Romania for over a decade, has been involved in the Bear Driver Campaign, awarded in Cannes with Silver and Bronze at the Media, Mobile, Direct, Promo & Activation sections.
Dana Bulat, GM, is one of the founders of United Media Services. She became the owner of the agency in 2010. Under her leadership, in 2016, United Media Services was named by RECMA the agency with the most rapid growth. Today UMS works with over 40 clients and 100 brands from the most dynamic industries – retail, telecom, pharma, beer, FMCG, financial-banking, auto. Over time, United participated in the development of 20 campaigns that received Effie and won a Gold at the Google Unicorns competition.
Irina Pencea is co-founder and managing partner at Jazz, the only Gold-winning independent agency at Cannes Lions / Entertainment. Beyond her involvement in management, strategy and business development, which she has been practicing for over 19 years, Irina is one of the SoulJazz catalysts, the agency's social platform that pleads every single year for a different relevant cause – see #saveoursongbirds or # togetherformagichome.
After years of creative evolution in Vitrina, BBDO, Publicis and McCann, Sebastian Olar is today, alongside Arpad Rezi, the Mainstage co-creative director, in a duo that has made history on the Eastern European creativity stage. The two have contributed to the creation of some iconic campaigns – "Romanians has smart", "Bucharest not Budapest", "Pay with blood" and "Ghita the shepherd" awarded at Cannes Lions, One Show, Clio, Effie, Eurobest and New York Festivals.
"It is the first year Romania has four jurors in Cannes Lions, three of whom are women. In 2018, I wanted to nominate not only agencies who have made international performance, but also to select, among the jurors, some female creative & business voices that were essential to the success of their companies. 3 years ago I launched #LadiesFirst, a magazine about culture, creativity and talent, which became the private diplomacy platform for intelligent, talented and warmhearted Romanians, deserving to be known at worldwide level. Recommending Andreea Grigorean, Irina Pencea and Dana Bulat as evaluators is part of Cannes Lions Romania's initiative to encourage gender diversity in the creative industry and a new stage for the #LadiesFirst projects," said Teodora Migdalovici, Ambassador Cannes Lions in Romania in the last 14 years.
Romanita Oprea