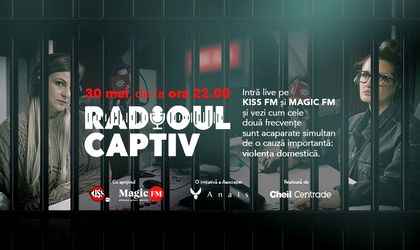 Strategic communication and data intelligence advisory Cheil | Centrade, the hub for Southeast Europe of the Korean network Cheil Worldwide, signs the "Radioul Captiv" campaign for ANAIS Association, a pro-bono project that supports the fight against domestic violence.
The campaign started from a troubling insight. In Romania, one in four women has been physically or sexually assaulted by a partner or a former partner, all of these women being held captive in abusive relationships. Captivity is frequently misinterpreted, and victims' realities are distorted, leading to claims that they accept such situations rather than abandoning them.
The initiative responds to the question "Why didn't you just leave him?" with a premiere in Romania, namely a media stunt involving two of the most famous and popular radio stations, KISS FM and MAGIC FM. Thus, the "Radioul Captiv" campaign will begin on May 30 at 10 p.m. Members of the ANAIS Association, Mihaela Mangu Darvariu – executive director and co-founder, Giulia Crișan – lawyer specialized in family law, Adela Niță Szentes – therapist, and Crina – survivor and winner of the fight against domestic violence, will be in the KISS FM studio until 11 p.m., alongside hosts Corina Băcanu and Nico Creciunesc. Liana Stanciu from MAGIC FM takes over between 11 p.m. and 12 p.m. Both broadcasts will also be streamed live on the radio stations' websites.
In practice, instead of the regular shows and themes, there will be two hours of exclusive conversations concerning the phenomenon of domestic abuse and its prevalence in Romania. The radio hosts will go live with survivors and listeners who can receive counseling from the ANAIS team, and they'll be able to address audience questions in the show's chat or over WhatsApp at 0722.206.020.
The soundtrack for this project will include four new, original songs written and performed by five Romanian artists from the underground and mainstream stage: Alexandra Stan – survivor, Norya, Lucia, Alma Nicole, and Rockabella. Each song is inspired by a true survivor's narrative and may be heard on the ANAIS Association's Spotify channel, "The Power of Freedom". The stories of the survivors can be read or listened on project's dedicated website.
Through this gesture, we are replicating the impossibility of escaping abusive relationships or leaving the aggressors. The campaign aims to raise awareness of this issue and demonstrate that it is a topic that cannot be ignored or disputed, especially in light of the rise in domestic abuse cases reported to the authorities in the first half of 2022.
KISS FM is the most-listened-to radio in the country, and MAGIC FM ranks 5th, so the media stunt on the night of May 30 aimes to capture the frequencies listened to by an audience of 3,322,400 people, for 2 hours.
"Domestic abuse is a social evil that must be eliminated. To accomplish this, there is a need for education in this area, legislative changes, and donations to assist survivors in escaping captivity. Together with our partners at Cheil | Centrade we have created a one-of-a-kind project that brings to the forefront the stories of women trapped in abusive relationships, and we will amplify their voices through live broadcasts on KISS FM and MAGIC FM, as well as a dedicated channel on Spotify, to inspire other women to leave abusive relationships. We thank everyone who has supported us over the last 11 years, but especially the survivors who agreed to give voice to this project through their life stories," says Carmen Nemeș, Președinte, Asociația Anais.
—
"It's your fault for not leaving. Why do you stay? Just leave him.

Every woman who has been in an abusive relationship has faced victim blaming. Because an entire country refuses to accept that this is the reality for one out of every four Romanians. For the first time, we constructed a metaphor of captivity for them, in which ANAIS Association takes over KISS FM and MAGIC FM for two hours. Two hours during which Romania is forced to listen to us, and women at home who face abusive partners can realize that they are not alone and that they can be assisted in regaining their independence. We are grateful to everyone who has supported us wholeheartedly, from the courageous survivors who started it all, to musicians, radio stations, Httpool by Aleph for the large presence on Spotify, and everyone who said «Yes!» without hesitation," adds Miruna Potop, Group Creative Director, Cheil | Centrade.
If you have faced any form of domestic violence, if you have questions about what a healthy relationship means or if you know someone who needs support, contact us and talk to our specialists: 0736.380.879 or contact@asociatia-anais. ro.
Call the 24-hour national Helpline 0800.500.333 to report situations of domestic violence, human trafficking, gender discrimination or multiple discrimination. The number can be called free of charge from any network with national coverage.
Call 112 (the single national emergency number) if you are in danger!