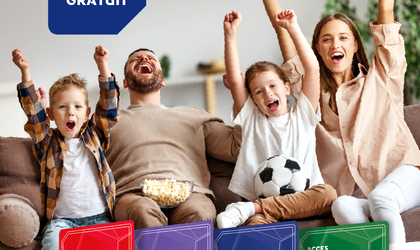 Focus Sat, the first provider of digital satellite television services in Romania, part of M7 Canal+ Group, announces the launch of new satellite TV packages. The new TV packages portfolio with a wide range of rich and appealing programs meant to meet the public's varied choices and preferences, has now two offer propositions, postpaid (with TV subscription) and prepaid (without TV subscription).
The new TV satellite packages cover multiple genders and offer clients free access to the Focus Sat app. The app is designed to allow the public to watch tv anywhere, anytime, on all smart mobile and fixed devices. With an innovative and incremental new structure, the new packaging has various content options and prices to satisfy a diverse and modern audience who highly appreciates the freedom of choice.
Acces – the basic package covers all types of programs – it is the first interaction with Focus Sat services.
Acces Plus – the extended package has all the TV channels in the first package plus extra movies, documentaries, and kids' programs, including full access to the extended library of Video on Demand content from the Focus Sat app (with titles from AMC, Comedy Central, National Geographic, Minimax, JimJam, Nickelodeon) – it is the gateway to complex content that covers the preferences of different age family members.
Acces Max – the all-inclusive package guarantees access to all the channels in the line-up, including the extended library of Video on Demand content from the Focus Sat app, and to other partner platforms, HBO GO, Filmbox Live, Antena Play – it is designed for the most sophisticated tastes.
Acces Panonia – the package with the largest number of Hungarian channels and also with the essential Romanian channels – it is customized for Hungarian speakers.
For those looking for premium TV content, Focus Sat provides customized extra options, MaxPak (with HBO and Cinemax channels), Adult (with adult content), and Panonia (only with Hungarian tv channels). Please visit https://www.focussat.ro/ for the complete offer.
Focus Sat also takes the opportunity to announce the launch of new channels in the satellite TV packages. Kanal D HD, SportExtra and CNBC are available in the Access, Plus Plus and Access Max packages. The adult channel Vixen is included in the Access Max package and the Adult extra option.
Thanks to the varied genres of tv channels in its packages, as well as the different offers to provide satellite television content (postpaid or prepaid), Focus Sat is the ideal partner both for clients who are interested in long term services and for those who are looking for a seasonal tv solution. Additionally, through the multi-screen access to its customized app and the high quality video-on-demand content in its video library, Focus Sat offers clients complete mobility and freedom to access their favourite tv programs on the smart device of their choice.