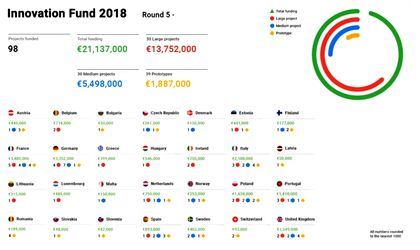 A new batch of media projects will be funded by Google through its Digital News Innovation Fund and four of the projects are coming from Romania. The projects will receive around EUR 50,000, while the total funding for this round is totaling EUR 21.2 million.
The company launched the DNI Fund in 2015 and it has committed to invest EUR 150 million in projects made by publishers of all seizes in Europe. The goal of the funding is to support high-quality journalism through technology and innovation. We can say it is a way to give back to media a part of the money Google gets through advertising, an activity very important for media financing.
This is the fifth round of funding and the total of investments so far goes up to EUR 115.2 million, which means there will be one more round of funding in order to get to the total of EUR 150 million. In this round the money will go to 98 projects from 28 European countries. In total, for this round, were received 820 applications from 29 European countries, ranging from news startups to local or traditional players to online publishers and news magazines.
Four Romanian projects
FastShareInfo is a prototype project made by Sorin Ozon that starts from the fact that Less than 50% of the information retrieved during an investigation is used for the story a journalist is working on. The remainder may have nothing to do with the subject of their investigation and so can be lost. This means wasted time if another journalist also needs the information at some later point. The solution (and the project goal) is to create a database for investigative journalists to stock the information and documents they find, even if not used, in order to help make the work of another journalist more efficient. The database prototype will test this assumption by working with collaborating journalists in Romania as well as in countries that help with cross-border projects.
News for the next generation is a project by the radio station Europa FM through which they are trying to offer a way to deliver verified news to busy people and to the younger generation by adapting the traditional media to new consumer habits and gadgets preferred by early adapters. Using human filters with AI to deliver the news in audio and text on multiple devices, starting with a traditional website and app and integrating the news into smart speakers and smart TV. Voice commands are added to keep the control of news as simple as possible for the end user.
Audio Smart Core for Newsroom is another project that tries to interact with the public through an audio interface, made by Republica.ro. The project will allow the user to interact with the new feature on mobile devices, laptops and desktop by clicking a button placed in the footer of the website page. The feature is built mainly for platform readers who will be able to listen to their favorite authors, listen to previously ordered playlists and even share their opinion on the main topics. And it will also allow users to interact with the text or audio content of the web platform with voice commands. Users will be able to keep up-to-date in real-time with audio news and comment on published events and analysis.
Reinventing community-focused journalism is a project by Funky Citizens that aims to revitalize the dead local media scene and build a more sustainable business model. Using fact-checking and community building experience, this project will connect with senior journalists to tell data-driven stories which are relevant for all funky citizens in Bucharest. The project aims to be a pioneer in data journalism in Romania, especially by putting to good use the huge amount of data that other stakeholders produce. The project will share consolidated databases produced with other journalists. This non-profit work will focus on delivering news and analyses truly relevant for the community in one city (Bucharest).
Large projects in Belgium and Italy
Ask Info – Belgium
With EUR 400,000 of funding, Lapresse.be — in collaboration with IPM SA and Rossel SA — will work on new way to deliver news and information through audio where readers will be able to vocally request their newspaper content. Doing this will capitalize on the convenience and ease of reading a paper together with the speed and ubiquity that digital media and natural speech audio can support.
Royalty – Italy
Royalty also aims to create a new kind of digital newspaper, using machine learning to deploy an AI-first approach for personalization. Publisher Il Sole 24 ORE is collaborating with Teorema Engineering on this initiative which will see their journalists working alongside AI to give users a highly personalized, and more valuable, service. They were awarded EUR 739,000 of funding.
The PinkNews Advocacy Platform – U.K.  
The PinkNews Advocacy Platform is for readers who want to do more, to connect them to charities and activists who are striving to change the world, offering them a number of unique actions to take after reading a news article or watching a video on an issue they care about. With EUR 299,338 of funding, the PinkNews Advocacy Platform will be able to open up a new revenue stream for niche publishers while at the same time helping charities and activists raise money and gain public support for their cause.
Virtual Newsroom – France
This media literacy initiative comes from the French magazine Play Bac Presse. With funding of  EUR 49,332 they aim to give school teachers the ability to train children in the world of journalism. The project will provide them with a detailed journalistic guide, a library of tools, and an interactive news template to fill and save. It will mean more teachers will be able to generate news experiences in their class without moving location and at lesser cost.