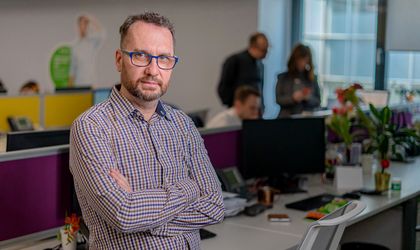 Clear. Simple. Authentic. Transparent. Relevant. Contextual. Digital. A partner to the customer. Able to face reality even if it's tough and to align the expectations of its clients with those of its shareholders. These are the main qualities a financial brand should be able to demonstrate, according to specialists consulted by Business Review.
By Romanita Oprea
The whole world is experiencing very strange and intense moments, in an unprecedented situation that will test our boundaries and ability to adapt more than ever. Companies are learning how important as well as how difficult it is to remain closer than ever to your brand values and clients.
In this context, one might wonder, how have brands adapted to the pandemic? Cristina Butunoi, head of corporate at Golin, saw many brands freeze, as we all did, since nobody knew what to expect. Then, we saw media consumption rising as people tuned in for COVID-19 updates all the time, no longer being able to tell the difference between the days of the week. "Then we started to navigate this new normal. We threw out most of our initial objectives for 2020 and redesigned communication strategies. But before that, all businesses had focused on their employees' security and on business continuity, and many of them engaged in charity initiatives to help communities affected by COVID-19. We slowly found new ways to interact with a captive consumer on a different frequency," said Butunoi.
Brands employed a more humane and familiar tone, with content focused on what they could do for others, whether it was employees, the community or society at large, and less on maximising business profitability. And this implied shelving some communication projects that would now look completely tone deaf and would immediately be rejected by the audience.
In turn, Nida Halit, GMP PR's head of communications, believes that brands adapted very well. Everything was done very carefully; every decision was contextualised, every message, action, and project was relevant and adapted to the current situation. "Business-wise, they implemented strong, customer-oriented offers and services. Going beyond customer care, this is, after all, a support measure for Romania's economic recovery and business continuity. Moreover, as we are facing a health crisis above all else, our customers quickly understood the need to help the local health system. Significant donations made a difference and supported the medical system to better cope with this terrible situation," she notes.
Meanwhile, OTP Bank Romania moved quickly and launched its own programme before the lockdown imposed by the government. This fundamental measure allowed the bank to have an emotional, empathetic, positive communication strategy, in line with the mood of the moment. "Imagine you have three puzzle boxes and you have to build a fourth puzzle out of the pieces that once made sense. Then the mood of the new image has to mirror the truth of a cautious, calculated, but optimistic brand. After that, suddenly, you understand that this time you cannot talk about yourself; you'll miss the essence of the moment if you put yourself first. You need to talk about those who are receiving the message. I don't think we had a strategy; the strategy was that this time we won't have one," said Attila Kelemen (main photo), marketing director at OTP Bank.
From a journalist's point of view, Alexandru Ardelean, senior editor at Biz magazine, thinks that most financial brands quickly changed and adapted their communication strategies. Messages such as #stamacasa (stay home) or #staysafe, which were used to advise clients to use alternative online or mobile channels and only visit the physical locations in case of situations that could not be resolved otherwise, were a good fit. "Advertisements were also adapted to the situation in which we are living, so they weren't too joyful, nor too sad, but made to reflect the new normality and how we're adapting to it. At the same time, brand communication was forwarded to digital solutions as well. I saw more efforts in terms of digital communication of all kinds, including on social media," said Ardelean.
Even though communication may during a crisis may have its challenges, there are ways for companies to overcome and even show that they can find good, long lasting solutions. The world is changing. Consumer behaviour and business models are changing and competition is more intense than it was before. "All these conditions are adding pressure to the way financial services companies are expected to communicate, and even more so in crisis situations. Over the last few months, as the pandemic generated an economic crisis as well, the main challenges for financial companies included addressing, implementing, and communicating in real time all the changes resulting from the measures and guidelines announced by authorities, as well as developing and implementing their own solutions for employees and customers," said Nida Halit. She adds that the real-time revamping of communication strategies, reprioritising projects, wisely choosing the next steps in communication based on the new context, in order to stay relevant and credible, as well as tackling unforeseen situations, also became great challenges.
"Internally, companies were forced to provide assistance and constantly communicate with their teams, their colleagues, their employees. It was – and still is for some companies – a real challenge protecting the people, both financially and in terms of health. Until the cure is found, brands and the way they communicate can become a part of the global answer and solution to coping with this pandemic. They can communicate by entertaining and distracting people from the difficult situation; inform using digital or online channels and spokespersons to echo and display relevant information and cite trustworthy sources (thus contributing to limiting the spread of fake news); motivate people to follow government guidelines and measures; engage in relevant social causes; keep calm and help the economy and society," added the GMP PR representative.
According to Cristina Butunoi, challenges may appear at any time: for instance, particularly in this era of "fake news", communication must be credible. In the era of COVID-19, communication should be careful and authentic, and not appear to be taking advantage of the situation for self-promotion, and so on. "In any situation, I think we should carefully identify the business pain and see how communication can help. For instance, we are all now facing the biggest challenge of our time: how to maintain our internal culture while continuing to work from home.
In order to be successful, in Alexandru Ardelean's view, brands in the financial sector should communicate in a friendly manner, because the very serious and distant tone of voice makes consumers lose the trust they may have had in the company. "I know it's hard to speak with humour and familiarity about credits, interest, deposits, escrow accounts, and other financial products or services, but I believe that an out-of-the-box approach in communication is the best way to win consumers' hearts. It's also a way for them to feel closer to you and not see you as something abstract that talks to them distantly and seriously about products which many don't really understand," argued the senior editor of Biz.
"We generally advise our clients to add a touch of friendliness even to corporate communication. Even a business CEO or expert has to be viewed as relatable in one way or another, and too much stiffness in their language can be a barrier," the Golin representative concluded.
The biggest communication DON'Ts for the Romanian financial sector
Nida Halit (GMP PR):
Don't be shy in your communication, especially in times of economic uncertainty, when everybody is eyeing financial services companies' moves and expects clear, real-time messaging.
Don't ignore feedback. Your external customers are deeply engaged when it comes to choosing a financial services company as a business partner. They will check your market reputation, your business model, your way of doing things, and how you are perceived. So, when the level of interest, connection, and interaction with a brand is high, the feedback for a certain company becomes very meaningful, and could make the difference in the selection process.
Cristina Butunoi (Golin):
Don't rush: make sure that the information you provide is accurate, as it will be read by the investment community or by clients who will use it to make further decisions.
Don't be afraid to be "boring" while staying relevant: if your client is a respectable financial organization, perhaps it is not the best time to jump on TikTok just because it's the latest trend. The right thing to do may be to stick to old school internal communication and reputation management.
Don't power off your phone at 6 p.m.: I know that you have read plenty of articles about work-life balance, but you should also know that most crisis situations appear during the weekend and after work, when people have more time to spend on social media.
Alex Ardelean (Biz):
Don't use phoney, exaggerated, flawed, unclear communication, do not obstruct information. Financial institutions sometimes don't recognise their mistakes or continue communicating in the wrong way, even though the facts contradict them.
Don't be condescending. The fact that companies don't take on the role of educators, thinking that they know better, that consumers won't understand anyway or that they should just trust them blindly is a very flawed way of trying to turn your consumer into a partner and sell your products and services.