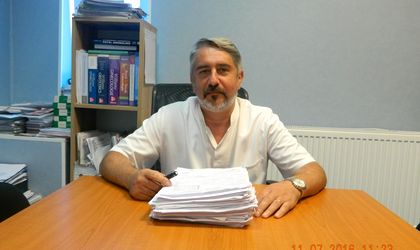 Renowned and respected gynecologist and obstetrician, doctor Antoine Edu opened his clinic, AMCA Medical, 6 six years ago. Business Review met with him and talked about the business and personal investment, the private clinics' sector and also the business plans for 2017.  
Romanita Oprea
When did you decide to open your clinic and why?
AMCA Medical was opened in 2011 by a group of doctors who thought about this idea for several years. All the initiators as well as the doctors who joined us in our project later on had one goal in common: better services for patients, for women. In fact, founding AMCA Medical was our response to the problems that appear when dealing with state hospitals: too many consults in an unfriendly environment. We started this project because we wanted to help women, to be able to perform consults by also giving them the attention and time they require, but also because we wanted to create our own private clinic, our own ecosystem, due to our values.
What was your initial investment and how did it evolve in time?
We started AMCA Medical with our own private capital, and loans and leasing for products and equipment, the initial investment being worth than EUR 100,000. We were crazy enough to start "BIG" by buying top of the line products because we wanted to do things right and to provide care and best practices for our patients. Our first major acquisition was an ultrasonograph that consumed more than half of our budget. Throughout the years, we continued to invest in equipment. Actually, every fund we have is reinvested, but we do this while also being careful to not have any debts.
How are you positioning on the market? What do you offer differently and better than the competition?
In terms of size, we are between ordinary cabinets and valuable clinics.
In terms of professional, medical services, we can solve every case that deals with obstetrics and gynecology, but we also monitor and provide care to special cases: we are able to monitor and provide treatment to pregnant women diagnosed with diabetes as we team up with reputed specialists; we also take into account that Romania has the largest rate of uterine cervical cancer in Europe because of the lack of screening. Therefore, in our clinic, we don't just do the Babes Papanicolau test, but we also added the complementary method – the colposcopy. This is a high quality procedure we provide as it is made by specialized personnel that have access to an exceptional equipment; our second ultrasonograph is General Electric Voluson – the best in its class.
In terms of services, we offer different care to the patient, a holistic, empathic, familiar and serious professional care and we take the time to listen to our patients, to investigate, to know exactly what is going on. Although what we do is different from the human perspective, from the professionalism perspective, although we have a different attitude and superior equipment, we consider this should be a standard everywhere. And I guess this approach is not just our differentiator, but also the reason why our client portfolio increases, why we are warmly recommended and why 90 percent of our patients return, without investing in marketing or PR. In the end, this are the signs that we do things right and this is what motivates us.
How competitive is the market you are evolving on?
There is a highly competitive market on which we are evolving as there are numerous options for patients, if they take the time to get informed about all options out there: state hospitals, private hospitals and policlinics of different sizes, one person cabinets, etc. But on this market, we have 3-4 big public hospitals or private hospitals / policlinics that lead by far this market, either because they do a good job or have developed a network at a national level and have an aggressive marketing approach. But I want to underline the fact that most of them lead in terms of volume, not (always) in terms of quality of services and definitely not in terms of caring for the patient.
Therefore, even if the market is highly competitive and the competition is always growing, there is enough space for clinics like AMCA medical, with accessible and fair prices for our services, with heart-to-heart approach and friendly attitude, with experienced and professional medical staff that has numerous years of experience in the public and private sector, that has been exposed to complicated procedures and solved complex cases.
I think that being an entrepreneurial private clinic provides us with the possibility to always ask ourselves why would a patient change her gynecologist, why they chose us and respond fast and well to these questions and needs. It also helps that at the end of the day we don't have to report to anyone how many patients we saw, how much time we spent with each patient. Because we don't do it for profit, but from a profound desire to provide better care.
What were your main goals for the first 3 years of activity?
To be perfectly honest, for the first three years we only wanted to succeed to pay the leasing, the loan and the rent while providing quality services for our patients, by doing things in the correct manner towards our patients. Therefore, we spent the first three years by putting together a competitive Gynecology and Obstetrics product that includes consults, analysis, small interventions, colposcopies, Babes Papanicolau test, echography and ultrasonograph, fetus morphology 3D and 4D, amniocentesis, ERAD). It was only after when we started to provide more diverse services that include diabetes, neonatology, pediatrics, urology, hematology, mammary ultrasound and thyroid ultrasound.
How was 2016 and what are your expectations for 2017?
2016 was the year when we noticed an increase of miscarriages due to thrombophilia and we took action by starting a partnership with specialists in hematology, so that we can prevent painful events like miscarriages from happening.
Also, in terms of number of patients, we also registered a significant increase of 20 percent as compared to 2015, which can be explained by the fact that patients have the tendency to gather more information before choosing their doctors and their clinics as well as our expansion of services.
And, if we are talking about financial aspects, after in 2015 we managed to finish the leasing, in 2016 we managed to finish the initial investment loan, so it was the right moment to invest again in top of the line equipment we need to be able to ensure the best care quality standard that drove us into opening AMCA medical. So, we have just signed a new leasing contract for the second ultrasonograph.
Who is your target?
I'll start by saying that we don't call them <>, as this word comes with a sales context which I don't particularly appreciate to be mixed with health issues – and maybe this is why our annual development and evolution was based on our professionalism rather than marketing.
But yes, AMCA medical is for each and every woman who understands the importance of coming twice/year to see her gynecologist for actively monitoring her health (performs an annual Babes Papanicolau test, is submitted to an ordinary consult, performs a colposcopy and a mammary ultrasound), each and every woman who understands how important it is to be healthy and cares for her health. Our pricing policy allows this <> to be practices by each and every woman with medium income.
How did you chose your collaborators, what were the main criteria? 
The main criteria to select our collaborators was with no doubt professionalism all the time. But beware! We also require from our team empathy towards the patients, full time dedication and to be available for the patient. Obviously, being a team player is always a plus.
Do you also invest in educating your potential clients?
From the very beginning we invested in educating our patients by taking the time to explain to them their situation and implications, the plan, the future steps, the treatment, the changes, etc. We considered that this one-on-one approach works best as we are all different.
Lately, in our field of work, education has also changed once social networks appeared and grew, this is why AMCA medical is in contact with patients on Facebook.
Starting this year, we also want to include newsletter and we are also considering organizing some open doors seminars on specific issues so that women can make informed decisions when time comes.
What are your main projects for 2017?
My main goals are to create a "Excellence Center for the pregnant with diabetes mellitus", to find an investor to expand the clinic into a hospital and to access another loan for buying a building in which all this can take place. We also want to promote a core team of researchers that can conduct clinical studies and obtain research grants and our biggest challenge for the future is to have our own maternity.