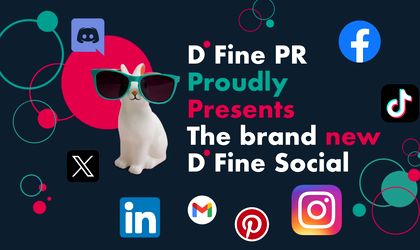 DiFine PR, a communication agency founded in 2017 by Diana Iosu, a specialist with 25 years of experience in the industry, launched earlier this month DiFine Social, a digital marketing & social media division focusing on building communities online and offline. The department is led by Iulia Stănescu, one of Romania's most experienced digital marketing specialists and co-organizer of SocialPedia, a community dedicated to educating digital enthusiasts.
DiFine Social department offers social media and marketing services such as digital marketing strategy, social media and community building, content marketing, email marketing, influencer marketing, video marketing, social ads, online presence analysis and optimization, copywriting, graphic and video creation. The company also extends its services in the following areas: branding, SEO, website design, PPC marketing.
DiFine Social addresses both start-ups and large companies, and currently provides digital marketing services for clients such as NN Romania, Black Sea Fund, Techcelerator, Growceanu, Restart Energy, Enovatika, ROTSA (Romanian Startups Association), Prow Conference, Eka – Centrul Stării de Bine.
At the same time, the company manages online communications for five flagship events: NASA Space Apps Challenge Romania – the local edition of the largest international hackathon, Fuckup Nights Bucharest, Startup Universe, Startup Reaktor, Cassini Hackathon.
The new department has a team of six specialists.
DiFine Social's coordinator is Iulia Stănescu, one of the most renowned experts in the sector, with 16 years of experience in digital communication. Over the years, Iulia has worked 10 years in online journalism, social media and PR for brands such as Utv, Radio 21, Digi24, Kanal D and six years as a freelancer in digital marketing. As a freelancer, Iulia Stănescu has worked with clients in technology, insurance, financial education, entrepreneurship, culture, tourism, events, and photography. She is also the co-organizer of SocialPedia, the only monthly social media event in Romania, and a trainer in digital and entrepreneurial education for children and teenagers.
Focus on creating online and offline communities through original stories
"After six years of freelancing, I knew I had to bring my passion for social media and digital to the next level. I've been collaborating with DiFine PR for five years, and this step was natural. Thus, we created a dedicated team to implement online communication campaigns for DiFine PR clients, a team that is creative and always up to date with the rapid changes in social media. By the end of the year, we aim to refine the services offered to clients, including the short video content component for Reels, TikTok, Snapchat and Shorts. In 2024 we aim to double the current number of clients in the social media area and add Social Ads, SEO and Copywriting services", says Iulia Stănescu, Head of DiFine Social.
A central goal of DiFine Social is to use storytelling to create organic online and offline communities for the company's customers.
"The strongest brands are the ones that have organic, loyal and united communities around them because the people who are part of them are there because they love the brand, because they've used it and because they are able to guarantee for it. They can easily turn into ambassadors and engage in discussions about the brand, giving real impressions. Communities are extremely important in this age of speed and short content, when we are bombarded with dozens of pieces of information every minute. They are the online core of the brand, its anchor. How do we want to grow communities? Through authentic, meaningful content, through useful information for users. Through community management and user generated content. Through discussions that matter to users and help the brand", explains Iulia Stănescu.
60% of clients are in the technology area
"DiFine Social is a plan envisioned shortly after the launch of DiFine PR, but the optimum framework has now emerged for it to come to life both in light of the increased client demand for this type of services, but also because of the maturity we have reached in our relationship with Iulia and the team. We have been working with Iulia for almost five years, we have excellent results together, and this development was a natural one", says Diana Iosu, founder of DiFine PR.
The agency's regular clients include NN, Sodexo, Stefanini, Seedblink, GapMinder VC, Black Sea Fund, Techcelerator, Growceanu, Goldring, Undelucram.ro, Restart Energy, Tema Energy, Alexandrion Group. The company has also worked over the years with more than 100 technology start-ups to communicate attracted funding rounds.
"Since its launch, the business has grown at a very fast rhythm both in terms of client portfolio and team. This year we have strengthened our business by focusing on maintaining an optimal level of satisfaction among existing customers, while attracting customers and a notable number of seniors to the team. By the end of the year we aim to maintain a steady pace of growth across the business. Still, over 60% of our customers are from the technology sector and we want to remain their choice for the future. In the last two years we have also developed stable competences in industries such as energy, insurance, financial services, human resources", adds Diana Iosu.