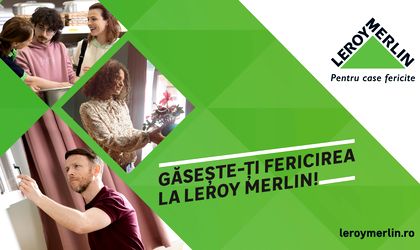 DDB Romania and Leroy Merlin launched the "Find your happiness at Leroy Merlin" campaign, which will run as a TV spot, supported by outdoor, radio, and in-store activations. "For us, happiness is when our customers find everything they need in LEROY MERLIN stores, but for you, maybe happiness is renovating your kitchen or buying plants for your balcony," says the description of Leroy Merlin's YouTube video which features the spot that will run on TV.  
By Romanita Oprea
Leroy Merlin is a brand with great ambitions and great development plans. From strategic ranges designed to surprise customers, to increasing the offer in parallel with the consumer's current needs, it is an optimistic and brave brand that prioritizes its construction.
"Building a relevant image for consumers is a priority for us at Leroy Merlin – both at the communication and product level. And every campaign that we bring to our audience is done with great care, with a well-crafted strategy and current to the reality of the brand and the market at the time. This time we wanted to show what a happy home means for every type of consumer who crosses our threshold," said Oana Mihăilă, Leroy Merlin Marketing Communications Manager.
In order to reach the true meaning of a happy home, Romanians went through a collective maturation. If in previous years the aesthetic benchmarks took precedence over concrete needs, the pandemic has significantly changed the relationship that each of us has with our own home.
Thus, the agency representatives discovered that each decade had an aesthetic landmark – the "IT" house. If in the 2000s the pinnacle of fulfilling Romanians' dreams was considered the Dallas-type house – the house with a pool that more and more people began to afford, in the 2010s we reached the ideal of a central penthouse. After the crisis shook society, we learned what minimalism is, so that towards the 2020s we will learn what is downshifting, the idea of ​​conservation and the country house built according to needs.
"Starting from these cultural observations we realized that every house has its own form of happiness. The Leroy Merlin brand has the power to capture this "de-universalization" of aesthetic patterns and the power to encourage customers to build the happiness of their home according to their own needs and desires and not according to "how it falls" or according to "what is worn", believe DDB team's representatives.
In addition, Leroy Merlin is a responsible brand par excellence, an attribute found in the company's DNA. Leroy Merlin's mission to provide all customers with affordable home improvement products and services, always at the best price, with respect for the environment and the principles of sustainability. Every day, each Leroy Merlin store, together with a dedicated department, monitors prices and where appropriate, they are adjusted to provide customers with quality products at low prices for all their remodeling projects. The company is constantly concerned with the creation of its own products on which it performs quality tests.
The variety of products and services that Leroy Merlin has, as well as the geographical footprint of the stores support different needs, aspirations, styles, budgets – so the brand establishes itself in the DIY retail market as the one that can support all types of happiness.
"Through the campaign we had the opportunity to illustrate a wide range of emotions and positive states, to capture those "little things" in life that bring you happiness without realizing it. We managed to convey the diversity and complexity of happiness through a wide range of consumer representations, from independent women to young families and retirees," said Roxana Niță, Executive Creative Director of DDB Romania.
The campaign is composed of a story that builds on TV, supported by outdoor, radio and in-store activations.
Credits go to the following teams:
Leroy Merlin
Tony Ragot- Marketing Director
Oana Mihăilă – Marketing Communication Manager
Roxana Maria Tănase – Communication & Marketing Specialist
Andreea Slincu-   Communication & Marketing Specialist
DDB România
Roxana Niţă – Executive Creative Director
Alex Tocilescu – Group Creative Director
Mihai Calotă – Group Creative Director
Ioana Gheaţă – Senior Art Director
Cătălina Biro – Account Director
Ioana Dobrinescu – Strategy Director
Georgiana Nica – Strategic Planner
Roxana Ţâmpău – Managing Director