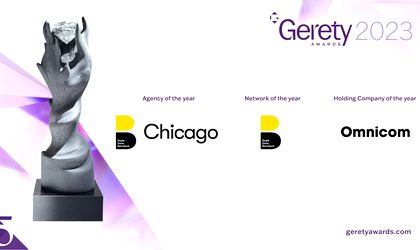 DDB Worldwide has been awarded Global Network of the Year, DDB Chicago won Global Agency of the Year and Omnicom has won Holding Company of the Year.
Agency of the year: DDB CHICAGO
2nd place: BBDO Germany
3rd place: Cossette
Network of the year: DDB
2nd place: VMLY&R
3rd place: McCann Worldgroup
Holding Company of the year: OMNICOM      
2nd place: WPP
3rd place: IPG
Agency, Network and Holding Company of the year are the Gerety top awards and earned for the highest combined score from points given to Shortlist, Bronze, Silver, Gold, Grand Prix, and Agency of the year by country awards.
DDB Chicago is the Gerety 2023 Global Agency of the year with 1 Grand Prix, 3 Gold, 5 Silver, 1 Bronze, for their work with Bears for Twix, Chillboards for Coors Light and Apologize the Rainbow for Skittles.
"I could not be more proud of what we have accomplished as a team with the recent Gerety Awards announcement. From establishing clear objectives and expectations at the initial brainstorm to the execution of the work, creating campaigns that are not only high-quality, but resonate with a wider audience, is what motivates us daily. We love what we do as our work is consistently compelling and distinct, and receiving praise from our peers within the industry makes it all the better. Congratulations to our Chicago team and to all teams who have been involved with these pieces of work," says Rodrigo Jatene, Chief Creative Officer, DDB Chicago.
The DDB Network is the Global Network of the Year being awarded with 1 Grand Prix, 6 Gold, 9 Silver, 3 Bronze, and 10 Shortlist. The winning agencies included: Alma DDB, DDB Chicago, DDB Group Germany, DDB Italy, DDB Romania, DDB Warszawa, DDB Wien, NORD DDB Copenhagen and NORD DDB Helsinki.
"To be recognized by the Gerety Awards' esteemed all-female jury is proof that our promise to deliver emotionally based creativity at scale is resonating. Being named both Agency and Network of the Year is an honor and a true testament to the quality and consistency of the work, and the people behind the work. This recognition belongs to our incredible employees and brave clients around the world who challenge us every day and who were instrumental in making these awards a reality," says Marty O'Halloran, Global CEO, DDB Worldwide.
Omnicom received the Holding Company of the Year award, with winning agencies coming from 15 countries across the DDB, BBDO and TBWA Network agencies.
"Omnicom was founded by creatives, so it's truly rewarding to see our legacy as the most creative company in the world continuing to be validated decades later. As a company that prioritizes equality and inclusion, we are especially proud that our work resonated with an all-female jury of industry leaders. I want to congratulate DDB on their notable showing as well as all our people and clients around the globe who continue to raise the standard of creative excellence in our industry," says John Wren, Chairman and CEO of Omnicom.
The Gerety Awards is the only creative prize to reward advertising campaigns that resonate most with a female audience. With judging sessions held around the world each year, Gerety brings together some of the greatest creative leaders to look at work from a powerful perspective.
See all the 2023 winners at www.geretyawards.com