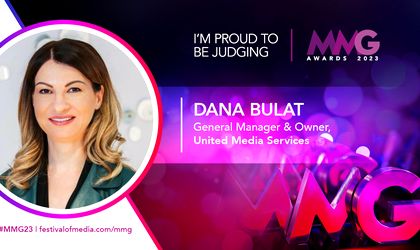 One of the best-known specialists of the local media market, Dana Bulat, General Manager and Owner of the United Media Services agency, will be part of the prestigious M&M Global Awards 2023's international jury.
The festival celebrates 34 years and rewards the best international media and marketing campaigns in various sectors, from finance and FMCG to automotive and sports, looking at media campaigns, successful partnerships and communication strategies. It is open to brands, media agencies, agencies and adtech companies from around the world.
"I feel honored to once again be part of a high-calibre international jury, this time at the M&M Global Awards 2023. I look forward to taking the pulse of the media industry internationally, discovering the most creative and exciting campaigns of the moment and to be able to contribute to their selection. I also enjoy the interaction with the other members of the jury, whom I can't wait to meet and exchange impressions related to global trends and the media industry in 2023", said Dana Bulat, General Manager and Owner United Media Services.
Registrations for the festival take place this year between March 9 and May 4, with judging starting on June 26, and the shortlists to be announced on July 20. The awards ceremony will take place on September 14 in London.
"Access to a large number of international campaigns will give me an even clearer perspective on how Romania is positioned internationally in the media industry and valuable insights about other regional markets, and not only, which we are also aiming for," added Dana Bulat.
After 7 years at the top of one of the main international companies in the marcomm market, in 2006 Dana Bulat took the step into entrepreneurship by launching the agency United Media Services, which succeeded in a short time in becoming one of the first media companies in Romania. A graduate of an executive program at London Business School, member of the Board of Directors of UAPR, she was Romania's representative in the Cannes Lions media jury in 2019 and 2022 and a mentor in the See It Be It program.
United Media Services is an independent full-service agency with advanced digital expertise, with an office in Bucharest and regional coordination capabilities. The agency currently works for more than 60 clients and 100 brands in dynamic and challenging categories such as: retail, pharma, telecom, e-comm, FMCGs, financial, etc.
Included by Adweek in its Top 100 Fastest Growing Agencies, two years in a row, United Media Services is clear evidence of Romanian international success based on performance.