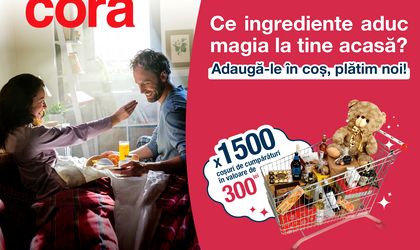 "Magia de acasă" (The home magic) is the new communication platform for the cora hypermarket in Romania, part of the brand's global strategic repositioning process.
By Romanita Oprea
cora has been working on recalibrating its mission and role for more than an year through a complex collective intelligence process that meant that the whole team of 25.000 employees in the Group's 4 countries was involved.
From this transversal process resulted a common vision for the brand that will accommodate all of cora's initiatives in the years to come.
"Our role is to bring beauty in the everyday life of each of our clients. The more different they are, the more we are motivated. The visits at cora are for our clients an occasion to get inspired, discover a new ingredient that afterwards will show its magic in their homes," said Ana Maria Costea, marketing director at cora Romania.
Therefore, cora's clients can transform the apparently normal moments in full of emotion events in the life of a family. To make the morning coffee can be a love declaration, to transform the powder, the sugar and the butter in biscuits is a superpower and simple switch can bring all the stars in the little sister's room.
"To talk about the family and the magic moments from each one of us' home is an extremely used road. Therefore, we decided that the approach for this project to be a very personal one and we let ourselves be inspired by our families. Each shot in the TVC is a reflexion of the family life of those that worked in the project. And we continue to let ourselves be inspired by us on each component of the communication platform," said Simina Zidaru, deputy managing director at Tribal Worldwide Romania.
The campaign created by Tribal Worldwide Romania marks a new chapter in cora's brand life with TV, OOH and important online presence and a strongly communicated promotion.
Being a campaign that celebrates diversity at a product and idea level the campaign's prizes are offered depending on the consumers' needs and desires. They can enter www.magiadeacasa.cora.ro in order to win a shopping basket under the shape of a voucher, therefore they can compose themselves the list of ingredients for the home magic.
The team involved in the campaign were:
Tribal Worldwide Romania:
Simina Zidaru (deputy managing director & creative director), Ruxandra Popescu (client service director), Georgiana Bulagea (copywriter), Mihaela Trandafir (art director), Elena Mihai (account manager), Camelia Dobre (account manager), Oana Nichiforov (social media manager), Andrei Soare (development director), Denisa Dumitrescu (junior web developer), Sorin Paraschiv (web developer).
cora Romania:
Ana-Maria Costea (Marketing Director), Adalgiza Ciobanu (Consumer Insights Manager), Marilena Cȋrsteanu (Marketing Omnicanal Manager), Camelia Popescu (Advertising, Communication and CSR Manager).