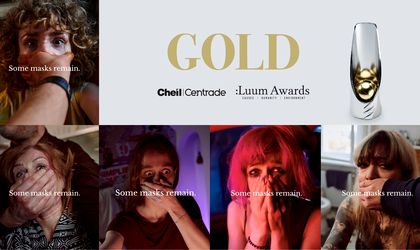 Integrated communication and data intelligence agency Cheil | Centrade, the hub for Southeast Europe of the Korean network Cheil Worldwide, is the only agency in Romania with a gold trophy at the Luum Awards, one of the most important international festivals dedicated to social responsibility, which awards exclusively social, civic or environmental causes.
The Gold trophy obtained by Cheil | Centrade in the "Institutional communication: NGOs, Communities and Associations" category is a recognition of the creativity of the "Some masks remain" campaign, developed together with the ANAIS Association, a campaign that aimed to bring attention back to domestic violence in the context of giving up the mask .
March 8th, International Women's Day, coincided with the last day of the alert period in Romania. As the number of COVID-19 infections decreased, the authorities decided to lift, starting from March 9th, a series of restrictions, including the obligation to wear a mask. However, many Romanian women still have their noses and mouths covered, either by the palm of a violent partner or by their own palm, scared or lost in the dramatic situations triggered by the other pandemic – the domestic violence pandemic which will, unfortunately, continue in many forms, from physical violence to psychological, economic, cyber, social, sexual or spiritual.
The initiative drew attention to this menace and helped raise donations with which ANAIS Association offered support, legal and psychological counseling to the victims of domestic violence.
In this edition of the Luum Awards networks such as AKQA, BBDO, Cheil, DDB, Dentsu, Edelman, McCann, Ogilvy, Saatchi participated and campaigns with notable results at s other major advertising festivals, including Cannes Lions, such as "The Cost of Inequality" or "Morning After Island" were awarded.
"We believe in doing good with data, that's why we used real stories of the victims, reinterpreted with the help of actors. We took over the most common patterns of domestic violence: – cyber violence (non-consensual publication of information and intimate graphic content), economic violence (restriction of income), spiritual violence (prohibition of access to religious values), psychological violence (jealousy and control) or social violence (banning meetings with friends and family), to show that violence is not only physical, which we recognize at first sight, but also has hidden forms.", explains Denisa Armașu, Group Creative Director, Cheil | Centrade.
—
"We have worked exceptionally well with Balint Hajagos, as director and photographer, with the production house Almost Ready and the production studio Chainsaw Europe. With their help, we were able to create a very crafted campaign in just three days and be live exactly on the date the restrictions were lifted.", adds Carmen Miruță, Client Service Director, Cheil | Centrade.
—
"The creativity of this campaign has been recognized so far in Lürzer's Archive, but also in international advertising festivals, MAD Stars from Korea being an eloquent example. The fact that the public and international juries appreciated our message honors us and motivates us to continue the fight against domestic violence, together with the ANAIS Association.", completes Mihai Gongu, Executive Creative Director, Cheil | Centrade.
Cheil | Centrade Team:
Mihai Gongu – Executive Creative Director
Denisa Armașu – Group Creative Director
Radu Rebei – Senior Art Director
Carmen Miruță – Business Lead / Client Service Director
Ana Maria Rădulescu – Senior Account Manager
Veronica Bratu – Social Media Manager
Monica Garbur – AV Producer
Miruna Baias – Strategy Head
Mihaela Iamandi – Traffic Director
Ana Maria Gavrilă – PR Specialist
ANAIS Association Team:
Carmen Nemeș – President
Mihaela Mangu Darvariu –Executiv Director
Adela Szenteș – Psihotherapist
Production House: Almost Ready
Balint Hajagos – Director
Balint Hajagos – Photography
Ahmad Askar – Camera Assistent
Dana Pavelescu –Casting Director
Dora Codita – Make-up
Anca Săveanu – Talent
Camelia Darie – Talent
Simina Mateescu – Talent
Iulia Aramă – Talent
Helena Silva Schmidt – Talent
Post-production: Chainsaw Europe
Diana Gordon – Coordonator
Hasan Nasser – Sound editor & mastering
Smaranda Paraschiv – Image Director
Voice Over
Judith State
Oana Holban
Radu Bânzaru