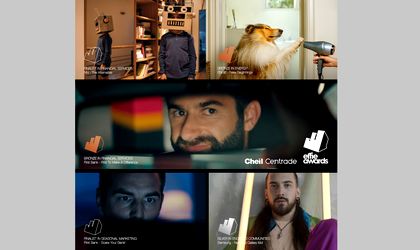 The Effie Awards 2021, the top industry festival celebrating effectiveness & creativity, recognized Cheil | Centrade's successful partnership with its clients, with 5 nominations and 3 awards for the campaigns Samsung – Next Top Galaxy Idol (Silver in the Engaged Communities category), ENGIE – New Beginnings (Bronze in the Energy category) and First Bank – First to Make A Difference (Bronze in the Financial Services category). Two other campaigns: NN Insurance – The Alternative and First Bank – Scare Your Bank! have been Shortlisted in the Financial Services, and Seasonal Marketing category, respectively.
This result marks a significant step forward for Cheil | Centrade, the regional advertising, marketing, and business intelligence hub for the Korean network Cheil in Southeast Europe.
"We are happy with the result, which comes on the back of recent strategic business decisions, expanded team capabilities, recent significant new business wins combined with the unprecedented challenges of 2020," says Radu Florescu, CEO Cheil | Centrade. "We have momentum, underscored by our team's ability to imagine and implement efficient and creative campaigns for clients competing in some of the most diverse, dynamic, and strategic industries, such as Banking, Energy, and Technology. It also confirms the vote of confidence by leading companies that have chosen our team as partners through competitive tenders, – as we not only provided pitch-winning ideas, but long-term platforms that proved instrumental in achieving KPIs for their brands and their business."
He concludes: "At Cheil | Centrade, we firmly believe in the business-driving role of the industry in a sustainable way by working with the true spirit of a partnership. I want to take this opportunity to congratulate our peers for their performance at the Effies, as their performance inspires and motivates us to do better. We look forward to next year's edition, with new projects, intense competition and greater expectations."
Mihai Gongu, Executive Creative Director Cheil | Centrade adds: "I'm very proud of the teams who worked so hard to bring all this campaigns to life in the best way possible, especially in a pandemic year. What makes this achievement even more rewarding for us is the fact that three of the finalists, the integrated relaunch campaigns for ENGIE, First Bank, and NN Insurance, respectively, are brand new strategic platforms created by our agency, proving our dedication to building healthy brands in a sustainable way. An equally treasured result is the Silver for Samsung for a social media campaign which shattered engagement records and helped the market leader remain a steady presence year on year on the Effies stage."
Amalia Anghel, Corporate Communication Manager, ENGIE comments on the first Effie in the history of the brand in Romania: "At Cheil | Centrade we found an experienced team who has the patience and the energy to craft a platform like Energy Creators that is designed to function on longer term and boost both awareness and new prospects. As we built further on it this year, we found it to be a good fit across all our pillars, from CSR to sports sponsorships. We look forward to returning on the Effie stage with it in the future, perhaps even in the Sustained Success category one day."
Viorel Ruse, Marketing and Communications Director, First Bank also praises the tightly knit client-agency partnership: "We are excited to work with a team that understands the challenges of the market and helps us move at a faster pace. Thus, finding in Cheil | Centrade the right balance between creativity and results-driven mindset is priceless."
Simona Panait, Marketing & Online Director Samsung Electronics România-Bulgaria, added: "We are tremendously excited with the trophy and I want to congratulate all the teams involved. Next Top Galaxy Idol has managed to bring a specific Korean culture concept closer to the local audience, especially across the hard-to-reach Gen Z. This achievement has confirmed that we have a community not only interested in Samsung technologies but also very much into the K-Pop phenomenon, hence our initiatives in this area will continue."
Cheil | Centrade's campaigns are acknowledged both locally and internationally. The agency was named Agency of the Year in Romania in TopFICE, an independent ranking looking at 1,190 agencies from 59 countries and 89 festivals, and has been acclaimed at both WINA Awards and KIAF.