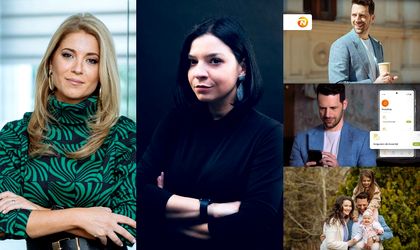 Cheil | Centrade, the integrated communication hub for Southeast Europe of the Korean network Cheil Worldwide has designed and implemented a new ATL campaign for NN Romania, which communicates the main benefits of insurance and pension products.
KUBIS, the digital communication partner of the brand, has developed the online communication component of the campaign, which includes personalized video & static content on the social channels of the brand, on ambassador's Adrian Nartea, but also on other digital media spaces.
The protagonist of the project is the actor Adrian Nartea, for the first time with his family in a brand communication campaign. During a relaxed walk through the city, Adrian, inspired by the events he witnessed on the street, has some remarks about life in general and the importance of having a reliable alternative with significant benefits, at an advantageous cost, such as a NN insurance.
"We are happy to present to Romanians a complete portfolio of alternatives that they can count on. Whether it is health insurance that facilitates top medical services in hundreds of private hospitals, worth up to 700,000 lei, at a cost starting with 5 lei per day. Or life insurance with insured amounts of up to 1,800,000 lei. Everything is easily and quickly accessible through a video call with an NN consultant or through the NN Direct mobile application, which is intuitive and easy to use. " explains Gabriela Lupaş Țicu, Chief Marketing & Operations Officer NN România.
"The strategic brand platform 'Alternativa NN' launched by Cheil in 2020 goes further this year, with a new story full of flavor, which, we hope, will win the hearts of Romanians and, subsequently, the judgments of the experts from the Effie jury, just like in 2021 when it was the only nominated campaign in the private insurance and pension industry. La Cheil | Centrade, we believe in lasting partnerships and, therefore, together with our partners, we are shaping solid brand platforms, " adds Carmen Miruță, Client Services Director Cheil | Centrade.
"We were delighted to shape up a simple but memorable story with the StudioSet team, with Adrian Nartea playing the role of Adrian Nartea, the ordinary man and not the TV star, with pertinent remarks about life and the importance of having alternatives you can count on, especially when life serves you something you didn't order " mentions Mihai Gongu, Executive Creative Director Cheil | Centrade.
"In the digital space, where the attention span is very limited, we thought about how to convey as clearly as possible the message of the campaign, but also the most important benefits of the insurance in the NN portfolio, through executions and formats with high cut-through power. The new ambassador of the brand, actor Adrian Nartea, brings an extra authenticity and this has helped us to communicate complex and vital benefits of the product, in a way that is as relevant and easy to understand for current or potential customers. " concludes Ada Gheorghiu, Group Account Director KUBIS.
NN Romania Team:
Gabriela Lupaș-Țicu – Chief Marketing & Operations Manager
Cristina Mâcă – Head of Brand & Communication
Luiza Mateiaș – Brand Communication Manager
Laura Băloi – Head of Digital and Consumer Strategy
Andreea Dumitrescu – Customer Strategy and Digital Business Generation
Gabriela Văduva – Digital Assets Manager
Adriana Maria Curișoiu – Digital Product Owner
Diana Guteniuc – Digital Communication Manager
Cheil Centrade Team:
Mihai Gongu: Executive Creative Director
Denisa Armașu: Group Creative Director
Radu Rebei: Art Director
Monica Garbur: AV Director
Carmen Miruță: Client Service Director
Ana Maria Rădulescu: Sr. Account Manager
Kubis Team:
Carina Toma – Creative Director
Dragos Aliciu – Senior Copywriter
Alina Răduț – Senior Art Director
Cristina Schițco – Client Service Director
Ada Gheorghiu – Group Account Director
Cezara Bâță – Account Director
Cristina Folteanu – Social Media Manager
Marian Ciungu – Editor
Partners:
Studioset:
Director 1st unit: Bogdan Albu
Director 2nd unit: Mihai Codleanu
Image Director 1st unit: Viorel Sergovici
Image Director 2nd unit: Toma Velio
Producer: Sorin Baican
Executive Producer: Adi Smărăndache
UPM: Mădălina Andreea Ilie
Production coordinator 2nd unit: Vlad Theodoru
Scenography: Teodor Zugravu
Costume Designer: Dana Anghel
Postproductie:  Chainsaw Europe:
Image Editor: Mircea Lăcătuș, Smaranda Paraschiv
Sound Editor: Andrei Vasilache, Hasan Nasser
Postproduction Coordinator: Raluca Iuteș/Oana Manea/Diana Gordon
Grading: Adriana Crăciunescu și Laurent Morel