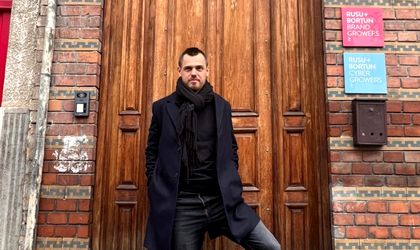 An advertising & consultancy agency supporting entrepreneurial spirit through branding, advertising, design, technology and digital storytelling. An eclectic group of people and hybrid sharing same common values that see themselves as creative projects producers and are in constant search for cross-competencies outside the company.
BR sat down with Cătălin Rusu, co-founder, CEO & chief creative partner Rusu+Borțun, and found out more about the agency's past year, as well as her view on the marcomm industry and what to expect from 2023.
By Romanita Oprea
How was 2022 from a business point of view?
Our last three years were the most prolific since the launch of 2008, with over 5 million EUR turnover. 2021 was a fantastic year for Rusu+Bortun in terms of business results. In 2022 it was very good also from a creative point of view. We are among the most creative advertising agencies in Romania according to Art Director's Club. We won one silver at Top ADC*RO Half Year Edition and two bronzes, plus one shortlisted campaign at monthly editions. It was rewarding for us to be appreciated by 20 Creative Directors, some of the most important on the market.
What were the most important changes & novelties in the agency in 2022? Generally, it was a very intense year in the marcomm industry with many projects and campaigns until the last days. Was it the same for your agency?
It was the first post-pandemic year with many pandemic flavors in terms of way of working. We enjoyed the redesign of our headquarter in 3 Corbeni Street. We developed our hybrid team. Colleagues, permalancers and other colabs. Our business plan was divided in order to control the business & creative performance on each category where we are present.
Advertising wise, it was an year full of eclectic projects. For traditional clients like Electrica Furnizare, Trutzi Group, Morad Group (Mandy), Superbet, Alka Group, Alexander Hughes, ING Tech, Urban Monkey or new clients like Magic Jackpot and Delta Studio (Romanian Interior Design Association).
Our branding business, Brand Growers, had a very good year too, with a lot of relevant projects.
We want to bring the concept of the stock exchange closer to people, to encourage smart investments so that they are part of the Romanians' financial plans. This is the story behind Investimental broker brand identity. Making the insurance easier was the mantra of Eazy Asigurari branding process. Another rebranding in the retail category is for Alka Group – Coffe 2 Go becomes Stetto PlugIn. In the luxury retail category, we transformed My House The Art of Living into Magmatik The Profound Side of Luxury. In the media category we are working for the identity of ZYX Publishing Group (Hotnews). Also, we've done the rebranding projects for Boutique Cadeaux, a market leader on retail gift category and for Morad Group (Mandy).
What about the pitches you entered?
We've started 2022 with a huge global & local pitch for Superbet. A thrilling process designed in a tech statrt-up-ish way. We won the local account.
The second pitch was a banking one in December. We lost. Unfortunately, the winner was not on the list at the beginning of the process.
What do you wish for 2023?
To be happy with our everyday work. And to find the right mix in this social and market context. We want to diversify our portfolio and to continue to have relevant impact in the categories that we are working for.
What did clients want the most in 2022? Do you see any changes in their approaches?
Like always, a solid business context understanding and relevant ideas for impressing the customer. Clients want the best mix between strategic thinking and creative execution. Many advertisers have creative resources inside their marketing team and that's very good for the client – agency relationship. Our focus is to deliver useful consultancy and impactful ideas, not just everyday work.
What do you consider the latest trends that are arriving in the marcomm industry to be and why?
Probably AI is the new black. Still curios to see the best use of AI in the creative works context. ChatGPT seems to be a game changer in the category.
Where do you see the Romanian marcomm industry compared to the European marcomm industry?
In December, I had a great experience in Barcelona as VP of Art Directors Club Romania and board member of ADC Europe talking about the present and the future of our industry. I was surprised to see that our perspectives are many times the same. Same struggle with talent, especially new talent, same demanding clients. Same mix between classy storytelling and new technologies. It's still an idea driven business, but you have an entire system that can improve your work. From specialized jobs to AI.
Where do you believe to be our industry's main problems and how can they be changed?
I still believe that our industry business models are a bit obsolete. Technologies are new every year and we are thinking that our models are new too, but it's not entirely true because we are just followers of others industries. Sometimes to be empathetic, a cardinal value in services becomes an obstacle for your own evolution. The solution is so simple. Creativity in business requires entrepreneurial spirit. You can't be creative without having an entrepreneurial approach and you can't be entrepreneur without creative skills.
How much of an important role are still having the consultancy and the strategy in 2023?
If you want more than expressing a message in a thrilling way, you should provide strategic thinking in a consultative way. Many times, clients are saying that they are buying executions, not abstract words. But the decision to buy from you as an entity is based on strategic thinking.
What about data and research? 
Creative use pf data is a cornerstone in our industry. It's a shift in how we perceive research. The idea is to embrace research and use it as a creative companion, not just a checkpoint. What I really like about advertising nowadays is that is not advertising anymore. Some ideas are research ideas twisted in advertising or tech product ideas twisted in advertising, or branding ideas, or content ideas used as advertising.
What are the trends in advertising in 2023, from your point of view?
Fortunately, video advertising is still the king. AI powered advertising will become mainstream. Immersive project based on AR & VR will evolve. Also, the influencing marketing will continue to go up in many different ways. As I already said, ChatGPT will be a game changer in the category. It's so useful. Let's not forget Metaverse & NFTs. As an user, I'm not a huge fan, but it's still a phenomenon to watch.
Do we still see the impact of the pandemic? How do you react and adapt?
For us the pandemic had a very good impact in terms of business. Digital transformation in a blitzkrieg way. Working from the office is an option, not a mandatory. I believe in hybrid approach. Internal meetings are important, teamwork, agency life. Also, the intimate creative time, when you have the brief in your mind and you put the first ideas on the paper, can be anywhere. There are a lot of essential meetings in our job that can be done remote. It's easier to work focus 2 hours, than 4 considering transportation for instance. The good recipe comes from a good mix of live and remote work.