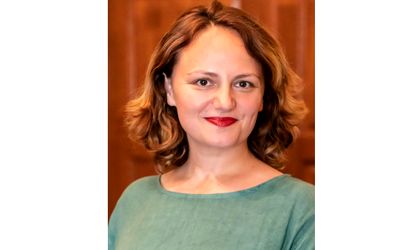 Under the auspices of Mastering the Music Business, it is the second year that MEWEM – the first mentorship program dedicated to women working in the music industry – takes place. 10 female leaders in the music industry – artist or record company managers, festival promoters, communication specialists and independent artists – will guide, for 7 months, 10 women at the beginning of their careers in the music business, during which they will provide them with support, understanding, information, inspiration and share ingenious learning experiences.
BR set down with Carina Sava, the founder and chair of Women in Music Romania, and found out more details about the program, as well as her view on the Romanian music industry in 2022.
By Romanita Oprea
How did the idea of launching a mentorship program come up and grow?
Since we launched Women in Music Romania, in 2019, we were thinking about what kind of programs we could run, how we could give some structure to our meetings and make them useful both for experienced women in the industry, but also for newcomers. At the end of 2020 we were recommended by one of our partners in France to become part of MEWEM Europe, a mentorship program that was supposed to start in 2021 in Romania, Germany, France, Belgium, Austria and Spain. It was a great experience for us to work alongside partners in all these countries, to learn about their mentorship programs, but the most amazing thing was the reaction of the Romanian mentors and participants. We realized that our initiative was very beneficial to all of them so we decided to continue the program with a new edition in 2022.
What are the main differences between this year's edition and the 2021 one?
We learned a lot from our first edition and we tried to implement the feedback we received from our participants. The second edition of the mentorship program will last more than the first one, we will have more workshops, more guests from outside the program, we will move each group meeting from one place to another – some of our hosts will be Kiss FM, Global Records, the UNTOLD offices etc. The main goal is to create even more networking & learning opportunities than last year.
How have the professional lives of the 2021 mentees changed after the program?
I like to believe that they learned a lot, that they have a better understanding of the music industry and they now have their own network that can be accessed in case of need. Some of the ladies made new friends, among their peers, but also among their mentors. One of our mentees from the last edition – Alexandra Mihordea – is now part of the UNTOLD & NEVERSEA team after she was mentored by Ioana Chereji, PR manager of the two festivals. But we try to measure the results of our program on a larger scale. Our goal is not to find jobs for the mentees, but to empower them to become better professionals, bold and wise, and to offer them tools to achieve their own goals.
What are the persons that you believed evolved the most?
Those who were prepared to take in all that was shared within the program, those open to learn as much as possible.
How did your educational background help you at the beginning of your career (you graduated from a PR and communication university and have a master's degree in Artist Management at Berklee College of Music)? 
I had a background in PR & Communication when I started working and, although I always complained that education in Romania is too much focused on theory and too little on practice, I believe that some of the notions I learned at the University were useful. Still, I decided to drop out from my master's studies after one year because I felt I was learning more at work than at the university. After a few years, I got my Artist Management master's degree from Berklee College of Music. I learned a lot while doing those courses because they were more focused on practical stuff. I learned how to learn and how to think by myself. Of course, I also learned things that were very interesting but not applicable to the Romanian music market.
How are you choosing the mentors?
We try to have at least one lady from each area of the industry (live / PR / recording etc). We choose women who have achievements in their work, who are either entrepreneurs, freelancers or in the top management of their companies. Beside the experience and expertise, we try to focus on women who are generous and kind, who are open to offer their time and energy to their mentees. It's not enough to be great at what you do to be a mentor, but you also have to know how to guide someone less experienced and to have the patience to do so.
How do you decide the matching ups between mentors and mentees? 
First step was to decide on the mentors. Second, we read carefully all the applications and we made a pre-selection. This year we even had a few short online interviews with some of the candidates in order to understand better what they wanted from the program and, if they were to be selected, who would be the best fit as a mentor. Then we started working on the pairing, based on the profile of the mentors and the interests of the mentees. It's not an easy process, I will give you that!
How would you characterize the Romanian music industry right now for women? 
Based on my conversations with colleagues and partners from other Western European countries, but also from the US, I believe that in Romania things are more balanced when it comes to women in music business. We have successful women promoters, powerful women leaders in record labels etc. Still, there are more male music managers and booking agents than female, at least in key positions or working with top artists. For example, most female agents work for male agency owners. There is room for more women entrepreneurs in the industry. Where I see the biggest gap is on the live alternative scene, where the percentage of female artists (or bands with at least on female member) on the bill is way too low.
Are there more opportunities or is it still harder for them compared to men? Why?
There are lots of opportunities for both women and men in the Romanian music industry, like in any emerging industry. I believe men are bigger risk takers, while women like to think things through, to analyze every aspect of the problem and make careful and steady steps towards their goal. Both approaches can work, but sometimes in such a competitive and fast changing industry speed matters.
How has the Watermelon Agency evolved since its launch? 
Watermelon Agency is still a very young endeavor. The agency was launched at the end of 2020, in full pandemic crisis and in 2021 we already exceeded 150.000 euro in turnover. Our business has two main profiles: talent management, where we focus on VUNK, the pop rock band that we manage, and brand partnership.
What are your goals for the end of 2022 and 2023?
At Watermelon Agency is going to be a busy end of 2022 because we have many projects in development with VUNK, the band we manage. Also, we have scheduled lots of meetings with our business partners for the brand partnership side of the agency.
Also, I will be in the middle of the Women in Music mentorship program, so I have to design each group meeting and workshop session.
Though we just ended the 2022 edition, we're already thinking about the next Mastering the Music Business conference scheduled for 5-7 September 2023. It's my responsibility to draft the conference schedule – find the best speakers and the most interesting topics. After this year's success the bar is very high. Also, we need financial support for the event, so we have to start early on discussions with sponsors and partners who can be a good fit for us.
But I learned the tough way that in order to function well professionally, you need rest, so I'm very excited about a trip to Morocco that I have scheduled for October. And of course, I always make room for my books and morning runs 🙂
What do you believe are the main challenges for a woman entrepreneur in Romania and why?
First, I believe there are too many challenges for entrepreneurs in Romania in general with bureaucracy and unpredictability being the main issues 🙂 Second, I think it's a little harder for women to find investors, to be taken seriously. Also, balancing business and a family life, especially in the early stages of a start-up it's more difficult for women – usually the main caretakers – than it is for men.
How do you surpass them?
Building a support group, both at home and in their professional lives helps a lot. This is one of the main goals of our mentorship program, we really believe in the power of a solid network. From learning from other women's experience to getting practical help, a proper network can improve a woman's career. There are hedge funds specifically designed for women entrepreneurs, which is amazing.
How have you succeeded in this industry?
In my opinion, the best way to succeed is by being very reliable and acting professional. Mind your own business and make sure you have some solid values to guide you. Be kind and work on yourself as much as possible, pay attention to your physical and mental health. And, of course, never stop learning.
Extra Info Carina Sava
She graduated from a PR and communication university and has a master's degree in Artist Management at Berklee College of Music. With more than 12 years of experience in artist management, booking, brand partnership, music marketing and communications, she also worked for Agentia de Vise, a company specializing in Artist Management and Bookings, managing artists such as VAMA, Tudor Chirila, VUNK, Zoli Toth etc . She is co-founder and vice-president of RAW music association and Conference Program Manager of Mastering the Music Business Conference and Showcase Festival, the leading music business event in Romania. She is also the founder and chair of Women in Music Romania and in 2020 she launched her own artist manager company, Watermelon Agency, a Bucharest-based Artist Management Agency.