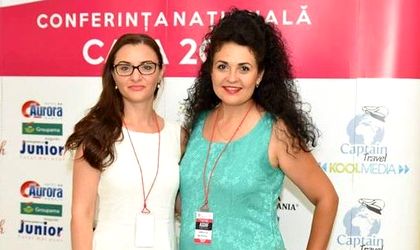 Kool Media is an agency based in Constanta and benefiting from a team with extended experience in the field of Marketing – Communication – Public Relations – Event Management. According to its representatives, their goal is to be always "fresh" and think "Out of the Box".  Kool Media's teams are seeing each project as a challenge to their imagination and a continuous reshaping of their experience. When in Constanta, BR met with Camelia Artamon & Elena Luiza Oprea – Managing Partners – and talked about the agency's positioning on the local market, how was 2018, but also about how they see 2019 and its opportunities, as well as a possible economic crisis.
By Romanita Oprea
How was 2018 for the agency?
Camelia Artamon: 2018 was an interesting year, as we decided to change our strategy. We began to create more advertising campaigns and fewer events. The PR activity was dedicated only to very important customers and also in the Association Business Opportunities for Women, Constanta Branch, as we are determined to get involved more and more in our community, to offer more information and more solutions to their needs. Also, our target was to have less clients, but with long term contracts and a higher profit.
What was the situation like for pitches?
Elena Luiza Oprea: Like usual, sometimes you win, sometimes you learn. We do not like to take part in pitches, because, most of the times, the clients just ask for the third offer. Our clients prefer our company because we have high recommendations, because they know our projects and what we are capable of. But we are always open to meet new people and start new projects.
How would you characterize the local communication industry in 2018 in terms of budgets, campaigns, creativity, etc?
Camelia Artamon: Definitely, we saw a change, we began new collaborations, with bigger budgets and more focus on advertising, on brand awareness, communication. Also, we noticed an increase at the end of the year, on behalf of the real estate clients. They increased their budgets with at least 40 percent compared to the previous year, as it is a higher completion on the market, especially at the sea side. And, there is an increase in the advertising budget for social media channels.
What were the most important changes & novelties in the agency in 2018 and how did they come to happen?
Camelia Artamon: Our focus in 2018 was mainly in advertising and marketing consultancy, less in PR events. Our friends and customers seemed to be a little bit surprised, as this area was not so known to them. We are glad that we began to be more creative and that we could extend more on different levels.
What were your main challenges in 2018 and how did you surpass them?
Camelia Artamon: Definitely, the human resources were one of the main challenges. The online marketing is developing very fast and finding the right persons to keep up with it and to be a step forward is a tough job. And, of course, we want good results, we must be involved 100 percent.
Also, one big challenge is the digital and social media growth, which influences all campaigns and companies, especially those who address to a large public. We had to think all the strategies and the messages in order to fit in the online media and to be one step forward.
What were your most wanted services by the clients in 2018?
Elena Luiza Oprea: As we already emphasized, the importance of the online media, the most required services were those regarding online advertising and OOH advertising. Our customers seem more interested to be present all over the city, in key locations.
How is your agency positioning on the Romanian advertising market now?
Elena Luiza Oprea: We focus in offering the best services to our local clients. We did not analyze our position from the national point of view, although we do have some marks and standards to measure with. We are a small local agency, but quite important for Constanta market. We don't go national yet, but we cherish every client we have. We are unique and "Kool".
What were the biggest campaigns you worked on?
Elena Luiza Oprea: During 2018, we continued our previous collaborations, especially in online advertising, with Tomis Mall, and also sampling and events for children with Timbark. But we also started new ones, for instance, with Cerasela Bruma Beauty Clinic and a new collaboration on different advertising channels with the Minifarm. We organized Fashion Show for Triumph Romania and also, we launched the new store "My Geisha" in City Park Mall. We also continued PR campaigns for Scoala Primara and Gradinita Colibri.
What were the campaigns you admired in the local industry and why?
Elena Luiza Oprea: The mall campaigns in general are very complex and offering. Establishing the strategy can be challenging. The mall campaigns are seasonal and they demand preparing and anticipating the market and the trends. Also, the events campaigns can be very inspirational.
What trends did you notice on the local market?
Camelia Artamon: The main focus was on OOH campaigns and, of course, on online advertising. The customers focused more on the online channels. This is THE trend and the resources go mainly into these channels. The social media is omnipresent and one must think that if you are not there you don't exist.
What do you wish for 2019 from this point of view?
Elena Luiza Oprea: We would like to develop more complex Marketing & PR campaigns for our clients, but also to develop again the series of events developed before by Kool Media. We used to organize fairs and parenting events. We like to communicate directly with the local community, to offer valuable information on different aspects.
What do you wish for the local industry this year?
Elena Luiza Oprea: We wish that the companies trust more the local agencies. Especially in these days, with so much information, it's better to trust the professionals and to let them do their job. The strategy and the messages elaborated by a team of professionals can be stronger. Plus, it is important to provide real advertising budgets. We still meet customers who want results "yesterday" or things to be done "yesterday".
Do you believe a second economic crisis will come?
Camelia Artamon: Yes, definitely, we must pay attention to all signals. The economic crisis is cyclic and the signals indicate that it is close. The international situation always marks up the Romanian economy and when the financial markets become unstable the aftershock arrives in Romania too. It's a matter of time until the crisis is confirmed.
If so, how will it affect the Romanian marcomm industry?
Camelia Artamon: Keeping in mind the previous experience, most of the marketing budgets will be severely reduced. However, the top companies know that communication is the key even during such a crisis, especially when many companies stop interacting. First, it is important not to lose our customers' confidence.   
What have you learned from the last crisis and how prepared are you for a new one?
Elena Luiza Oprea: The experience showed us that it is important to pay close attention to budgets and to the efficiency of the campaign. One should not try communicating on several channels, hoping that they will eventually reach the customer. Of course, the economic crisis is a big challenge for any company. We are more mature now that we were at the last crisis and we are more capable to adapt. And we learned that we need to focus on our clients and offer them the best services.
Are clients open to creativity?
Camelia Artamon: Our clients are smart and fun. Many of them are open to creativity, they expect brilliant ideas and understand the importance of something "outside the box". Most of our customers put our imagination to work, demand the "wow" factor. However, we must agree that some brands are very traditional and that their customers are also very traditional. In the end, what it's very important is the communication and the delivery of a great campaign targeting the right customers.