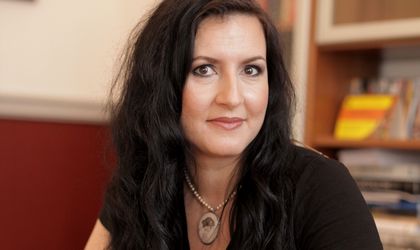 She is one of the most courageous and outspoken PR professionals in Romania, with huge experience on her belt. Sorana Savu, has been running her own agency alongside her husband – Andrei Savu – since 2001 and talked with BR about 2019 in the agency and the Romanian PR industry, as well as the future trends and what to expect from 2020, employees migration, creativity and automation.
By Romanita Oprea 
You can also take a look here at last year's interview.
How was 2019 for the agency in terms of turnover /revenues?
We had a stable year in 2019, with moderate growth and a healthy profit.
What about the pitches entered?
We were very selective about the pitches we entered. It's not only a matter of selection procedure – which is important in itself, as it often gives you a clear indication about the prominence of the communication function within the prospect company – but also a matter of a brief. What are you required to do? What are you required to promote? How? How is your work going to be evaluated?
We have reached a point in our professional life when such questions are really important. We come from a time when strategy was really relevant for the communication of companies and we secretly nurture the strong belief that it still is. Projects jotted down in a hurry to accommodate a new communication platform or the influencer of the week are not the type of work we are looking to attract.
How would you characterize the local PR industry in 2019 in terms of budgets, campaigns, creativity, etc?
I believe that our lives have started to be dictated by social media platforms, and when I say this I don't talk about PR agencies alone, but also about marketers and customers or consumers. I believe this shortens our attention span, erodes our focus, gives us the illusion that we are well informed cause we do go through a ton of information every day, but most of it is just noise.
As an industry, PR creativity has been celebrated for a long time for its low cost, when it should have been celebrated for itself. We ended up with a very fragmented, very cluttered market, where the very definition of PR is blurry and it is often reduced to a Facebook campaign, an influencer campaign, a press conference, a launch event. It is, of course, all of this but oh, so much more. Communication is a valuable function for any company or organization, it's just as important as language is to people. It is multifaceted, continuous, strategic. When it's not treated like this, it shows.
What trends did you notice on the local market last year and how do you intend to follow them /represent them at your agency? What do you foresee for 2020 from this point of view? 
I actually peeked around at what other soothsayers believe to be the global trends for this year and they are either too old or too scary to be mentioned. The main trend that has started a few years ago and will continue to make its mark in 2020 is related to automation. The major international social media platforms have attacked the turf of publishers and journalists in the past, assuming the role of uber publishers and content deliverers, now they are working on advertising, media planning and buying and PR. Any work that is basic, can be automated. Anyone who feels happy now doing only basic work should think about alternative career paths in no more than five years.
In the agency, we work for our clients and for ourselves, learning every day how we can be useful to the businesses in a variety of communication-related ways. Creativity is not enough. An automation that can access and effectively leverage the entire history of human ingenuity will be more successful than any creative. And soon that is exactly the sort of competition we are all going to have. We have just a bit more time to reevaluate our personal and professional USPs and figure out how to monetize them successfully on the market of the future.
Where do you see the Romanian PR industry compared to the European PR industry?
I hope that instant global communication and the multitude of industry award competitions have finally cured us of our inferiority complex. We have 20 years of hard work and quick development behind us, we are no longer in our infancy, we know our job and we are good at it.
Is the migration of seniors influencing the local industry?  
Not that I can see it. But as we have traditionally worked with a very limited number of clients, all on very long time contracts, I could never generalize. I am more concerned with the migration of juniors than that of seniors.
Where do you believe to be our industry's main problems and how can they be changed?
I mentioned clutter and fragmentation before, but there is also the perception that anyone can be good at PR. Well, for what it's worth, this is as true for PR as it is for football or politics.
How do you see the lines blending between PR, social media and advertising today?
They are barely visible now. It's more the industries that are keeping this distinction alive than anyone else on the outside. PR has always used communication tools from other disciplines, it has always had the best expertise in terms of any content management because it has traditionally been interested in provoking and entertaining conversations, it has always been pushed to produce work fast and on a shoestring, so it should be thriving in the current context.
How of an important role are still having the consultancy and the strategy?
I started with that, I will end with that. Now more than ever, to navigate through all the clutter, to make sense of the important messages while surrounded by noise, to be able to build something that would actually get to a critical mass of consumers and would actually last longer than a dragonfly, you absolutely need strategy.
Gurus tell people about companies that have become unicorns overnight and that is a nice thought, but for one thing, success is built on piles and piles of failures no one feels comfortable talking about and then I bet all unicorns secretly dream of reaching old age sitting on piles of cash – not making and burning it in one year. So nothing changed really.
We lived in the "age of speed" back in the 1900s when Ford invented the car and we live in the "age of speed" now, when we have instant global communication and cars run much faster… After all, communication is a people business and at the core of it all is human nature… which is more disinclined to change than we would like to think.