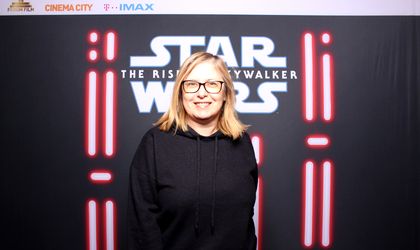 With almost 24 years of experience in communication, gathered at BRD – Groupe Societe Generale, the group, GolinHarris, Raluca Zamfir launched her own communication agency in august 2012, called RAN Events. Having as specialties domains such as FMGC (special focus on Food & Beverages), Financial, Retail, Fashion, Consumer Technology, Real Estate, HR, Manufacturing, Automotive, Publishing. RAN Events means a dynamic and positive culture, an inventive and committed team with a sense of humor, looking for new solutions, approaches and opportunities.
BR talked with Raluca Zamfir about how 2019 went on for her agency and the Romanian PR industry in general, about changes and novelties, trends and new blurred lines in communication.
By Romanita Oprea
How was 2019 for the agency in terms of turnover /revenues? 
We are proud of what we accomplished in 2019. We continue to do great work across our client roster, and remain a fast-paced, hard-working, fun environment for RAN team to work. We are an independently-owned PR firm, yet we still think like a start-up to make sure we work hard every single day and deliver value to our clients.
What about the pitches entered?
Last year's focus for us was not entering as many pitches as possible, but consolidating the business and attending specific pitches that would help us further cementing the business.
How would you characterize the local PR industry in 2019 in terms of budgets, campaigns, creativity etc?
The local PR industry kept growing steadily last year, there were no major blooms, but the trend was ascendant in terms of budgets and campaigns. There's still this feeling of reluctance on the market, a late effect of the global crisis that hit the industry a decade ago. Some companies still have small budgets for PR and communication; it will definitely take some time to return to the hype we saw before the financial crunch. However, things are moving along pretty well, 2019 was a good year; most agencies closed 2019 reporting increases.
What were the most important changes & novelties in the agency in 2019?
For us, 2019 wasn't necessarily about big changes, but more about strengthening relationships and delivering the best we can in terms of results for clients. We are extremely proud to have such long-lasting partnerships with our clients, we work very well together and there is a kind of commitment we stick to. Clients trust us with their image, brand and campaigns and we put in a lot of effort to deliver the best possible results.
Based on our experience, we believe that long term partnerships between the agency and the client are the ones that bring true business innovation, results and are less risky for both parties.
What trends did you notice on the local market last year and how do you intend to follow them /represent them at your agency? What do you foresee for 2020 from this point of view? 
The way in which we consume media is changing. Traditionally in PR, the goal is to get that top-tier media placement, however, like with the move from 'macro' to 'micro-influencers', the media is also shifting its attention to more niche publications such as online TV, sites, blogs, forums and podcasts. Outlets like these focus on specific topics while still having a large readership, allowing companies and brands to target a specialized, niche audience.
It may come as no surprise to hear that social media will continue to play a significant role. Also over the last few years, the importance of social influencers has really taken off and this will continue to hold true. However, the sort of influencers we approach is set to change. Consumers are getting savvier when it comes to influencers who represent brands they don't genuinely believe in.
In 2020 we expect to see a shift towards the use of more micro-influencers; individuals who are still considered experts, allowing them to be more connected and engaged with their followers.
There's also the social media shopping trend to consider. Now more than ever people are using these platforms to shop and discover new products. For PR experts, this means social media is going to become even more critical to a successful campaign and product messages will need to be integrated with these tags to take advantage of the increase in online traffic.
Also, there is one element of the PR industry that I think will continue to be as fundamental as it is today: the art of storytelling. The ability to craft persuasive and compelling narratives is no mean skill, and it is this attribute that gives PR its raison d'être.
What do you hope for 2020 for the PR Romanian industry? What about for RAN Events?
My personal hope is to have as many opportunities as possible, to keep growing, learning and developing the business and, at the same time, to remain the agency that clients trust. There is always room for improvement and I hope to do that.
As for the PR industry, I would like to see more responsibility, especially crisis-related. The more conscious we are about our mission as communicators, the better our work and its impact on society is.
What are the changes you intend to bring in the agency in 2020 and why?
We strive to keep a fresh and creative perspective inside the agency, and I plan to work on that more. It's really important to keep our focus and creativity and sometimes that's easier said than done. I like to foster a relaxed working environment and, at the same time, empower the people I work with.
Where do you see the Romanian PR industry compared to the European PR industry?
The Romanian PR industry though extremely evolved in terms of campaigns, ideas, technology and creativity is lagging behind in responsibility. I see much more responsibility in the European industry than I see at home. We're still having a hard time admitting mistakes, we still tend to hide them and run away from crises, instead of assuming our actions and being a truly self-aware professional.
Is the migration of seniors influencing the local industry?
We focus on attracting and engaging the right people. Unfortunately, this has started to be a bit of an issue. The more seniors leave the industry, the harder it is to train cubs. Sure age and enthusiasm are a big plus when getting a job in the PR industry, but the senior experience is extremely valuable. It is this important experience that moves things forward in PR, seniors know how to make decisions fast and are highly trained professionals.
Where do you believe to be our industry's main problems and how can they be changed?
One problem I mentioned before is the lack of responsibility. Another one is the lack of professional criteria in choosing and creating online influencers. There are some influencers out there who have serious credibility issues and working with them affects the industry's credibility. A third problem is the connection with politics, some agencies make this pact with the devil and that is something I will always advise against, no matter how generous the offer.
How do you see the lines blending between PR, social media and advertising today?
These three communication areas have become so interwoven; one is not complete without the other.
The past years have proven us there are no strict borders anymore and the more technology evolves, the more borders fade. So the lines are indeed blending and PR is social media and advertising is social media, so the common denominator is social media, the strongest tool online.
In today's communications landscape, many functions of the PR pro are merging with those of advertising departments. And Consumers are becoming less able to distinguish between advertising messages and other brand communication.
How of an important role are still having the consultancy and the strategy?
Consultancy and strategy continue to play their role in this game and it's as important as it has always been, especially with the shifting trends and the growth and power of online communities.