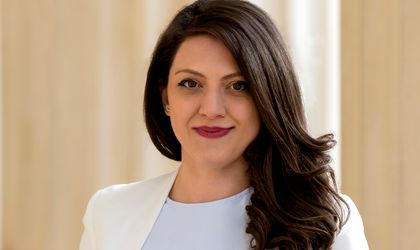 IAA Young Professionals, the association of the young professionals in the Romanian marketing and communication industry, organizes GalerIAA, a virtual exhibition that will gather the talents and the passions of the professionals in the marcomm industry. The whole project will take place during May and the exhibited works will be admired on the IAA YP's social media channels. We found out more details by talking with Iulia Niculae Cuciurean, vice-president IAA Young Professionals for Europe.
By Romanita Oprea
When and how did the idea of GalerIAA came to you?
We launched GalerIAA in 2009 to acknowledge and present the creativity and talents of the people who work in the marcomm industry. I remember that, for the first edition, we had Andrei Cohn, Bogdan Naumovici and Andrei Tripsa in the panel, and, after the inspirational discussion about movies, jokes and art we organized a concert with "Scoala de rock", a music group of people who worked in marcomm at that time. During the years, we organized under GalerIAA a photography and an urban art exhibition and a stand-up night. For the 5th edition we moved the project online, encouraging people to go back to their extra-job passions and to make the isolation period less hard.
Tell us more about the concept.
We started from the idea that art, in any form, is a very important way of expression and communication. We want to encourage everyone to explore the diversity of art and its benefic contributions to life. This is why this online edition of GalerIAA is a very special one – we hope that the Instagram feed on IAAYP page will bring smiles on people faces, will inspire them and disconnect them from all the negative news and restrictions that we live these days.
What are your goals for the project?
To promote a mixt of artists with different hobbies (painting, poetry, calligraphy, photography, cloth design, music, comedy), to show how they discovered their passions, to offer to our public a dose of inspiration and, maybe, to encourage them to pursuit their own passions.
What impact did it have so far?
Till the end of May we will post on our Instagram feed the creations of 51 artists – or hidden creatives as we call them – as this is not their main profession. The number of submissions is larger than we expected, and we are very glad to see that our call was so well received. Because every artist is shown, we feel that we have created a mini community where people comment and show their appreciation. The posts use a very personal description, and I invite you to discover each of them in a break from all the noise around you.
Do you have creative passions that you are pursuing?
I am a consumer of art: visual arts and literature are my favorites. Every time when I visit a new country, my focus is to see the arts museums. I remember I had my friends waiting for me 2 more hours at the London Art museum, while I was wandering with the headphones in the gallery. Since then, I decided to go by myself to visit them. Even in Romania, any time I am nearby MARe, MNAR or MNAC I go inside for a while, even though there are no new exhibitions. I like to paint, it relaxes me and I intend to write a book in a few years.
How did IAA Professionals adapt to the covid-19 pandemic?
We are a strong community with creative and passionate people, and this helped us a lot in adapting to the new conditions imposed by Covid-19 pandemic. We already had a good online presence, we organized a global webinar with George Cary-Simons before the pandemic started and we were familiar with all the technical aspects, so the switch to online was not hard for us. I admit that me and my colleagues miss our meetings and the encounters with the public, but safety the is most important thing now.
How has the situation changed your strategy for 2020?
We focused more on the people inside the organization and we developed our strategy around them. This was our focus even before, but now we went and extra mile for this. Because we are not creating just good professionals in marcomm – we want to build good humans – we extended the areas of development for them. Apart from the specific trainings related to marcomm aspects, we included new workshops adapted to this context. For instance, in April we organized an internal training on the mental implications of isolation and how to cope with anxiety, stress and uncertainty. People were very open and grateful. Also, we will do one on financial education.
Besides these, we have included in our monthly meetings and on our private group many fun activities in order to maintain the engagement. Also, we have a job alert system: we post first in our community the job openings.
For the general public, we will continue to deliver valuable content and online recommendations, in order to keep close to our audience and give them relevant information.
The only strategic point that is postponed until this crisis ends is the opening of the Iasi YP hub. We tested the market in 2019, when we organized the largest CompetitIAA edition in YP history (3 cities, 11 sponsors and 69 teams of students) and the prospects were favorable. Still, the economic conditions have dramatically changed with the crisis, even though the need of marcomm professionals in the region is high.
You also moved your events online. What plans do you have from this point of view for this year?
Indeed, we have launched the YP Guest (Invitatul YP) concept in online with Bogdana Butnar as the first speaker, we moved GalerIAA in online, our colleagues from Cluj had several successful YP Evenings (Seara YP) in online. We are still to decide how the 10 years anniversary of CompetitIAA will take place. We will launch some new projects as well, we are working on draft ideas as we speak.
How important is it to be courageous these days and what does this mean to you?
Courage is very important, mostly because fear for the unknown, for the job stability, for your health, for your family tends to inhibit people and makes them stay in their comfort area. I think people need to have the courage to reach out and maybe to initiate a discussion with a potential employer, in order to introduce themselves. It is also a good time to build expertise and take new classes, learn new things that are related to your job, so that you can have a larger selection spectrum.  Flexibility is a very important aspect these days and fortunately there are a lot of free courses and classes available online. Also, it might be a good time to invest in your dreams, start that vlog that you had in mind, learn programing etc. Reinvent yourself if needed and be open to new possibilities. And because I want to leave you with a smile, remember what Little Finger from Game of Thrones said "chaos can be an ascension leader."