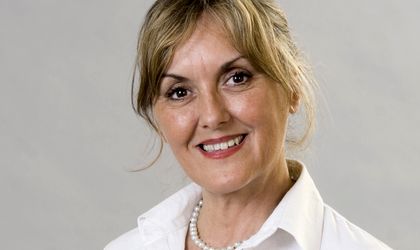 She runs one of the most long-lived PR agencies on the Romanian market, one that is preparing to celebrate 25 years in 2020. Catalina Rousseau has an extended experience in strategic communication and crises management, and is highly specialized in designing, planning and coordinating PR and communication strategies to assist private national and multinational companies, governmental or international institutions in Romania, Republic of Moldova, and other markets.
By Romanita Oprea
Along the years, Mrs. Rousseau has initiated, or accepted many pro bono assignments in support of noble causes, social, educational or cultural initiatives, which have contributed to behavior change, and progress the bringing true values to the society. BR talked with BDR's President & CEO about her view on the new industry's trends, what will 2020 bring along, but also about how last year unfolded both for the agency and the local PR industry.
How was 2019 for the agency in terms of turnover /revenues?  
It was a very good year – we registered a 10 % increase in our turnover for 2019. We could be seen as a stable barometer regarding the real potential of the strategic communication and PR local market because fluctuations in our figures and sources of revenue are always small. It is important to say that we build our figures mainly based on strategic communication and consulting activities, the advertising/media buying component being insignificant compared to our core business in PR. It is good to mention this, because I've noticed the tendency to report advertising under the PR umbrella, the so-called mix-communication tools, which is indeed very good for an increased turnover and for various rankings based on numbers, but not quite representative for the essence of our activity field.
What about the pitches entered?
We were successful in several pitches, most of them being instrumented by the company's headquarters from abroad. We are always happy to become winners following such international exercises, as it is better mirrors the caliber of our professional offer and of our competitiveness.
How would you characterize the local PR industry in 2019 in terms of budgets, campaigns, creativity etc.?
A growing industry. With more effort put by the agencies in creativity, innovation, and strategic thinking. I am a traditional judge in several international and one local competition in PR. I see more and more local agencies striving to win international awards with interesting creative offers, which make the difference as compared to previous years.
What were the most important changes & novelties in the agency in 2019?
Digitalization and more working independence for our team of senior consultants, in terms of taking business decisions, modern technologies in financial planning and project management.
What trends did you notice on the local market last year and how do you intend to follow them/represent them at your agency?
We do not necessarily follow trends; we always follow the developments of the business market and the client's needs. We develop new tools or give up obsolete ones, function to business evolutions, influencing and imposing communication needs, in various industries. We mostly "listen" to the market demands, in order to grow our business, and much less to one trend or another.
What do you foresee for 2020 from this point of view?  
It is going to be a difficult year for our market, strongly influenced by continuous political instability, by the coming elections, and by other challenging external factors which we cannot control, unfortunately.  We expect more crises to be handled for some of our clients, and less significant investments, therefore we keep training our crises communication team 🙂
What do you hope for 2020 for the PR Romanian industry? What about for BDR Associates?
In 2020, BDR Associates celebrates 25 years of successful activity in strategic communications. This is a milestone which we intend to cherish and celebrate during the whole year, through providing our best consulting services, at the highest quality level to our respected clients. We are a market leader for so many years now, and this anniversary proves once again that success may be built on professionalism and ethics values which we will keep communicating, loud and proud, to the market.
As for the industry as a whole, we would welcome an increasing solidarity among agencies in sustaining the reputation of our profession, and in a common effort to help the market grow. This positive approach will for sure generate more business for us all, in a competitive market.
What are the changes you intend to bring in the agency in 2020 and why?
We intend to invest and to grow those strategic communication sectors and competences which are in high demand in Romania, and neighboring markets. We will simply follow the market.
Where do you see the Romanian PR industry compared to the European PR industry?
Equally performant, but less united, and deprived of fair market evaluation.
Is the migration of seniors influencing the local industry?
We do not face this problem. Our team of senior consultants grew inside the agency, along the years, and now represents a group of highly reliable professionals, both for the agency and for its key clients.
Where do you believe to be our industry's main problems and how can they be changed?
Lack of unity, I would say. Not all agency managers have understood, up to now, how important it is to stick together for the industry's major interests, even if we remain competitors. We have understood this need earlier, as well as the benefits of professional solidarity, therefore we have become an active member of ARRP, the prestigious association of PR professionals, as individuals or as agencies, and we are now part of the most reputed global PR family which is ICCO. This next level for the PR industry in Romania has made possible more transfer of know-how and of innovative approach in assisting our clients, more business contacts and opportunities for local agencies, members of ARRP.
How do you see the lines blending between PR, social media and advertising today?
There are circumstances when such a blend is really needed in certain types of campaigns addressing specific segments of consumers, mainly. Yet using this mix-communication tools in an excessive way may bring high risk for the future of the PR profession, affecting its mission of conveying valuable information, creating substantial content, ensuring message credibility, and leading to the loss of the PR identity. Hopefully, it will not happen, taking into account that PR means above all, high responsibility in relations with the clients, and not just a search for higher budgets.
How of an important role are still having the consultancy and the strategy?
It's not a matter of "still having", it's actually a must in our profession for all those who want to remain competitive and grow their business. Consulting and strategic thinking means evolution in our profession: from PR to strategic consulting. Creativity is very welcomed, yet it needs to be built on smart strategies in order to achieve the client's goals, and this is the noble mission of the strategic communication consultant.