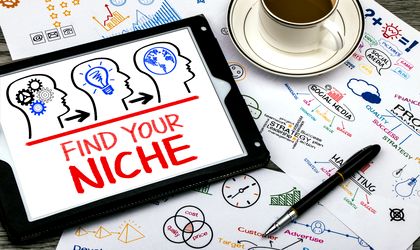 Molecule F, Murmur, Radio Guerrilla, Pegas, Origo, Zaganu, Sloop & FruFru, Maize, Ivan Pescar. These are some of the Romanian niche brands applauded for the way they have been communicating on the market.
By Romanita Oprea
According to marketing expert Seth Godin, "Everyone is not your customer." Depending on your product or service, niche marketing is a tactic deployed to target a specific market segment which is unique. So what should one know before one's company goes after a niche market? According to Catrinel Burghelea, independent communication and PR consultant, niche marketing has been a global trend over the past three to five years and for good reason: while we live in a growingly complex world, our needs and expectations have become very specific. Also, younger generations tend to choose products or services as means of self-expression. "One size fits all" is a less and less suitable approach nowadays, in terms of both products and communications.
While developing a niche brand can be very appealing to both entrepreneurs and big businesses, one needs to consider several factors, says Burghelea. Moreover, since "niche" doesn`t necessarily mean "small", but rather "specific" and "new", it is essential to first identify the answer to some questions: does the product or service address a real need? What is the target market? How does the target market respond to the value proposition?
"Also, keep in mind that 'new' usually demands a consistent communication effort in order to inform, explain or educate and that the product adoption process might be lengthier," added the consultant.
At the same time,, managing partner at GMP PR, believes that one has to analyze whether the niche is relevant, to see if there is business potential, if there is a gap that you can fill. And that it is useless to discover an unexploited niche if it does not have the necessary income to make your business grow. 
In her turn, Adina Vlad, managing partner at Unlock Research, thinks that a company should first identify where consumers are heading to, the trends in lifestyle and the most efficient solutions to answer these emerging needs. Moreover, the company must know if it has the right people on board to address a challenging niche market, since you need guts, determination and instinct to be able to grow an emerging territory.
"The most important question for a company considering a niche is: are you ready to cope with it? A niche requires a very well-defined value proposition of your product/service, a compelling knowledge of your audience and strong consistency in communication. If any of these three dimensions is incorrectly approached, the value of the company business inside that niche will be hit," said Stefan Chiritescu, strategy director Kubis Interactive.
Just as prior to building a house one needs a plan and a strategy, the same applies at the beginning of the communication, especially if one is entering on unfamiliar territories and avoiding mass-market communication. The importance of research is essential in this stage and an aspect that shouldn't be forgotten.
"Research is very important in any marketing step when you need feedback and reassurance. Of course, lots of marketing actions could be taken without research, but then you really should admit the fact that you're relying just on your instinct. So, research is important before choosing a niche market, mainly in the sense that it refines your direction and gives you the courage to act with no compromise. If you want to increase the probability of having success, then you conduct research," said Vlad. And here, the role of marketing consultants in Romania is crucial as they should advise, educate, and encourage entrepreneurs to do research, optimize their business actions and make better decisions.
Sticking to your values and strategy
What are the main things one needs to consider when communicating for a niche market? That, according to Manoiu, your company's target is limited and you must have extensive knowledge of it before starting the communication. You have to know everything about them, their lifestyle, where they go out, what they like, what they don't like. "Compared to brands that have a wider target, you have a bigger advantage with companies belonging to niche markets because you can get an in-depth knowledge of them. When we work for a niche brand, we surround ourselves with people from that area. Whether we hire them or we only meet them regularly, what matters is to test the messages and see which ones they react to," says the GMP PR representative.
After fully getting to know the target you are addressing, you should define your value proposition and stick to it. As Burghelea points out, as a niche brand, your asset is your uniqueness, a fact that needs to be clearly stated and embedded in everything you do, from your product, to customer care and social media presence. "Secondly, make use of the benefits of niche brands: employ refined targeting, show your brand personality, build communities, encourage word-of-mouth and referrals, develop real relationships. Then, keep up to date with changing consumer needs and expectations – you might need to adapt or get inspired for new approaches! Last, plan for success and for a possible scaling up of the business and the communication," outlined Burghelea.
According to Vlad, the most important thing is to stay as close to consumers as possible and find alternative ways to communicate with them, in order to be able to grow together with your target. Meanwhile, Chiritescu advises being consistent with the niche expectations. Be brave with your fears, and be interesting in your communication, as just like in day-to-day life, being interesting is as important as being relevant. "Digital is probably the best channel for growing a niche market. Also experiential marketing and community marketing should play an active role in changing behaviors and growing an alternative territory," added the Unlock Research representative.
Moreover, added Manoiu, when working in niche areas, you need to use influencers a lot. They connect with each other and attend events together. "You need to know who the opinion leaders are for the people who are of interest to you and make them the ones who use your product first. You have to be consistent and patient". And social media is really important to include in the communication mix, as it allows you to communicate to a niche audience more than any other communication channel. "Social media is a great tool firstly due to its ability to accurately define and reach the right audiences. Secondly, due to the rich possibilities in gathering and engaging communities, which are at the core of niche brands," says Burghelea, while Chiritescu points out that social media is a perfect amplifier, not necessarily a starter. "The context of the content, the cadence of the content, and the media strategy behind the content are even more important. Social media is just a part of a much more complex campaign framework," concluded Chiritescu.
But, in the end, is it easier or harder to communicate with a niche target than a mass-market one? Opinions are divided here, and this is a question that many entrepreneurs have asked themselves and made them take a step back before launching on a niche market, while others have seen the opportunity of bringing something new, fresh and diverse, and jumped at the chance to prove their vision. According to Burghelea, communicating a niche brand comes with both opportunities and challenges. And, be it easier or harder, it is definitely exciting. "Their irresistible charm lies precisely in the fact that they are not meant for everybody – they are not your girl next door or a blockbuster. They have character, and this is pure gold for a communication professional," said the independent PR consultant.
"It is harder if you're not part of the target, because you can get lost; you can easily deviate from your path. You might come up with messages you like, but that your niche will not understand. Personally, I believe it is easier to think of general messages that would make a mass audience react, starting from general insights, rather than think for a limited niche I do not belong to. But if you represent the niche, that is another story," affirmed Manoiu.
In his turn, the Kubis Interactive strategy director believes that communicating with a niche is like a love story of a good, old and cool couple. "You need to harness and re-invent daily the reasons to believe in your story. Somehow, big brands became quite boring after a few years. They are trustworthy, but predictable. By contrast, niche brands have the power to stay fresh, sexy and funky, because they don't have the luxury of becoming or being lazy. It's terribly difficult to fight your laziness, but it is so rewarding, at the end of the day. Of every day," concluded Chiritescu.