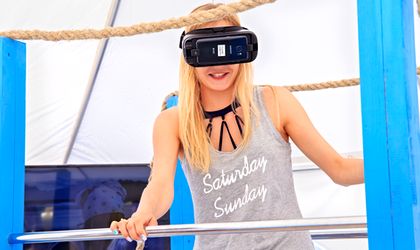 Technology and innovation are changing the game in advertising more and more. Consumers want more interaction and interest from their favorite brands and engagement is going to be the name of the game for a while. Experiential marketing takes it closer to them, say players. BR found out more.
By Romanita Oprea
In the US, more than three out of four Millennials would choose to spend money on an experience or event over buying something desirable, and 55 percent say they're spending more on events and live experiences than ever before, according to a study by Harris Group. Moreover, more than eight in ten Millennials have attended or participated in a variety of live experiences in the past year, such as parties, concerts, festivals, performing arts and races and themed sports – more so than older generations (70 percent).
But Millennials can't get enough. Some 72 percent declared they would like to increase their spending on experiences rather than physical things in the next year, pointing to a move away from materialism and a growing demand for real-life experiences.
This information is vital for any brand that wants to grow and innovate in this highly competitive market, where the customer is king and changing the rules of the game. And in this context, experiential marketing might be the perfect key for advertisers to use to boost their campaigns' results.
But what is experiential marketing and how does it work more precisely? Experiential marketing is all about engagement and interaction, being truly memorable in your consumers' minds and hearts and building relationships. It can be both business-to-consumer and business-to-business oriented and is a strategy that provides customers and prospects with an in-person experience that must be unique and engaging.
According to Maia Novolan, managing director at Syscom Digital, one of the main trends is the 360° interaction between brands and customers which starts online and continues offline (or vice versa). It basically means offering them a unique, memorable and complete experience, to obtain a "wow" effect by engaging them in both channels, beginning online and continuing offline or activating them offline and having the climax online or through other digital channels.
"The experience is not limited to online, but it is transposed – through digital devices – into the environment they still frequent the most, offline. 360° interaction is perceived as more personal and emotional and therefore it plays a decisive role in making someone loyal to a brand and, of course, leads to an increased likelihood of purchase. Also brands can use virtual and augmented reality such as storytelling, helping customers to connect with the brand while learning more about specific details and view dynamic animations," explained Novolan.
In her turn, Irina Mateescu, partner at Digitalee, considers that a great trend is B2B events, trade shows and different conferences. Not so long ago people used to attend professional events, listen to presentations from very well-known speakers in various domains presenting case studies, take some notes and exchange opinions during coffee breaks. "In 2018, but also last year, I distinguished several new concept events with a huge potential to challenge the famous TEDx talks (such as Unfinished, Brandminds, Digitalium,etc). By using experiential marketing, event organizers are bringing lifestyle experiences into B2B shows and changing the game from "Let me show how you have to do stuff in your industry!" to "Let me inspire you to be more creative, to discover your potential, to put yourself into a new state of mind!", said Mateescu. One example that she cites is more and more mindfulness sessions at B2B events or yoga trainers taking the microphone more than a five-star HR director or business coach. Also, VCs, investors and business angels in various funding contests are talking more about "how to learn from failures" than "how to be successful in 10 easy steps". "There is also a certain disruptiveness across all domains that is putting, for example, architects or product creators in the position to talk about creativity rather than a creative director. Even the socializing part is now more experiential at these types of events: we are no longer talking about only exchanging business cards during breaks, but about using technology to create meaningful connections with apps like Networking Tables,Whova, Bizzabo," added Mateescu.
The latest trends to be watched when it comes to experiential marketing include VR (Virtual Reality) and AR (Augmented Reality) experiences. Augmented Reality set-ups consistently rank as one of the hottest attention-grabbers at trade shows and live events in 2018. Marketing Dive's introduction to AR trends found that the most successful implementations of AR were those where the brand provides goggles with apps that have been customized for the event, over brands that created apps for event attendees to download onto their own phones. It blends digital components into the real world, allowing users to interact with virtual content in the real world, while thanks to tools such as the ARkit, many brands can extend the in-store experience by building their own AR apps. This interactive experience allows consumers to feel more engaged with a brand, leading to an increased likelihood of purchase. "End-users will lead the way for advertisers and give an unexpected boost by showing interest and engagement with new forms of content. At the end of this spring, Danone choose VR to show the real path of a milk bottle. When an FMCG brand is choosing to express its message directly into KA (key account) through new forms like VR, instead of using the same old product isle with flyers and promotions, it's pretty clear what will be our next destination with technology easy to be found near the milk bottle," added the Digitalee partner.
And, as the Michael Alan Group points out, to guarantee delivery, enhance experiences, and learn as much as we can as fast as we can, we're going to take advantage of all the new ways to measure and analyze — both in real-time and afterwards. Wearables, facial recognition, and gaze-based interfaces are just a few of the data-collecting tools that we're going to be using this year. We also might just end up going directly to the source, taking a look inside consumers' heads with EEG monitoring. 
At the same time, Mihaela Dumitrascu, PR & account director at McCann PR, coordinator of the experiential division, thinks that above all, it's about how you use the tools to really bring to life an idea, a brand or a vision. Translating big data into meaningful insights, merging realities and technology to create memorable experiences are just a few of the most valuable means to build a two-way bridge between the brand and its audiences.
"At an international level a possible trend to watch closely, which has newly entered everybody's vocabulary, is immersive technology. We know already that online video, although no longer a tech innovation in itself, is much more well-received by users, so it is more and more used. Therefore any interconnection of video content with other tools (video with voice calls, or interactive videos, or video personalized content etc), has become more attractive to users. Live video streaming and immersive content amplify the brand message and spread the reach, and are considered 'the cherry on the cake'. 'Immersive' is the new word most frequently heard this year while I was attending conferences and exhibitions in the USA," says Maia Novolan.
Local versus international
Still, one has to wonder how Romania is doing compared to Western countries. The McCann PR representative believes that we are not yet at their level, but definitely moving quickly towards understanding the essential role that experiential plays – from uplifting the communication towards brand love to shaping authentic business models. The good news is that, in the past few years, we've seen this shift in many industries – from retail and FMCG to banking and energy. In Novolan's opinion, the intersection between digital, social and geo-localized marketing is unfortunately not sufficiently exploited by brands in Romania.
"Nowadays, building an omni-channel presence, especially in retail, is crucial on a very competitive market. The Romanian market needs to work much more on that. We, at Syscom Digital, are ready to launch new consumer experiences on the local market! We have developed turn-key solutions for real-time interaction for retail stores which are an extraordinary tool to engage consumers. Still, retail channels are not so open to invest time and energy in implementing such tools. We have the know-how and we are producing different types of interactive shelves, engagement booths, and interactive totems, perfect for shopping interactivity. For events, the most used activations use Kinect applications, digital totems, photo-booths with specific experiential components like 360° photo-carousel with social media integration, VR glasses or augmented reality apps installed on our tablet fleet – these are some examples of customized applications that we can implement to create a truly unique branding or shopping experience," said the Syscom Digital representative.
Looking at budgets and how much clients are investing in the field nowadays, Novolan affirms that clients in general love experiential marketing, but the problem arises when measuring awareness or results. "We focus mainly on developing activation with quantifiable results, so clients can measure their KPIs, but the overall awareness is often hard to measure. So clients, as they have to tick the box of KPIs and numbers among their job description's annual obligations, may choose the easy way by putting the money into ads."
Mihaela Dumitrascu appreciates that, compared to previous years, there is clearly increasing interest in tackling this field and saving some of the budget for 'WOW' ideas. "However, not all campaigns have to include experiential and I think here is where we have an essential role as consultants. If there's no real need for it, we don't have to do it, because people won't buy it. If it doesn't translate into a really meaningful approach or doesn't help make a real connection with the audiences, again, no need for it," added Dumitrascu.
Which takes us to who is the target of an experiential marketing event or campaign? According to Mateescu, they are people with a very active lifestyle, always on the go, but whose attention is very hard to keep alive towards a brand message, and a little posh. "Butterfly" people for whom being in a certain place at a certain time means something, but also those who consume any kind of experience very fast. Subjects that are micro-influencers among their peers who can generate dozens of native comments on their posts without making any money out of it are also part of any experiential marketing audience. Tech-savvy people with a medium to high income working in disruptive domain and new-generation entrepreneurs are easier to attract to such initiatives.
"My opinion is that we are wrong if we try to define the target group in regular terms of age, sex and education, because it's more a matter of a lifestyle, status, income and tech savviness than regular sociological characteristics. It is not even about being part of a family or not or how many people there are in the household. Advertisers and agencies will have to dig deeper into content preferences, lifestyle habits, free time activities etc," explained Mateescu.
In her turn, Novolan says that customers in Romania come mostly from the retail and FMCG industries. "There is no preferred type of experiential project, because most of the time, there are customized projects especially created to achieve certain objectives. Of course, we can say that engagement, digital devices and technology, as well as interactivity, are common traits for every project. Due to heavy mobile phone usage, people in Romania educate themselves to be able to use more and more sophisticated tools; therefore when they see activations booths, they are no longer reluctant, but keen to experience and to be seen experiencing," concluded Novolan.
Technology – the Queen of the Game
According to Irina Mateescu, experiential marketing goes beyond a photo contest on a social media network or "subscribe to try our product initiatives first". Technology will make offline experiences meaningful, by maintaining suspense and exciting a certain target group to discover more.
Moreover, as Novolan points out, today's technology makes it possible to know more about customers, with or without GDPR. People are spending more and more time on their mobiles, tablets and laptops, and the challenge for brands is to connect with them through all these devices in real time and create campaigns and activations that work both offline, in store, but also across social media, display advertising and e-commerce.
"We have to keep in mind that more than 80 percent of shoppers research online before making a purchase. That's a lot to lose if you're not online at the right time! What I personally like a lot about technology is that it is also continuously improving customization. We have to segment our visitors and show them relevant info or they're gone fast. Of course, for the future, we'll also see more and more business leveraging artificial intelligence, machine learning or chatbots, but until then, I think we should concentrate on what we already have right now and value to the maximum the great potential offered by digital devices," concluded the Syscom Digital representative.
It all comes down to technology that makes everything evolve and grow, but as the McCann PR representative points out, even if everything is smart today – smart communication with smart devices, smart learning, smart branding and so on – the smartest thing you can do is not let technology outsmart you.
Main photo: dreamstime.com