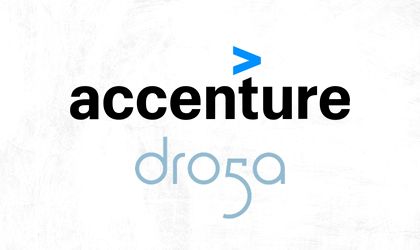 In April, Accenture entered into an agreement to acquire Droga5, one of the world's most innovative and influential creative agencies. The New York-based agency will become part of Accenture Interactive, boosting its capabilities as an "experience agency" able to design, build and run customer experiences that grow brands and businesses, say officials.
By Romanita Oprea
According to company officials, the acquisition will give Accenture Interactive a distinct marketplace position, further enabling it to lead brands into the future, and represents an evolution in Accenture Interactive's journey to build a new agency model — one with the power to engineer transformative brand experiences, and infuse those experiences with the emotional and inspirational power of brand thinking and creativity. 
"The future of brand building is not just about creating great ideas; it's about creating great experiences," said Brian Whipple, global CEO of Accenture Interactive. "We're excited to work with David Droga and his team of brand strategists and creative minds to further our ambition to improve the full human experience with brands. As we celebrate the ten-year anniversary of Accenture Interactive, joining forces with Droga5 will be a game-changing milestone for us and the industry as we continue to assemble the right mix of capabilities for the modern-day marketer."
Founded in 2006, Droga5 ​is a highly-acclaimed creative agency with more than 500 employees in New York and London. Since its inception, commentators say it has become synonymous with ambitious, influential and industry-challenging work; recent examples include award-winning work for Amazon Prime Video, Tourism Australia, The New York Times, IHOP and Game of Thrones' Super Bowl surprise. The agency has been named Agency of the Year 20 times by organizations ranging from Adweek and Advertising Age to Cannes Lions International Festival of Creativity and the North American Effies. "Since day one, we have worked hard to push our industry forward and, hopefully, make a positive impact for all. The world of advertising is changing, and we are excited for this incredible opportunity with a company that will add more dimension to our best ideas and push us beyond our existing ambitions. The proposition we can bring to market with Accenture Interactive will transform the industry," added David Droga, founder and creative chairman at Droga5.
Moreover, officials add, Accenture Interactive and Droga5 were born in the digital age and are often touted as trailblazers in an industry undergoing radical change. Both were recently named 2019 Fast Company Most Innovative Companies in Advertising. Accenture Interactive was recognized for "leading the merger of strategic consulting, ad-tech and creative work," while Droga5 was lauded for its offbeat and transformative ad campaigns. By joining forces, the organizations say they will be better poised to fulfill their common ambition of building a new agency model — one designed to deliver clients and consumers seamless, rewarding brand experiences at every touchpoint.
"In our quest to create the best experiences on the planet, we recognized the need to further raise the bar on our brand creative," continued Whipple. "Droga5 occupies the top echelon of brand agencies and is a great fit for us due to its world-class creativity, strategic rigor and brand experience capabilities. We're beyond excited about the possibilities of what we can achieve together."
But what does the move say about what the agency of the future will look like? Is the agency model changing in a world where more and more big consultancy firms are looking towards investing in advertising companies? And what does that say about where the creative journey will take us in the future?
"Although significantly less than Accenture's figure, Big Four firm Deloitte has sunk USD 144 million into acquisitions in the sector. This saw groups such as Swedish creative agency Acne incorporated into Deloitte Digital, which already boasts multiple global and UK offices, and was recently named a Netsuite Partner of the year, having become one of the world's largest implementation partners for NetSuite solutions, providing a holistic service which includes business strategy, customer engagement, technology implementation, and operational readiness," reported Consultancy.uk.
In 2016, for the first time, four consultancies cracked Ad Age's ranking of the ten largest agency companies in the world. With combined revenue of USD 13.2 billion, the marketing services units of Accenture, PwC, IBM and Deloitte sat just below WPP, Omnicom, Publicis Groupe, Interpublic and Dentsu. "These consultancies are rising fast by gaining a foothold in marketing departments and wooing chief marketing officers with their vast array of strategic and data analytics solutions to big business problems that traditional advertising can no longer solve alone. And in some cases, they are layering on creative services and content marketing, putting them solidly on the same turf as traditional shops," E.J.Schultz commented to AdAge.
The takeover
After watching the industry closely for so many years, Cristina Blanaru, freelance consultant for international companies and agencies, believes the "new agency model" isn't new at all, but more of a reoccurring pattern – every five to ten years or so. "First, there is a move of concentrating all competencies in the same place, hence an agency that does everything and anything, followed by a movement of specialization, where departments or small groups launch specialized shops that offer only certain competencies and services. There is always a push in-push out movement within the advertising world, a flux and reflux," said Blanaru. Moreover, she believes that the "new agency" in the East must follow more the West's path, where egos are kept under control, advertising is a business where cash matters for both the company and employees and where ideas are used for the benefit of the client first and foremost, and only in last place for shiny trinkets. "I believe agencies should be humbler and more oriented towards work rather than chasing glamour and awards with campaigns that have too little substance to deliver."
In her turn, Irina Pencea, managing partner and co-founder of Jazz, one of the most successful Romanian independent agencies on the market at the moment, argues that agencies as business models should embrace constant change. Agility and resilience are key in today's market tensions such as: demand for real impact and talent tension. "Brands need to prove their worth to shareholders and consumers alike. They need to deliver bottom-line impact while positively impacting consumers' lives and societies alike. People no longer accept being manipulated into buying products, they are more knowledgeable and discerning and they can spot instantly when brand are not behaving with authenticity," said Pencea.  Shareholders, meanwhile, are no longer willing to bet their money on complex agency structures with fancy titles and offices, but rather on agile strategies and creative executions that build fast results, to the extent that there is an increasing trend for in-house agencies for top global brands. At the same time, Jazz's managing partner says, "There is a growing trend calling talent away from structures and into freelancing. Agencies need to find a more fluent and agile model to retain and nurture valuable talent."
But, according to Serban Alexandrescu, managing partner at Headvertising, an independent Romanian advertising agency with more than 20 years on the market, there will never be just one model, but tens of models. He believes that the "platform agency" is still much needed, with people "on the floor" (working from the office) who will communicate "meat & potatoes", and not super-specialized pieces.
Meanwhile, Dana Nae Popa, managing director at pastel, a Romanian independent agency that has just celebrated 13 years on the market, thinks that the model of agencies doing creativity just for the sake of creativity is no longer sustainable. More than that, clients want results, consumers want to be understood and heard, while employees want to work for companies and people that leave something behind. "The market has changed and continues to change, and that brings about the changing of the agencies as well," concluded pastel's representative.
So where does this movement of consultancy companies taking over creative agencies lead the market? Straight forward. Alexandrescu says that Droga5 is not the first agency to have sold itself to the "consumed ones" and it will not be the last. This is because consultancy firms are also under pressure from clients to take care of "the last mile", carry out the concrete implementation of the advice they offer and, if there is some extra money involved in the equation, why not do it? "The agencies will be really happy to be taken under a more 'strategic' wing, with C-suite access, not only to the marketing department (which mostly only opens cans with the operating knife)," said Alexandrescu. Still, the acquired agencies will need some experienced staff, people that can interact and think closer to consultants' "cruise ship altitude". "But they will be harder to find after 15 years of 'shaving off value' in the agencies – a period in which those people left the agencies. Moreover, this type of agency will cost the client more than a flayer and a hungry promotion implementer, which they like a lot and now find everywhere. But it's good that it is happening this way," commented the Headvertising representative.  
Dana Nae Popa considers this a normal move, just as normal as the advertising agencies that developed business consultancy, at a smaller or bigger scale. "It's a market's and a clients' need. In the technology and digital era, clients want business results for every activity they do which has pushed things in that direction," added Popa. And Cristina Blanaru agrees: from her point of view, it isn't unusual for big advertising groups to seek to bolster their capabilities by acquiring companies that have the desired features. Mostly, if an interactive agency needs the creative side, in the same way the creative agency could be in strong need of digital. "Hence a match made in heaven. Consolidation of competencies of all sorts in a one-stop shop – that seems to be the game. In a very dynamic market, where things change from day to day and week to week, of course moves like this will continue to occur. After all, it is a business and the purpose is to make money. And to make money, one needs both the ideas and capacities to execute these ideas. And if they aren't in house, well… then it's time to go shopping for some shiny agencies to help one reach one's goal," said the independent consultant.
In her turn, Irina Pencea believes in balance and adds that consultancies are driven by strategic vision and ability to design a seamless experience for brands, while agencies are driven by creative expression. "Brand building needs both; you cannot drive a brand forward with just one, without the other. It's the Yin who needs the Yang and vice versa. Those who can deliver both will be the winner," added Pencea.
Data versus creativity
As the market evolves, another concern is the possible creativity lost. As companies push more and more towards business results, efficiency and sometimes safety, what will happen to the creative drive and energy for which advertising agencies are so loved and sought after? Will data take over creativity? Pencea doesn't believe so, but says they will need to work in harmony. "That's probably why the announcement of the Droga5 takeover feels right. We're talking about a new age consultancy and a new age agency. It's not the Big 4 acquiring an agency, and it's not one of the top advertising groups acquiring a consultancy. It should be a marriage of equals that will probably succeed only if they nurture each other's gifts. To me, it proves again that independent creativity will never get to be as big as strategy and business consultancy. I honestly believe that size and creativity are divergent. As size grows, creativity shrinks. Creativity needs a certain level of fluid chaos to bloom. And big companies cannot accommodate chaos," argued the Jazz representative.
And her point is supported by pastel's managing director because, at the end of the day, to know how to interpret and use data you need to be creative. "Creativity is needed in any field and creativity as we know it, as advertising agencies' prerogative, will transform and evolve as well," added Dana Nae Popa.
"Creativity is creativity for a reason. Of course, it might seem sometimes that creativity is under heavy attack or sidelined by standardized communication and models. The truth is that creativity will always shine through, eventually, but the challenge is to let creativity be real and genuine, and use it to help and elevate and not for bragging and purposes serving only certain types (and their egos)," said Blanaru.
Moreover, according to Alexandrescu, consultants know they will never be able to do creativity alone. And this is the reason they pay so much money for it. "Robots, data and digital transformation they knew how to do themselves, they haven't needed agencies. But, 'emotional transformation' is something they don't know how to create, but they are better than the agencies at post-rationalizing it and 'selling it' to clients. They realized it was lacking from their portfolio and they decided to buy it, being flush with cash," concluded the Headvertising managing partner.
Romania's part in the "game"
Although it takes time for reality to "hit" the local advertising industry, the question still arises: will agencies in Romania be influenced by this trend, and, if so, how?  And more, will that agency model have success in Romania in the coming years? According to pastel's managing director, the agencies that understand that their work has a major impact on clients' businesses and try and understand their needs, will be the ones that will gain in the future. "Moreover, the workforce will change the way agencies evolve in the coming years. Those that build a business model and are a sustainable choice in their employees' careers will be the successful ones," said Nae Popa.
According to Pencea, the Romanian market is dominated by agencies, while consultancies are only now emerging and big international consultancy groups have shown little interest in the country. "I guess that besides being an interesting story to follow, we will not be directly impacted by the acquisition. The successful agencies will be those who adapt first, as in any business. The agencies that ride the waves in the next five years will be different from what they were ten years ago," said Pencea.  
In her turn, Blanaru believes that the new type of agency is already there, but those adopting it are still too small, both financially and in terms of power within the industry, to make a difference across the entire market. Still, they are starting to push the narrative and show their footprints. "The new type of agency will, of course, influence the Romanian ad market, but that is a far-far-away problem for an industry where most big players assumed a dominant position and have issues when it comes to delivering their promised share in contracts. A business must first have a flawless functioning mechanism, from hiring to payments and other business processes. Then they can bend towards a certain model or another, but have a solid base to stand on and work," concluded the independent consultant.