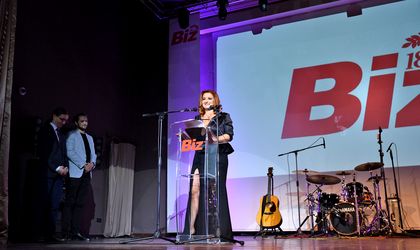 In the presence of over 200 de top managers from companies, entrepreneurs, culture people and innovators in various fields, the Biz magazine team awarded last night, during the Gala celebrating 18 years of activity, 21 of the most respected personalities in Romania.
The list of awards:
Leadership:
Mugur Isarescu, governor, BNR
Sir George Iacobescu, president, Canary Wharf Group
Mariana Gheorghe, CEO, OMW Petrom
Severina Pascu, Liberty Global head for CEE
Cornel Marian, partner, Oresa Ventures
Marian Alecu, entrepreneur
Sergiu Oprescu, executive president, Alpha Bank Romania
Shachar Shaine, president, United Romanian Breweries Bereprod (URBB)
Entrepreneurship:
Marius Ghenea, investment director, 3TS Capital Partners
Radu Timis, CEO, Cris-Tim
Felix Patrascanu, managing partner, FAN Courier
Dragos Paval, president, Dedeman
Dan Ostahie, founder and CEO, Altex
Dan Sucu, founder, Mobexpert
Mihai Marcu, president of the administration committee, MedLife
Innovation:
Claudiu Butacu, president, The EFdeN Association
Culture & Design:
Alexandru Tomescu, violin player
Cristian Kit Paul, creative director, Brandient
Cristian Mungiu, director
Advertising:
Liviu David, creative director, NEXT Advertising
Mihai Gongu, creative director, Jung von Matt Berlin
The design of trophies belongs to artist Ovidiu Toader.
The host of the event was Radu Atanasiu, adjunct lecturer, Maastricht School of Management Romania.
Romanita Oprea