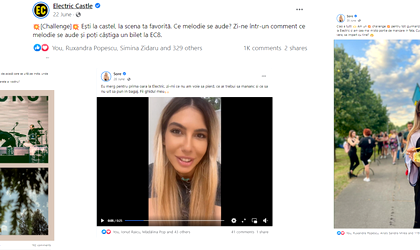 In the most recent campaign, Birra Moretti® and Tribal Worldwide launched a group on Facebook, where users joined to have fun like at the Electric Castle festival, before the Electric Castle festival. With lots of activities and artists, the group invited users to role play as they were at the event, commenting, posting & interacting with each other.
But the objective of the group was not only to create a strong community around the brand, but also to reward the most active fans, with one of the 50 double tickets for Electric Castle festival.
The group format follows a trend popular among millennials, where members play pretend on different topics. The most well-known groups are: A group in which we pretend to be at the student campus and A group in which we pretend to be at the Vama Veche beach.
Electric Aperitivo: A group where you win tickets to EC2022 created by Birra Moretti® and Tribal, gathered people who already knew the group format and joined the game naturally. Birra reinvented the groups used in a traditional way by brands & transformed them into an authentic communication tool with a close community.
Artists that performed on the Electric Castle 2022 stage joined the group: Robin and the Backstabbers, Byron, Ana Coman, Dimitri's Bats; together with influencers: Sore & Sanziana Negru; a local radio station: Virgin Radio and even the official page of the festival. All of them posted & interacted with members, and some even created exclusive content for the group.
"It seems ambitious to develop a consumer promo in a closed group, created especially for this purpose. But we understood the insight and the dynamics of closed groups. The results were beyond expectations and a strong community was born, one that we will definitely reactivate", says Sharon Annette, Marketing Director, HEINEKEN Romania.
Users interacted with the brand and with each other, even creating content themselves, without it being a requirement for the campaign.
"We wanted to speak the language of the person who goes to EC and create an activation that they want to be a part of. Not just to promote something, but to create a natural experience, organically integrated into people's everyday lives. We noticed the phenomenon of this type of groups and we realized that there is room for one more, one that rewards you if you have fun like at the Electric Castle festival", says Simina Zidaru, Managing Director Tribal Worldwide Romania.
The results were beyond expectations, over 2.5k members in the group, smart user generated content and authentic interactions with the brand. Also, the level of engagement within the group exceeds that of regular social media profiles. The community still exists and will be reactivated at various times throughout the year.
Birra Moretti® team:
Andrei Rotaru, Group Brand Manager
Delia Popescu, Senior Brand Manager Birra Moretti®
Tribal Worldwide Romania team:
Simina Zidaru, Managing Director Tribal
Ruxandra Popescu, Client Service Director
Ionuț Raicu, Group Creative Director
Mădălina Pop, Group Creative Director
Eduard Biciusca, Social Media Manager
Diana Anghel, Digital Account Manager