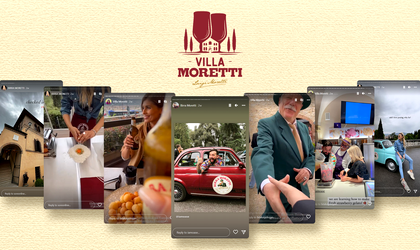 In one of the most important Birra Moretti® campaigns of the season, the brand brings Italianity closer to all of us, supported by a strong influencer marketing component. Long story short, digital content creators from all over the world gathered this summer at Villa Moretti in Tuscany to celebrate together the "gioia di vivere" and bring the mood closer to all of us.
Romania was represented by Sore, Sânziana Negru, Oase, Alina Gologan, Mădălina Merca, Sandra Bendre, Vlad Gherman, Carmen Grebenișan, Ioana Mosneagu and Bianca Giurcanu
They joined the fun of Villa Moretti, in Colle Di Val D'elsa, a beautiful location that complements the Tuscan hills and offers a unique view of all that this region has to offer. The experiences here have certainly been amazing. In addition to the dinner created by Viviana Varese, a Michelin-starred chef, the tasting moment at Sergio Dondoli's Gelato Shop or meeting Baffo, Birra Moretti®'s global image, the most important points were about everyone's little pleasures and the people with whom they lived this unique experience.
"What matters most to us is the capture of Birra Moretti®'s authenticity, of honest Italianity, of the small moments that, in fact, are the biggest, if we take a look back. We had the ideal team at Villa Moretti, which delivered excellent results. We were looking for content creators who understand what we are about, who align with our philosophy and who can provide a personal point of view of what happened at Villa Moretti", says Sharon Annette, Marketing Director, HEINEKEN Romania.
All activities in Tuscany were sprinkled with plenty of Birra Moretti®, good cheer, smiles and, most importantly, Italian authentic relaxation. And this could be easily noticed in all the content posted by content creators, who had a 100% authentic vacation.
"I think the challenge for our Influencer Marketing Department was to choose the mix of content creators. It was essential to understand the brand's creations and to be able to take the story further, but also to reach different types of beer drinkers. I believe we managed to tell the story of Villa Moretti and whet the appetite of as many consumers as possible for a Tuscan experience", says Simina Zidaru, Tribal Managing Director.
The experience can still be seen on the Instagram profiles of some digital content creators, in the highlights section, in over 150 stories, which take you directly to the hills of Tuscany, in the center of the activities from Villa Moretti.
At the end of the season, Villa Moretti will open its doors again, ready to welcome people all round the world. Right now, Romanians are invited to be a part of the Italian challenges on Birra Moretti's Instagram page, for a chance to win a unique experience in the heart of Tuscany.