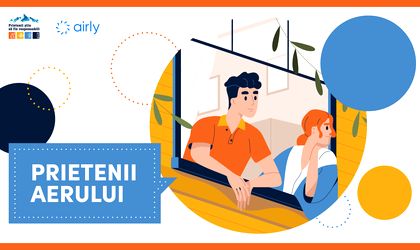 Bergenbier S.A., part of the Molson Coors Beverage Company group, one of the most important companies on the Romanian beer market, launches "Friends of the Air" campaign, with the support of Airly, a global air quality monitoring company.
Through this partnership, Bergenbier and Airly, with the support of Ploiești City Hall, installed five air quality monitoring sensors in parks around the city. The campaign is part of the sustainability platform "Friends know to be responsible" launched by Bergenbier this year, together with the third edition of the Sustainability Report for the year 2021.
"The communities in which we operate are important for us and, implicitly, a place where we act carefully towards people and the environment. One of the pillars of our sustainability strategy is caring for the environment, and in this context, with the help of our partner Airly and with the support of the Ploiești City Hall, we chose to install five air quality monitoring sensors in the city where the Bergenbier brewery is established. The strategic partnerships we develop contribute to the development of a positive footprint for our company, aligned with the three pillars of Bergenbier's social responsibility: people, the planet and responsible consumption of alcohol," says Alexandra Barroso, Legal and Corporate Affairs Director of Bergenbier S.A.
The "Friends of the Air" campaign aims to raise awareness of the importance of maintaining and increasing air quality in five parks in Ploiesti: Mihai Viteazul Dendrological Park, The Central Halls Park, Tineretului Park (Sports Hall), Constantin Stere Memorial Park (Bucov Zoo), Liberty Park .
As one of the important beer producers on the local market, part of Bergenbier's mission is acting to protect the resources, contributing to the development of a sustainable world. Thus, Bergenbier's Ploiesti Brewery continuously optimizes the consumption of utilities (water, electricity, steam, CO2) and increases the percentage of waste recovery, focusing on reducing the carbon footprint. Since 2019, the Bergenbier brewery in Ploiești has recovered 100% of the amount of household waste into energy and through recycling. Also, starting this year, the entire amount of electricity purchased and used in the factory is completely green energy.
Bergenbier S.A. sustainability projects are aimed at three main directions: responsible people, caring for the planet in terms of water resources, climate and packaging, as well as responsible consumption of alcohol. More information on prieteniresponsabili.ro