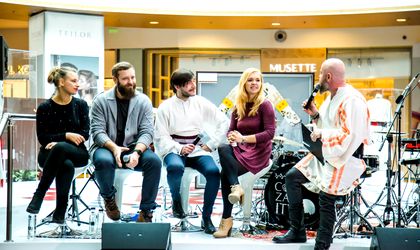 Under the message It's ok to reimagine folklore, Baneasa Shopping City and FCB Bucharest agency launched the second edition of the educational project Expoziția Imaginației (Imagination's Exhibition). The theme of this year's campaign is the Romanian folklore and the way in which children can find out more about this.
"Because the play is the best way to learn we thought to create for the little ones the perfect opportunity to learn about what makes them Romanians, to combine the imagination with the stories, the traditions and the Romanian habits," said Claudiu Dobrita, creative director, FCB Bucharest.
The launch of this year's edition of the project "Imagination's Exhibition" was preceded by a series of folkloric workshops in which the children found out more about various traditions and habits from six areas of the country and they re-created from LEGO bricks popular Romanian costumes. Then, on Union's Day, on January 24, the project was officially launched.
There was also an open discussion on the re-interpreted theme of the folklore, having as hosts Silviu Ilea, researcher at The Romanian Peasant Museum, Lana Balana, fashion designer known also oversees for the re-integration of the Romanian traditional motives in her creations, Mihnea Ghildus, product designer and founder of the Romanian design concept store Dizainar and Claudia Suhov, founder Kidster and partner of the project.
The campaign is present on the following channels: online (website dedicated to the project, online banners and promotion in social media), indoor and outdoor. During the PR component of the communication, the agency involved itself along the children and the parents known in the online for supporting the educational projects such as Anca Serea, Dan Cruceru or Ioana Chicet-Macoveiciuc.
The Baneasa Shopping City team that coordinated the campaign comprised Alexandru Bogdan – Marketing Director, Ovidia Popescu – Experiential Marketing & Campaign Coordinator, Daniela Matei – PR & Corporate Affairs Manager.
The FCB team included Claudiu Dobrita – Creative Director, Olivia Spanu – Senior Copywriter, Viorel Holovaci – Senior Art Director, Emanuel Borcescu – Head of Art, Florin Ciobanu – Head of Digital, Sorin Fotache – 3D Designer, Alecsandra Roman – Head of Planning, Mihaela Bivol – Senior Account Manager, Stefania Dinu – Account Executive, Alina Stefan – PR Director, Alina Jijau – Senior PR Manager, Alexandra Nedelcu – PR Executive, Marian Enache – BTL Project Manager, Marius Udma – BTL Project Manager, Alexandru Puiu – BTL Project Manager, Gabriela Pricob – Production Manager, Ionut Stan – Production Executive.
Romanita Oprea