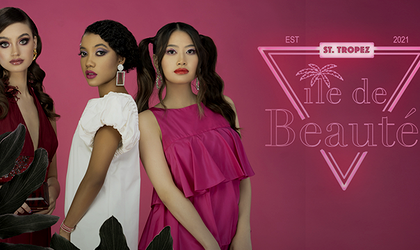 NO FRONTIERS is your preferred Business Advisory & Marketing Services partner when launching a new business initiative or seeking to increase growth at your existing one by expanding into International markets, establishing and implementing a holistic Brand Strategy approach. NF assists clients with Break Through Solutions for a Fast-Changing World bringing tangible and measurable results.
The company's latest achievement, part of a Global Marketing Strategy project in the Beauty Industry was completed with utmost success!
The Marketing Services team successfully completed the Global Campaign "Ile De Beaute" on behalf of a valuable client, OULAC Cosmetics, member of Guangzhou Chemical Technologies Group, one of Asia's Leading Beauty Manufacturers.
The Campaign explores the feminine, stylish concept "Ile De Beaute" and inspires us to enjoy a Summer full of colors and energy. SS21 Photo Shooting as part of the Global Marketing Campaign was implemented in Romania using the state-of-the-art studio facilities of AVANPOST.
Building Global Brands without Frontiers
"We are entering an age where businesses are becoming increasingly global. Technology, diversity, and social mobility are key factors in a fast-changing world. NO FRONTIERS Business Advisory & Marketing Services is your business partner to assist you during all stages of an International Expansion project using a global network of Subject Matter Experts. Operating from our Head Office in Bucharest we design and implement custom made solutions to meet your Business needs and expand your business horizons. We invite you to join us on this wonderful journey!" Says Yiota Papatsori, Managing Partner / Marketing & Communication Services at NO FRONTIERS.
NOFRONTIERS Marketing team provided the following services to ensure project success:
Project Charter/Concept/Creative Directions
Photo Shooting Art direction
Coordination between all stakeholders
Management of logistics and planning
Feeling deeply proud, NOFRONTIERS would like to thank the crew members for their dedication and commitment during all project stages and the business partners roTTaru Nail & Makeup Academy, and Top Line Europe.
Roxana Paraschivoiu (Photographer)
Cristi Barcan (Assistant Photographer)
Samyrah Hissei (Model)
Sang Yu (Model)
Ioana Stoica (Model)
Ana Capsali (Styling)
Ene Corina (Make-up)
Mari Ovedenie (Nail Designer)
Mihaela Bigan (Hair Stylist)
Mirela Macovei (Hair Stylist)
If there is no limit to your goals, NO FRONTIERS is the Business Advisory & Marketing Services partner you need to achieve them. Check their website www.nofrontierservices.com and discover all about them.