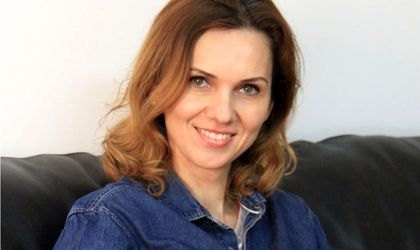 As a niche advertising agency that approaches the market in an innovative, unique and avant-garde manner, Motion Vision Communication covers Romania at a national level offering services of unconventional and multi-sensorial advertising that complete the pallet of the classic media advertising agencies.  BR talked with Andreea Timofte, General Manager, about the challenges of this niche, what offered 2018 and what to be expected for 2019.
By Romanita Oprea
How was 2018 for the agency? 
We've had a good year, with a constant and stable growth. It was not the greatest year in terms of fiscal value out of the last 5 years, but definitively it had the healthiest growth.
In our niche (experiential marketing seen as a multisensory approach), there is no predictability, therefore one of the biggest challenges regards the ability to maintain the flow, as the cash flow, human resources, research, development etc.. And it's true, it's tough to have a gap, but it's about the same challenge to manage a quick leap.
What was the situation like for pitches?
Usually we participate along with other agencies, as experiential marketing experts. Our expertise in multi-sensorial marketing recommends us in joint ventures along with various agencies. However, pitch participation it's not one of our core activities. There are many more situations where agencies call for our expertise after winning a pitch. It's not only about the idea, it's the same or even more, about developing and implementing it.
How would you characterize the local communication industry in 2018 in terms of budgets, campaigns, creativity, etc? 
As mentioned before, our agency acts a niche, therefore our evolution is not representative for the industry. But, as we could see, it was a good year connected to this fabulous consumption growth. We do not agree how companies from pharma are communicating in our market, because they are using too much "fear marketing", but they were on big waves.
What were the most important changes & novelties in the agency in 2018 and how did they come to happen? 
The most important thing that happened to us is the constant growth of the portfolio. Quality, originality and versatility, combined with this context of the consumption growth, followed by bigger marketing budgets, leaded us into this.
What were your most wanted services by the clients in 2018?
When it comes to media supplies, the mobile OOH continues to be the most wanted media system in our clients' requirements. Its versatility sustains all sort of brand campaigns and areas, such as retail, financial services, FMCG, events etc.. On the other side, the retail players attention on small – medium urban cities, as well as rural areas is a growing trend so, the mobile OOH has the potential to target with local addressability, exactly these areas.
In terms of sensorial marketing, the scent is definitively the most wanted channel. Although many might think it's just about the smell, in fact it's about emotions, feelings, memories. All at once. So, it's very important to deliver the right notes, at the right time, with the right concentration. Still, the interest in this field is yet far below the level of the advantages that come along with such an approach.
How is your agency positioning itself on the Romanian advertising market now?
On a market where "experiential" became an ordinary attribute, we were the first agency to embrace this kind of approach. We are and always were able to decline this concept as clear as it gets. We immerse consumers in an experience through their senses, using the right combination of stimuli. Talking about stimuli, every time we are asked about memorable campaigns, we recommend to our clients to use more the smell and the touch, because these are 2 senses still forgotten in mass-media today.
As the neuroscientists show, humans have in fact 13 senses (sight, smell, hearing, blue light, pain, kinesthetic, the sense of balance etc.). Therefore, there is a lot of playground here.
So, as experiential agency, we offer the greatest expertise in terms of sensorial approach. We can administrate experiences in-store, nearby the shelves, but also on the streets were our message delivered through mobile OOH systems, may surprise prospects or potential customers / consumers, when they expect less about this.
Experiences on the streets can look really great as they combine big billboards, with music, and scent along with samples or flyers offered by promoters.
What were the biggest campaigns you worked on?
In terms of impact, we still have our project "N-avem SANGE" for which we cover all sorts of areas: social media, video production, media, etc..
What were the campaigns you admired in the local industry and why?
Magic Home. Because their story pulls out a lot of emotional strings. Maybe we liked this campaign because working on "N-avem SANGE" project, we understood better that there is a lot of suffering in the world. And we have to look at people with tough destinies with understanding, but without taking their dignity.
What trends did you notice on the local market? 
Digitalization with any cost, which comes with a big one: alienation of the consumer. When it comes about media consumption and media players, on the local market, retail category represents a very important area. Even if their scores are very high, their clients are not digital 100 percent. So, the market it's still not digital.
What do you wish for 2019 from this point of view?  
Offline experiences are very important, even nowadays, and they can capitalize memorable things in the consumer's mind. The perfect mix, from our point of view, will contain experiential / offline approach, with digital/social media component.
What do you wish for the local industry this year? 
We would love to continue our constant growth. Don't we all? But it's very hard in such a context, with legislative instability, lack of economic predictability, to control the way a business is going. Otherwise, our niche was never an easy one and we are hardened. But as experiential is a growing trend, we see a great potential in sensorial approaches.
At the same time, the brands interest in rural Romania and small-medium urban cities might come along with more experiential campaigns.
Do you believe a second economic crisis will come?
Yes.
How will it affect the Romanian marcomm industry?
We might think that we are in a kind of a crisis, right now. Companies from telecom and energy are directly affected by last legislative movements. And we know that their budgets are contracting in this context. So, the marcomm will feel that.
What did you learn from the last crisis and how prepared are you for a new one?
Go with the flow is the most important lesson. Don't be too optimistic, but an expected crisis is not the worst think that could happen.