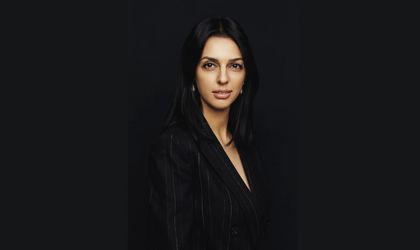 Business development: marketing, sales, management, strategy. All the above and some more. This is how Andreea Filip describes what she likes to do and what she delivers daily to her company, clients and partners. As there are plenty of challenges and professional rewards in what she does, they motivate her to always move forward and seek passionately the new, the road-opener.
BR talked with Andreea Filip, New Business Director at Oxygen, about her career path and the challenges along the way, changes in the marcomm industry, what clients want from the agency and vice versa, as well as about the agency she represents. 
By Romanita Oprea
How did you decide to choose a career in advertising?
Actually, advertising chose me. At the beginning of my career, I wanted to develop and coordinate projects, meet new people and manage challenges. I enjoyed seeing plans turned into results.
For this reason, I started off at an agency specialized in communications projects for youth segment and managed to build a network of 24 major universities throughout the country. Eventually, I found myself doing new business development and created an entire strategy targeting college and high school students through special publishing & event projects, thus successfully connecting brands with younger targets. For the past seven years, I have been coordinating new business efforts at Oxygen and am happy to see the results of my contribution reflected in the constant growth of the agency.
Here I am, more than 18 years later, still working in advertising – a dynamic field that keeps me engaged and motivated.
What are the main changes you saw in the communication industry since joining Oxygen in 2014?
One of the main changes from a new business point of view, is the fact that pitches are no longer for a single service, but rather demand a combo of resources. At first, we used to call it "going over and above", bringing an extra edge. In time, it was implied by default and expected from the client. For example, a social media brief is not just about social media anymore; it also encompasses influencer marketing, digital, strategic approach and creative.
The level of professionalism and complexity has also evolved considerably these past years. The industry is more challenging and competitive than ever, with more integrated services being brought into the limelight from an interesting array and variety of agencies. But all in all, I am a firm believer that competition is healthy, as it is the fuel that makes us all thrive to be better at our job and love it even more.
Obviously, digitalization has also changed the name of the game in advertising. Social media, influencer marketing, video & audio content, multi-platforms that have emerged – the advertising industry has been at the forefront of the driving changes in how consumers interact with brands and vice versa. It's exciting to be a part of all that.
What were the main challenges in your career and how did you surpass them?
I'm a results-driven person, and every win, every pitch, every brief – they fuel my adrenaline. However, seeing results in new business takes time – months, sometimes years. You often feel conflicted or doubtful because of it, so you need strength, courage, and patience. Guinness had a brilliant headline – good things come to those who wait. Doing the work and being very good at what you do is crucial, but not definitive. You also need patience and resilience to master what only time can offer. The best relationships are built brick by brick. And that is something that you only learn by doing it.
Furthermore, I believe my role is also a double-edged sword in terms of managing expectations – on one hand, having to raise and exceed client expectations and on the other, managing the team's view and take on the specific client. But I find that what works best is building the bridge between the two. We're in a relationship business, and I help people understand that, build that.
How has Oxygen's business evolved this year, in your opinion?
It's not an easy time for agencies, we're faced with human resource shortage, with increasing client demands, with the need for brands to engage real-time with their audiences requiring us to be more agile, more fit and dynamic than ever. This year at Oxygen, we have strengthened the agency's core team across key functions such as strategy, PR and creative. At the same time, our new business efforts yielded solid results with new local and international brands in our portfolio. We successfully participated in more integrated pitches this year, thus reaffirming our positioning as an integrated brand & comms. agency.
How would you describe the advertising & communication industry in Romania right now? 
Transformation on the go. Because in the last two years everything changed: our workplace, our vaccination status, our relationships, our behavior, our digital skills etc.
The advertising industry is at the forefront of the changes, we are in the first line when it comes to supporting brands adapt their image and communication during these uncertain times. It changed or adapted the messages, the approach, to being helpful, empathetic, providing value and support.
This led to more focus on CSR & Sustainability projects, which have been taking center stage even before the pandemic, but have now better defined how we act and communicate and, more importantly, what we expect from everyone around us, including brands, but also communities.
What would you say that clients want from the agencies at this moment and the other way around? 
Clients expect to be shown the way. The current context has opened up so many paths to leadership and clients should be supported on the best way to get there. On the other hand, agencies need clients to take more leaps of faith. Sometimes you need to jump before you fly.
I have observed an increased demand for communication teams to be agile in planning and change on the go, agile in delivering integrated solutions, and all should be done faster.
Agencies expect clients to be human, and build a genuine and straightforward partnership. People want to work for "human" brands and team up with clients in a common goal.
What clients are you looking to attract?
We have solid expertise in various industries such as technology, banking & finance, FMCGs, retail, fashion & beauty, energy, pharma, real estate, heavy industry. While our portfolio comprises primarily large multinationals, our aim is to work with and add value to clients with complex communication needs. At the same time, with a stronger client service, strategy and creative team, we are targeting more integrated advertising projects.
How is Oxygen positioned on the market and what are your main plans for the future?
After 13 years on the market with continuous progress and development, Oxygen is among the top independent agencies offering integrated communication services with a results-driven approach. We are the only agency to have a presence both in Bucharest and Cluj-Napoca, which helps us deploy national programs more easily. Our plan is to continue to grow steadily, continuously investing in expanding and upskilling our team, while unfolding high-impact campaigns for our clients.
In an industry where people migrate easily from one agency to another, you are a very loyal employee. What has Oxygen that determines you to be this way?
Oxygen has a passionate, curious, adventurous and visionary culture. And it is mainly about human relationships. In time, the agency has built an organizational culture that fosters loyalty. It has actually been the only place I know where people return even after leaving. It is a place we can all call a home. The thing that brought me to Oxygen was the challenge, but what kept me here is the quality of the people. The team is what drives me, motivates me and make me want to do more. When you have a good team, nothing seems to be impossible.