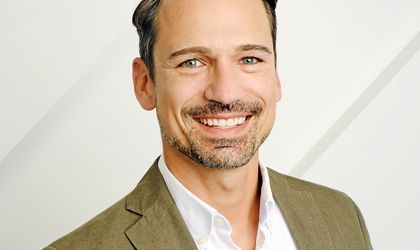 As VMLY&R's Chief Connections Officer EMEA, he is a marketing strategist, entrepreneur and growth driver with a passion for culture. Customer obsessed, his team and him apply data & analytics, a deep understanding of culture and the role of the brand to create highly relevant B2C and B2B propositions – and bring them to life via connected experiences across digital and physical channels.
These connected experiences effectively address functional, emotional and social needs of customers across their end-to-end journey, maximizing the impact of every touch point throughout the connected customer experience ecosystem – including Paid, Owned and Earned Media, Social Media, Paid and Organic Search, Experiential Marketing, and PR.
BR sat down with Andreas Ortner and talked about many subjects, from authenticity to the right message, to research and up to the pandemic and the trends for 2023.
By Romanita Oprea
Usually, you know, data is not considered something sexy and advertising wants to be sexy. And especially in the past, creatives were not pro research and data. How do you think that this has changed during the last years? And is it also due to the boom of social media? You need important data in order to make it work in social media.
I would say that there are probably two questions or two parts to that. I think the first one is around how do we get creatives excited? And I think that's in general for every strategist. I think that's a challenge we love. How do I get our creative colleagues excited? I think key to that is to work hand in hand with them. Unlike in the old agency days where a lot of times there was a task that strategy did, we wrote the creative brief and then we handed it over to the creative teams, what we are doing now is we are making it a very integrated process.
I was just coming down from a workshop actually, where we have worked together with strategy and creative colleagues together to go through the customer journey of one of our clients here in Romania and to go through specific data points, understand how does the audience of that client, how do they feel, what are their needs and barriers? And how can we address them in the most impactful way. That's what we discussed together with the creative colleagues and I could see actually the sparkle in their eyes, how they got excited about understanding more about the audience, because only that in the end will lead to better creative work.
I think it's about integration and collaboration. That's what gets the creatives to work together with strategy. That's at least how I suggest to do it and that's how we are working as an agency.
The second question or the second part of the question I think was more about like the rise of digital and social. The good news is that because there are digital channels we can get to much more insights. We understand much better how audiences are using digital channels. We know, for example, when we are looking at a specific audience, we know which social platforms they are using. We know what they are using these social platforms for. We know which features and functionalities they use. We also know which media formats work better with them. So, by having this deeper understanding, we are also able to cater much more to these different audience needs and therefore create much more impactful work.
To give you an example. We've just been working on a tourism pitch for a destination in Europe, and the target audience is Gen Z. And we saw in the research that Gen Zs were obviously not using maps anymore or anything printed to plan a holiday, but rather we know, from the research and from the data that we could gather, that they were planning their trips, for example, in Google Maps or in Instagram maps. So, we were able to see that they were using the map functionalities to look at a destination even before they are going there. I found that absolutely fascinating.
And then we were working together with the creative teams to make sure that this is also reflected in the creative work that we did for that tourism destination. In short, understanding better how our audience is using the channels and how are they using, for example, social media, allows us to come up with much more impactful work.
What is your process for finding the right message for the brand?
I'm just coming from the workshop where we did this exercise. We are always bringing it back to the consumers. One of the key challenges that most brands have is that they want to see so many things out there, want to have so many messages and usually it's like, I don't know, 20 different types.
If we're thinking about any brand, they want to talk about devices, they want to talk about sustainability, they want to talk about this and this and this. What we do is we flip that and we say: well, you need to resonate with the audience. You need to be a connected brand and therefore you need to understand what the audiences find interesting.
We usually do, obviously, our research first into the audience and then we run a workshop together in which we go through that end-to-end consumer journey and map back. What do consumers need at each of the stages of the journey, and then therefore, what type of messages is relevant for them? And then we simply bring together that consumer perspective with the brand perspective. What do consumers want to hear and what can the brand credibly say? And we match that. And then you have the perfect message, because then it's about bringing together what the brand wants to say and what the consumers want to hear. In short, bringing it back to the consumer, that's the guideline for all of our work.
But how do you put yourself more in his or her shoes and still be authentic at the same time? Because right now I know everybody wants authenticity, but not everyone can.
Data is extremely important and we get that from a broad set of different inside sources. We have a lot of tools that we own and that we are using, some of which are proprietary. But then we also talk to the audience and nothing beats talking to consumers. And we have great experts in our team. Just here in the Bucharest office, we have an anthropologist who can really understand the culture and the social styles and therefore how do audiences behave and why do they behave like this.
I think there's a lot of behavioral science in there as well. So interestingly enough, there is quite a big psychological component to advertising that we that we can't just drop because we have all these data points. By bringing together data points and observations, interviews and primary research, bringing those two elements together allows us to create a really deep understanding of the audience.
With regards to authenticity, well, it then depends on how do we bring those insights to life. And that's coming back to what consumers want and what can the brand credibly say. If a brand is known, for example, causing a lot of plastic waste, they can't credibly talk about sustainability. On the flip side, if a brand is known for doing a lot of efforts in the diversity and inclusion space, they can also credibly, for example, talk about diversity and inclusion.
How much has impacted your success in driving change in an advertising agency the fact that you have so much background in marketing and strategy?
I've been with the agency since March 2016. And when I joined, we were still in the process of agencies becoming closer to consultancies and consultancies becoming closer to the agencies. I think both worlds can learn from each other. The consultancies like Accenture and Deloitte and so on, they clearly understand the importance of creativity. So, they started getting a bit more creative there, or at least having the ambition to. And I think agencies understand that tangible business impacts data drivenness and codification, the productization of some of our offerings is something that is really working in our favor.
Over the last years, we have been working hard on making sure that our work is more tangible when it comes to the business impact, on what we achieve with our campaigns. We need to measure the impact and then we need to drive learnings for our campaigns. That's one thing. And we are doing this very successfully with our campaigns where we can help our clients become more impactful with our work.
And the second thing is about having a more standardized approach to delivering, for example, consumer insights. We have now a really good approach, a really good process that allows us to get to the most impactful insights at each brief that we basically get through the door.
I think in general what was helpful is that I worked on both sides. I was in consulting and I'm now in the agency world and so I can appreciate the strengths of both sides. But I also know where can we maybe learn a little bit from each other.
How do you think and how much do you believe that the pandemic changed everything in the world and how much will still have an impact on us?
Yesterday, at lunch here, when we sat together, I wanted to learn obviously, more about how did the local colleagues felt in that period, how was it in Bucharest, how was it in Romania. I wanted to learn more and hear a little bit about what the impact was here. And it's not too dissimilar from what I hear in all offices or all markets of EMEA.
Obviously, first on us as agency people, a lot of remote working, a lot of hybrid work and it will probably continue for a for a while, because now we understand that not everything needs to be done in the office. I think we have the beauty of being able to work sometimes from home, which is great. I also think, however, that face to face meetings like we are having one here now can't be replaced. I think that it would be different if it was on a screen. And it's even more so when we are working with clients. I personally am a big fan of face to face client meetings, of workshops, of working sessions, because then it feels like we're doing something together as opposed to just like presenting work.
The impact will be that thankfully we can do hybrid working. And I think the second impact is thankfully there is more awareness and acknowledgement of the impact on mental health, I think not only in the agency world, but for everyone. And that is something which I think it was about time that people understood. Mental health is as much as physical health, something which is important, and we need to take care of ourselves, but we also need to take care of our colleagues and friends and family.
I think from a from a global consumer perspective or regional consumer perspective, obviously with the pandemic came a lot of economic uncertainties. Now we have the cost of living crisis. There's a lot of stuff coming together now. We need to be mindful of that just because maybe the virus is gone or is about to leave, but it doesn't mean that the impacts are not showing anymore.
What do you consider to be the trends for 2023 and how are you going to embrace them and implement them in the agency?
I think that one of the trends is that given that there are some economic challenges coming up, people, consumers out there, will think twice which brands to use today. Trust the brand. Do they find the brand authentic today? And the good thing that I see about this is that brands will be much more aware that they need to look to consumers. They can't just put something out there.
I think consumer centricity will get even bigger. I think it will become more important. That's one thing. And I obviously like that, because I think about consumers all day long.
The second thing is about the increased adoption of technology, and it's in all of our areas of living. Also, thanks to the pandemic, it's totally normal now to do a video call. Technology has become much more a part of our lives. We all know what to do with technology. And given that new trends are coming up like the metaverse, for example, I think this will play a substantial role and the metaverse I don't think will be something scary anymore. It will be something like the Internet when people start using it and then lose the fear about it. I think that it's technology that hopefully will bring us closer together and technology that will allow us to be more with each other.
I think that there's some positive stuff coming up, which is great. While there is a lot of other stuff going on, yeah, there's a lot of positivity that that we just should be mindful of.
How do you want to implement it in the agency and why would the client, let's say a major client of course, would choose your agency and not another one?
One thing that we have seen that works very well is when we can show brands how they can reinvent themselves, as we did it with Wendy's, for example. When we can show them how to run proper growth as we're doing it, for example, with Boots in the UK, where we've run the most successful campaigns, but also where we can show them how we can connect them better to audiences.
Is it new audiences, new markets, new target segments? By going to our clients and delivering those three things or showcasing those three things, we get them excited. And I think we have a unique selling proposition as an agency, not only on the Romanian market, but in general in EMEA. And therefore, yeah, I look forward to meeting new clients, seeing existing clients and showcasing them what we can do for them.
You have this quote on your LinkedIn when you said that you are customer obsessed. Do you think you'll always be customer obsessed? Do you do something for that or you just love people in general and that's how it goes?
Customer obsessed sounds pretty severe, but even back in my consulting days I saw that for brands and for company, it's so easy to fall into the product centric thinking. I really put the emphasis on consumers and the fact that you need to think about them first and you need to understand what drives the decision making. Because if you just put the product out there, yes, maybe you have a superior product, maybe it's bought, but you don't have that ongoing engagement with the consumers. That's why I think this consumer obsession or this customer obsession, always bringing it back to what do consumers want, what do consumers need, and where are the opportunities to connect with them? That needs to be at the forefront of all of our work.
If we have a great idea but it doesn't meet any consumer needs, then unfortunately we won't use it. Or if we have a great, I don't know campaign asset, but it doesn't really connect to anywhere, then what's the point of it? I can see that it works because we have these tangible business impacts that prove that.
But, on the other hand, it might also be some personal interest because as I said, I feel very European and I love the different cultures that we have in Europe, the different history that we have in in Europe. And when you understand that everybody is so different, then it's a logical next step when you need to make sure that you understand how they are different and what they are doing, in order to create impactful work. So, I will definitely keep the customer obsession.