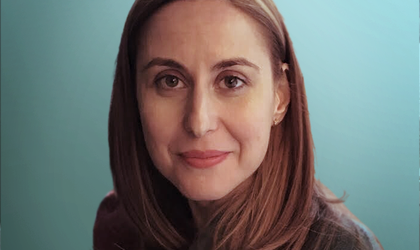 TALENT GARDEN Bucharest (TAG Bucharest), a project initiated by the Freelancers' Association, created in partnership with the international network of hubs Talent Garden and with the support of Telekom Romania and Banca Transilvania, represents the first co-working space dedicated exclusively to the creative industries.
BR wrote about the opening here and it received an exclusive interview with Anca Rancea, President of the Freelancers' Association and the managing partner of TAG Bucharest, about how it all started and more insights on the whole business and impact on the market.
Romanita Oprea
When and how did it first come up to you the idea of creating The Freelancers' Association in Romania?
It was right after I chose to no longer be an employee, but rather wanted to create a different ecosystem starting from my own values and principles. So, after having worked for a multinational advertising agency that had the reputation and the market acknowledgement of being the most creative and strategic advertising agency in Romania, an environment which helped me grow into what I am and prepared me to take things to the next level, I felt ready to do it.
To my surprise, the decision felt natural and was immediately re-enforced by an insight: the same fitness provider I had as an employee offered a financial arrangement and conditions that were much harder to bear as an individual, than for a group of individuals. And it was the same for private healthcare services. At the same time, many people from my immediate circle of friends or collaborators had the same need for these kind of services. It didn't take me long to connect the dots and to realize that I needed a juridical entity that reunites people like me so that we can negotiate better terms of collaboration on very many needed services. And an NGO called The Freelancers Association appeared to be the best solution.
Did you have any international examples you'd love to follow? If so, which ones are they and why?
After having decided to incorporate an NGO, I realized that I needed a vision and a mission of what I wanted to do with the association and put everything in writing in the Statute and Constitutive Act. Therefore, I started researching what was out there locally and internationally. When I discovered that in Romania it was an unmarked territory, while in the US and in many Western European countries there were so many social actors trying to protect this very large community (1.5 million freelancers in Romania and more than 30 million in the EU – according to Eurostat 2016) I said <>. After gathering all the needed information and other freelancers around me who believed in this idea and agreed that we need to be together to work well on our own, we set our own strategy and rules – based on our interpretation of what was going on in the EU and the US.
Even if what AF is today is a mirror to our own beliefs and needs, I would say that we are closer to the American example set by the Freelancers' Union.
What were the main steps you took?
After founding AF, we identified the association's claim: together on our own, set the main objective: to support and promote the interests of freelancers in Romania and decided how to that. We had thus identified 3 main areas of action:
– Benefits for members (better rates for services most freelancers' need)
– Empowerment (lobby and personal development)
– Business (networking and events)
It was only after all this was clear that we actually got to work. And all these years until now, it was like a constant dance on multiple rhythms: finding means of financing the association, finding partners who believe in us and in what we want to do, starting some key projects, having a website, gathering volunteers, and signing contracts so that we can offer our members some tangible benefits, other than just the sense of belonging to a community or the reassurance that they are not alone. And most if not all of these activities are continuous and ongoing and they take a great deal of time.
But I guess the key step we took was to become part of the European Forum of Independent Professionals (EFIP), where we got in contact with similar associations from 11 European countries like: UK, Italy, Germany, France, Croatia, Holland and Spain. Alongside EFIP we were able to be involved in lobbying at the EU parliament and commission and in proposing clear legislative measures or recommendations to protect all freelancers' interests. This EFIP partnership helped us better shape our vision and, at the same time, by having strategic partnerships in place with most of these associations we will be able to give our members access to the EU market and develop EU Funded projects to better serve their interests.
Since when it's the Association operational and what are the main things you offer to the interested parties (the freelancers)?
The Freelancers' Association is operational since day the official papers came out: 18.11.2013. But before giving you more details, I want to clarify something: we started this project from scratch, investing not only all our free time in it, but also our own financial resources so that we can make it work. And we did this while also trying to earn our own living as freelancers. In this context, until now our focus was to raise awareness within the business environment on the freelancers' phenomenon, to be involved in making EU policies for the freelancers' and start-ups and find partners who support our projects.
Having all this in mind, my strategy was to launch one big first project meant to not only help our target, but also help AF build a community, build credibility which can be later converted to more sources of finance for other projects. We pitched it to multinational companies that play an active role in CSR, and I was happy to see that they offered us their support: first Telekom and then Banca Transilvania joined us in the idea of launching the first co-working space dedicated to the creative industries. And because it was still not enough to make it happen, we partnered up with private local investors and Talent Garden – the international network of co-working spaces to help us make the idea reality.
Because launching of the co-working space took as more than two years of work – mainly due to the missed delivery times by the builders – and the whole package in terms of resources, we are a bit behind schedule with the gathering of the members' objective.
I estimate however, that by the end of the March, our website, procedures, workflow, tangible benefits we offer and, in fact, all our proposals for addressing freelancers' needs will be updated to our current beliefs and according to what we have learned during these 4 years and we'll be ready to start gathering the people.
What should any freelancer that wants to enter it know? What are the steps they should follow?
If they haven't found out by now, they should know that freelancing is not only a way of practicing one's profession, but a way of life and everything becomes much easier when one is not alone. They need some sort of support system in place, be it AF or their own model.
Regarding the actual steps of entering the Freelancers' Association, they will be clearly stated on the website and that they will have to pay a light annual membership fee that is designed to help the association get the needed resources to serve them better. This fee that should be around 60 euros/ year will not only help them have access to a community, but will be easily covered in 2-3 months if they are interested in private health services, fitness & wellness services, in attending AF's own networking or business/personal development events or events to which we are partners, accounting services and legal advice, and the list will go on.
Do you know how many freelancers are in Romania at this moment? What about the ones that operate in the creative industries? How do you see their number evolving in the next years and why?
Unfortunately, even if throughout Western Europe and in the USA there are also government or private parties developing this kind of research, in Romania this very large group of people was pretty much disregarded by the authorities. There is no way to launch an accurate number due to the multiple forms of juridical organization or forms of payment: PFA, II, SRL, SRL-D, copyright contracts, civil conventions, etc. This is why our next project in which we hope we can convince the private sector to invest is this national study so that we can answer precisely these questions.
However, we do have access to the EUROSTAT figures which show that in Romania there are more than 1.5 million freelancers, representing 18 percent of the total Romanian workforce. In this respect, we are under the EU average which is at 25 percent of the active workforce.
Out of this 1.5 million, the European studies talk about 10 percent bogus – the listed freelancers are, in fact, employees, but are paid on alternative contracts instead of employment contracts, and other 10% are inactive. This would leave us with about 1.2 million freelancers de facto.
But there is a clear tendency of growth of this segment within the population. Even the EU commission estimated that by 2020, the self-employed will represent 40 percent of the working force in Europe, US and Australia.
How hard do you consider it is at the moment to be a freelancer in Romania? 
Being a freelancer does, indeed, come with some challenges, but so do most if not all of the jobs. However it is a choice and, in my perspective, it is mostly suitable to those who have already learned some professional trips and tricks in a stable working environment, as an employee. If you are good in what you do, if you are passionate about the chosen profession, have a minimum of marketing knowledge, some personal awareness, if you can manage your time in an efficient manner, consider risk as thrilling and have a good capacity to organize your finance, so if all these conditions are met, I believe it is actually easy to be a freelancer in Romania. But, as i said, it is more of a choice and a way of life than anything else.
Coming back to the Freelancers' Association first flagship project, Talent Garden, tell us more about it.
Talent Garden Bucharest is a hub, a co-working space for the creative industries. The project was initiated by AF in partnership with TALENT GARDEN – the international network of co-working spaces and with the support of Telekom and Banca Transilvania. Its story started in 2014, when we identified the need of creating a place for us and people like us, a place that can inspire others, with a positive vibe, a community you would like to be a part of. At that moment, we had no name, no space, no money. In fact, at that moment we weren't even sure of how big this project would be, but we compensated all these with enthusiasm and strong belief. It took a great effort, an investment of more than 140.000 euros and the support of many people – to whom I am so grateful, to transform this idea in reality.
Talent Garden Bucharest is on 23-25 Ion Brezoianu Street, Building B, at the ground floor of the most vibrating and attractive building in Bucharest – The Universul Palace, on a surface of 700 square meters, next to the Beans and Dots coffee shop and Adelina Ivan's concept store. The hub has a capacity of 65 seats, a meeting room and events area. While the hub is open 24/7, the reception is open Mondays to Fridays (except for legal holidays) from 09:00 – 18:00.
Talent Garden offers 4 kinds of membership subscriptions: Office Membership for those who are structured in working teams of 4-6 people and want to have the advantages of working in a hub, while also enjoying some privacy, Full Membership – for those wanting a fixed desk and to meet new people or even partners or clients, Flex Membership – for those who need a desk maybe 3 days per week and in a fixed time interval, and Day Membership – for those who are not members of the international Talent Garden Community, but need a space where they can work from for a few days. All subscriptions include secretarial services, reception and printing services, and, according to the type of subscription, services such as access to the meeting room, networking și networking events, access to the online international platform TAG people or the possibility to work for free for 5 days / month from any other TAG campus worldwide can be included.
To also have a look at the future, what is next for Anca Rancea and for the Freelancers' Association?
I feel that the launch of Talent Garden Bucharest is both the final step of a very long process of setting up a place in which freelancers and start-ups can grow and the proof that the Freelancers' Association takes matters seriously and can complete ambitious projects. Therefore, while maintaining the support for Talent Garden, it is now the time to start focusing firstly on gathering members for AF and on other ambitious projects that will help the entire freelancers' community. Just like before, we will again need support from companies who believe in us and in our work just as much as we need the support of volunteers and of our targeted community. The sooner we, as freelancers and start-ups gather in the same place, the better off we will be. Together on our own is not just AF's slogan, but also a means of expressing our vision and mission.