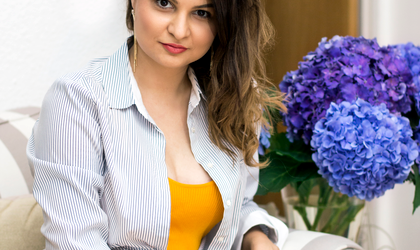 After starting her career in journalism, Alina Galeriu had her first job in PR at Nicola Porter Novelli, in 2011, and has been working in the industry ever since (MRM Worldwide, The Practice and RAN Events Communication). She launched her own company in 2014 and as managing partner of Galeriu & Partners PR, she talked with Business Review about the agency's plans and ideas for 2019, but also the context of the PR industry today.
By Romanita Oprea
How was 2018 for the agency?  
For us last year was a year with ambitious growth objectives in terms of clients' portfolio: adding new clients, but also consolidating the partnership we had with the existent ones. We wanted to make the shift from a project based partnership with most of the existent clients towards a solid partnership that would translate into a monthly retainer. So, after a busy and challenging year, 2019 finds us with steady partners along our side, which validates their trust in our work and the results we can bring for gaining awareness and building the reputation of their brands.
How was it in terms of pitches?
We were invited to a few pitches, challenges that we have accepted with an open heart. One of the big outcomes was adding Leroy Merlin to our portfolio, and we are very happy and proud about this gain.
How would you characterize the local communication industry in 2018 in terms of budgets, campaigns, creativity, etc? 
In one word: striving. Creativity is being strangled by budget constraints, campaigns are designed to stay on the safe side. I remember at one point this industry had the gut to surprise the consumer, but now I believe all the players, from clients to agencies, are tempted to stay in the comfort zone a little too much.
What were the most important changes & novelties in the agency in 2018 and how did they come to happen? 
A notable novelty was the increasing demand for brand activations and projects outside Bucharest. For example, in June 2018 we covered the launch of a new Leroy Merlin store in Craiova and in September we also had a very interesting out of town activation near Ploiesti, a press trip at an apiary for our client Albeena. We have also strengthened the relations with bloggers all over the country (Galati, Constanta, Iasi) and supported their bloggers meet-ups or other events with sample products from our clients and all kinds of projects that have consolidated our partnership. 
Such out of our immediate geographical range projects are very demanding, harder to control and imply a lot of planning and skills in predicting the unpredictable. But their success was one more reason to prove the resilience of my team.
What were your most wanted services by clients in 2018?
Mostly media relations, but I also noticed a higher demand for influencers relations, with the added layer of spreading our connections all over the country, as mentioned at the previous question.
Although I would have preferred an increase in strategic counseling, the highest demand was mainly for basic PR activities, like sending press releases, pitching stories but with a modern twist in terms of channels, which translates into focus on online visibility.
How does Galeriu & Partners position itself on the Romanian PR market?
A small team with a flexible approach, yet reliable in terms of deliverables. We get things done and we do it fast and effectively. We value our promises and we keep them. 
At times this costs us a new client that wants us to promise the unreachable, which we never do. But we prefer a realistic and honest approach. 
What were the biggest campaigns you worked on?
It is always hard to choose only one project, but for 2018 there is indeed a campaign that stands out. It is the campaign we worked along Tribal Worldwide Romania for Bitdefender: "Log out of hate" / "Nu tasta ura". It aimed to raise awareness on the cyber bullying phenomenon and although the creative idea came from Tribal, we embraced it as it was ours and fought to see it as widespread as possible. The campaign started at the end of 2017, in November but our PR efforts were consistent in the beginning of 2018 as well, for several months.
It was big, challenging and meaningful in the same time and was also validated by the industry with 6 awards: Webstock (Publishing – 2nd place & Influencer Campaigns – 3rd place), PR Award (Tech PR – Gold  Award  & CSR – Silver  Award), Internetics (Full Digital Social Campaign – Silver Award & Online PR Special Campaigns – Silver Award). We were more than happy to be party of this success story, along an open-minded client that went beyond the desire to see its logo everywhere and really wanted to make a difference and take the side of the abused and marginalized, focusing on the greater good rather than its own interests.
What were the campaigns you admired most in the local industry and why?
I don't know if it is because I have become a mother last year or not, but the campaign for premature newborns developed by Graffiti PR for Pampers really struck a chord with me. It had a powerful message and a great execution. It really puts things into perspective giving you a glimpse of how fragile is the life of a premature newborn.
What trends did you notice on the local market? 
I believe in the context of flourishing debate regarding fake news, the need for premium quality content, based on trusted sources becomes a must in terms of added value for audiences of media outlets. And this is an opportunity for us, PR consultants, to take back our sit at the table of news creating. We can be the guardians of relevant, informed data to serve the research of journalists in creating stories based on facts, not on rumors.
What do you wish for 2019 from this point of view?  
I wish to contribute at creating such stories that would be beneficial for both our clients, as the audiences that deserve to know what the real issues in our society are. For example, I wish to raise awareness on topics such as the need for a proper sexual education program among youngsters so we do not have so many worrying stats regarding abortion, sexually transmitted diseases and unwanted pregnancies among teenagers. This is a topic we want to push forward on the public agenda for our clients BARZA and Veneris. But we still need to defy some social taboos and a certain reluctance to talk about such intimate topics. It is one of our biggest challenges for this year, to overcome this preconceived ideas and really get to the bottom of the problem regarding this matter through investigative pieces and other valuable journalistic angles.
What do you wish for the local industry this year? 
My wishes on that matter have remained the same for a few years now. I wish that our industry regains the courage to say the right things, although they may seem hard to digest by the audience. I wish that the PR industry would stand out for what it should be at its essence: an honest approach to highlighting the truth about brands, companies and people, with respect for the audience and with focus on creative twists that can make the story more appealing.
 Do you believe a second economic crisis will come?
There are some signals towards this possible outcome. It makes sense in a way. It is a cycle of spending too much, accumulating debt and falling down so you can develop again a more conscious behavior like being cautious with expenses. It is a pattern applicable to individuals as well as markets.
If so, how will it impact the Romanian PR industry?
It will probably have a significant impact, because when you need to cut costs you tend to start with those that seem optional, and sadly, for many clients PR is optional.
What have you learned from the last crisis and how prepared are you for a new one?
In our field you are always ready for the worst scenario and you try to overcome all the possible shortcomings that would get in the way of reaching your objective. Yet, you are never truly prepared… and life finds a way to surprise you. The most relevant lesson would be precisely this: as much as you prepare, be ready for the unpredictable and stay flexible so you can adjust on the go. Planning is good, but not enough, adapting is better.