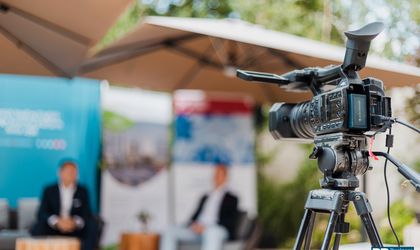 One of the most affected sectors by the recent crisis was the events scene which was practically shut down by social distancing and safety regulations imposed due the the COVID-19 pandemic. But, in this context, live stream events, or hybrid ones, have become the stars of this industry. Business Review talked to Alex Roibu, General Manager at Think Events, a company with more than 10 years of experience in this field, and one of the first to offer viable solutions for the new context.
Physical events and conferences were canceled one by one in the beginning of the pandemic crisis, but it didn't take long for a new solution to arise. Online conference not only replaced traditional ones, but they also gave corporate events a new dimension, better adapted to the new world we live in: a virtual one.
"Our partners and customers already know what they can find in our services: innovative solutions, cutting-edge technologies and professionalism. The unpredictable nature of the current context wasn't an obstacle for us, but a challenge through which we managed to come up with new ways of organizing corporate events, tailored for both large companies and smaller organizations." Says Alex Roibu, General Manager Think Events.
What is a hybrid event?
A hybrid event is a conference which is both physical (offline) and online. With a reduced physical audience and abiding to all social distancing and public health regulations, the event is also streamed live for a broader audience.
"ThinkEvents offers a new concept through which a conference will be streamed online, and every speaker can contribute to the discussion, either from a studio, his office, or his home. Our team takes care of the entire graphic package, also taking into account the visual identity of the organizer. Thanks to this combo, the event takes on a whole new scale and removes the possibility of unpleasant surprises which can arise by streaming with one of the widely used platforms." Explains Roibu.
"The quality of a hybrid transmission is far superior thanks to our technical capabilities. Filming and streaming is done in a special studio and we provide technical back-up solutions (alternative power sources, servers, etc.). Additionally, this makes the hybrid event perfectly suited for presenting or launching new products in front of an engaged but diverse audience." Alex Roibu continues.
Online events and the advantage of having a TV-like transmission
Quality and diversity is everything these days and while the widely used platforms can be at hand, a more professional look can really make an online stream stand apart, by using branding elements and the resources of each speaker.
"We take care of the sound and image quality for each speaker, even if they are remote. A conference, event, webinar, can be fully streamed from our studio. The graphic package also includes live text, edited by our team in real time. The live video can be streamed on various platforms, depending on the requirements of the event. For us, each crisis gives birth to new opportunities, and evolution is based on our own creativity. ThinkEvents thinks about the events of the future!" Roibu concludes.