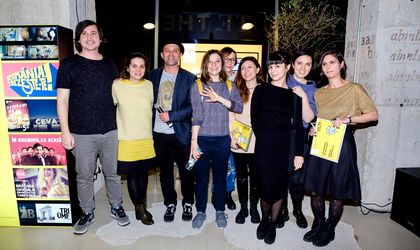 The Top 3 ADC*RO Awards Gala chose its 2017 winners marking the passing of a new year in which the industry's creative efforts materialized themselves in important projects. Following the scoring offered by the members of the Art Directors Club Romania, Miruna Dumitrescu became the copywriter of the year, Raluca Matei the art director of the year, while "Together for #pentrumagichome" was awarded the idea of the year and KFC the client of the year. 
Moreover, on the list of the most appreciated and present advertising agencies in the Top 3 ADC 2017 we find McCann Worldgroup Romania, followed by Jazz, MSLGROUP The Practice, MullenLowe Romania and Ogilvy Romania.
"It's the second edition of the ADC awards and I want to say a big thank you to the ADC members that gave their time month by month in order to nominate and jury spectacular communication gestures that happen in Romania. (…) Our ambition is that the ADC top becomes representative for the Romanian advertising and a constant inspiration source, both for the marketing and the advertising people," said Vali Suciu, president of ADC Romania.
Raluca Matei (Jazz) was chosen Art Director of the Year for her creative imprint in three projects found in the Top 3 ADC*RO in 2017. We find her in November on the number one spot with the Idea of the Year: Together #formagichome, but also on the second and third place with "LaMinut, the Romanians' nr.1 Mustard" (November), as well as "Time from your time", Avon (March).
The Copywriter of the Year, Miruna Dumitrescu (Jazz), took two number ones in the ADC top in October and November, by the contribution of the campaigns Provident – The awareness-raising test and Together #formagichome.
The latest also became the idea of the year, created by the Association MagiCAMP. The campaign succeeded in raising over 100,000 donations through SMS at the cost of EUR 2 each, funds necessary for the building of the MagicHome house, a 700 square meters' building next to the biggest oncologic hospital in Bucharest. The campaign was created by the team comprising Raluca Matei, Roxana Cozaru (art directors) and Andreea Ghenoiu, Alina Varlanuta and Miruna Dumitrescu (copywriters). 
KFC received the title of client of the year for its presence in Top 3 ADC with three campaigns in 2017, signed by MRM, McCann Worldgroup Romania and UM Studios: CEVA de la KFC (number one in March), KFC – Like Exchange (number two in January) and Prolong the summer! (second place in October).