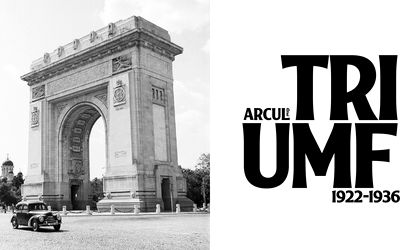 Hye Studio, Ogilvy Romania and Heist Industries had in June, according to the ADC Romania's members, the most creative ideas.
The idea of the campaign that took first place is Hye Studio's. The campaign "Public Hye" represents their intercession to make visual cleaning in the Capital. Up to this moment, the agency presented the proposals for Typography and Stema orașului (City's Coat of Arms). The team comprised Laura Ristea, Alin Tamasan and Bogdan Dumitrache.
"A city's identity means more than a logo. It is manifested through the experience that the citizen-user has with the institutions and the public services, the local transport, the signaling systems and the urban orientation or the city's representative events," said Hye Studio on the project's website.
"I've always said that the ADC*RO top should be the place where real campaigns, done form briefs received from real clients. But this time, the people from Hye Studio were forced to write themselves the brief that the fist householders would have never known how to write and have never known to whom give it. And if you see the outcome, you don't ask yourself anymore if it deserved an honored place on this top. You wonder what we can do for all the solutions proposed by them to be adopted. Who is gathering the signatures?," said Vlad Lazar, creative director Headvertising & ADC*RO member.
Second place went to Ogilvy Romania for the campaign Ciuc – Lumea Noua (The new world). Declined 360˚, the campaign is about a new culture, a new spirit of life. The ADC awarded Ciuc TVCs part of this campaign are: https://www.youtube.com/watch?v=53zBNxEF2q0 – the start of the campaign (team: Paul Dersidan – senior art director and Adrian Diac – copywriter).
Ciuc and Ana Ularu shows a new face of Bucharest. In the New World, the people are finding inspiration in everything that the city is offering them. Ana presents this time a street's poem, build from the expressions found on the city's walls. (team: Paul Dersidan – senior art director, Nadejda Ghilca, Andrei Detesan – art director & Adrian Diac, Irina Szellelki – copywriter) –  https://www.youtube.com/watch?v=6SV2_XL-KWY
The Cyber Radars, created in the Waze app, signed by Heist Industries takes the third place. The campaign included the placement of fake speed radars, during the Pentecost holiday, in order to convince the drivers to respect all safety measures on the road. According to the policemen, the number of accidents fell by 50 percent versus the same period of last year. Part of the team that worked on the project included Ana Rinderu – senior copywriter & Radu Pilat – creative director.
The accolades of June went to:
Delaco FanTastic / FanBranza –created by Arnold Estefan – art director & Raluca Feher – copywriter
Arca lui Corso – created by Irina Iliescu – art director & Ionut Iordache – copywriter Graffiti BBDO)
KFC – Fii pe bune, nu perfect  (Be real, not perfect) (McCann Worldgroup Romania)
Romanita Oprea