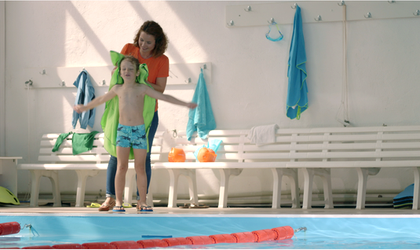 After more than four years of collaborations and numerous creation and efficiency awards, the successful Provident-Jazz partnership continues also in 2017 with a series of new executions, under the platform "Merita sa faci un pas inainte" (It's worth taking a step ahead): the swimming lessons, the tailor shop and the driving school. The campaign thought and created by the advertising agency Jazz is exported also in Hungary.
"The success with Provident confirms us that not the status of multi-national agency makes the difference, but three factors that represents a lot for us: the universality of an insight, the courage to challenge the creative patterns of the category and a hand in hand partnership with a client that has the same ambitions and standards as us," said Irina Pencea, managing partner at Jazz.
"No matter the age, the nationality or the preoccupations, the people are making the effort of taking a loan for the joy of they will feel when they will put their idea, their or the loved ones' desires in practice. We chose the platform proposed by Jazz because it's anchored in this universal insight, available for Romanians, Hungarians and any other nationality," said Marilena Barliga, marketing director, Provident Financial Romania.
The teams that created the campaign are:
Provident Financial Romania: Marilena Barliga – Marketing Director, Narcisa Gheorghe – Brand & Content Marketing Specialist
Jazz Communication: Valentin Suciu – Creative Partner, Simona Suman- Group Creative Director, George Bucurescu – Copywriter, Krisztina Maier – Art Director, Alexandra Vestineanu – Account Director, Andreea Dragan – Senior Account Executive, Loredana Saru – Client Service Director.
Romanita Oprea