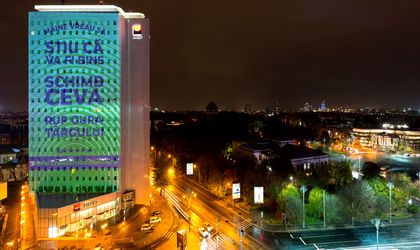 BRD – Groupe Société Générale marks a new positioning for the brand Société Générale, through a different approach at the level of all the 67 countries where the group is present. Starting November 14th, BRD opens a conversation with the public about the small and big steps that each one of us is taking daily in order to fulfill our dreams, through a series of pani screenings on the central headquarters, the BRD Tower. The public is invited to get involved in the conversation on the website  www.creatoriidemaine.ro.
By Romanita Oprea
"Over the past years, BRD has created an ecosystem that brings together people with ideas, solutions and lots of will in order to produce significant changes in a series of key fields for the development of the Romanian society: start-ups, education, technology, culture and sports. The new brand platform comes to consolidate and re-confirm the bank's support for the developing of a new generation of creators, as well as our involvement in encouraging and supporting initiatives that move things and build the future," said Flavia Popa, General Secretary BRD – Groupe Société Générale.
Now BRD is also developing an editorial project  – BRD Live Studio – in partnership with Stirile Pro TV (Pro TV News), giving a voice to some remarkable members of the new generation of creators in Romania.
The debates, centered on fields such as start-ups or entrepreneurship, technology, education, culture, sports, have as guests during the week the following: Razvan Rughinis, co-founder Innovation Labs and Flavia Oprea, CEO ENTy; the high school creators of technology from BRD FIRST Tech Challenge Romania national robotics program- Bogdan Chirita, Andreea Dinescu and Andrei Preda; Cristian Hatu, President of the Evaluation and Educational Analyzes Center, and Gabriela Deliu, physics professor at The Nature Science College  "Emil Racovita" Brasov; Cristina Varzaru, one of the most emblematic handball players – at present General Secretary for the Romanian Handball Federation – and  Diana Ciuca, the goalkeeper of the young national team; Edmond Niculusca, A.R.C.E.N. President and one of the initiators of District 40, alongside Elvira Lupsa, Creative Partner District 40.
The interviews will be broadcast during November 14-20, starting 8 pm, on the BRD – Groupe Société Générale's and ProTV News's Facebook channels.
The campaign is part of the Société Générale's initiative launched globally under the signature "The Future is You", with the mission of supporting those who want to have a positive impact over the future.