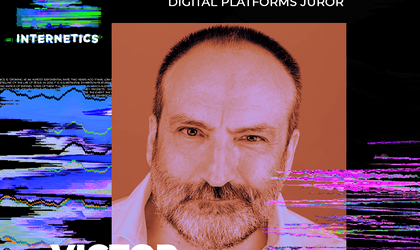 Internetics 2018's jury is made up of 51 specialists in media and marketing, consultants, researchers, and publishers, who will evaluate branding, marketing and advertising in local online campaigns.
By Romanita Oprea
The competition's new structure sums up three big categories which will be evaluated by three distinct groups of professionals: Digital platforms, Digital strategies and Interactive campaigns. The trophies of each section will lead towards the offering of titles of "Agency of the Year" and "Digital Client of the Year". The jury will also choose the winner of the special distinction "Best Use of Technology".
Digital Platforms has sections dedicated to the media and the various communication tactics used in online and digital communication, focused around websites, social media & mobile. The category's jurors are:
Adina Vlad – Managing Partner │ Unlock Market Research; Adriana Simionescu – Senior Researcher, Market Effectiveness │ Gfk; Anca Stefan – Chief Digital Officer │ L'Oreal Russia;  Anda Lazar – Brand Manager │ UniCredit Bank; Catalina Mergeani – Brand & Digital UX Director │ NN Romania; Camelia Ganga – Marketing Consultant │ Glovo; Ciprian Postelnicu – Head of Media, Budgeting and Production │ Telekom Romania; Cosmin Preda – Advertising Team Manager │ eMAG; Crina Chiru – Head of convergence and B2B communication │ Orange Romania; Cristian Manafu – Managing Partner │ Evensys; Dan Oros – Marketing Manager │ Google Romania; Dan Tudoroiu – Digital Project Manager │Antena Group; Eliza Serban – Group Brand Manager CIUC & Desperados │ Heineken Romania; Ioana Marzac – Sigarteu – Corporate Communication Manager │ Samsung Electronics Romania; Luminita Bostinaru – International Marketing Manager │ AQUA Carpatica; Mihai Tanase – Head of Digital & CRM │Renault & Dacia Romania; Vica Schipor-Doroftei – Social Media Manager │ Bitdefender Romania; Victor Kapra – Online consultant.
The second category, Digital Strategies, referees to digital strategies, regardless of the type of media used, with a "how to" approach in the relationship with the consumer. The category has four sections that will be judged by:
Adina Nica – Research & Strategy Consultant│ Open-I Research; Alex Dona; Dan Petre – Business Developer │ D&D Research;  Denisa Mirea – Brand Communication and Advertising Manager│ Avon Romania; Dragos Stanca – Founder │ iCEE.fest; Irina Pocovnicu – Digital Marketing Consultant. Founder │ Digitalize; Laura Mihaila – Head of Marketing │ BCR; Matei Psatta – Co-Founder & CMO │ TPS ENGAGE; Mihaela Oprescu – Kent International Brand Manager │BAT; Raluca Alexandrescu – Ecommerce & Loyalty Marketing Director│ Mega Image; Ramona Ciocodei – Communications & Digital Manager  │ McDonald's; Razvan Mircea – Marketing Director │ Strauss Balkans; Ruxandra Mocanu – Independent Marketing Consultant; Simona Andrei – Brand Manager │ Pernod Ricard.
The category Interactive Campaigns reunites all the efforts of an integrated or full-digital campaign, where each section represents several industries or market areas. Entries will be evaluated by:
Alina Cranga – Brand Manager │ Kandia-Dulce; Ana Visian – Head of Advertising Sales │ OLX Group Romania; Bogdan Toacse – Senior Department Manager Brand Management  │ OMV Petrom; Bogdan Turcanu – Senior Innovation Manager │ Ursus Breweries; Cosmina Frincu – Brand Communication Manager │ BRD Groupe Société Générale;Cristina Avram – Marketing Director │ Avon Romania; Cristina Hanganu – Communication & CSR Director │ Lidl Romania; Dan Zloteanu – Business Consultant & Marketing Researcher │ MRI/The Network; Elena Serban – Business Development and Marketing – Emerging Markets expert; Georgiana Oltenescu – Head, Marketing & Communication │ Globalworth; Ileana Cipca – SMB Channel Marketing Lead │Microsoft Western Europe; Liliana Martin – Communication Strategy and Planning Manager │ Vodafone; Lucia Antal – Marketing Director │Pro TV; Matei Goncea – Senior Creative Excellence Manager – Central & Eastern Europe │ Coca-Cola; Nicoleta Mihailescu – Marketing Manager Baby Care South East Europe │ Procter & Gamble; Ramona Bratu – Marketing Manager │ Untold & Neversea Festivals; Simona Betiu – Advanced Analytics Leader │ Nielsen Research;  Teodora Juravle – Marketing Communications Director │ Vel Pitar; Tina Cretu – Senior Digital Marketing Manager │ KFC, Pizza Hut & Taco Bell.
The voting system will be based on online scoring, followed by a series of offline judging. These last sessions that bring the jury of each category to the same table will be moderated at Internetics 2018 by Alina Catalina Banuleasa, Lead UX Designer for FIFA @EA Sports & Co-founder Design Thinking Society.
149 works were submitted to the Internetics 2018 competition, from 25 agencies and participant companies, created for 47 brands.