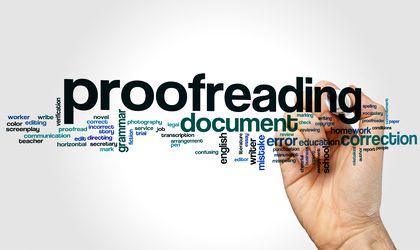 Editing and proofreading services can be tremendously helpful in enabling you to produce the best content you can. Whether you want to boost your grades, spend less time writing, or create unique content that meets your needs, an editing service may be helpful for you.
You may be surprised by how many companies there are to choose from. It can be a challenge to decide which to use. Here are some of the best services on the market and some tips for helping you choose the right one for your needs:
Best Editing and Proofreading Services
Editorly is an excellent option for academics and students, but it also works very well for personal use. This is one of the most affordable of all the proofreading and essay editing services available.
You can even get your document back in one day, although you'll pay twice the price you would if you got it back in a week. To have your research paper edited, just upload it, choose your deadline, clarify the subject, language, and some other information, and make your payment. You'll get your finished paper by the deadline you specify.
You'll also be able to stay in touch with the proofreader to get clarification. All of the changes are tracked so that you'll know exactly what the editor did. The editors are all native English speakers and have a doctorate or master's degree.
Editing for academic papers, research papers, and personal documents
One of the most affordable options, especially for professional editing from people with degrees.
Services provided by people with doctorates or masters
Choose between turnaround time between 9 hours and 14 days for the best result
Choose between American, Australian, and British Canadian English
Professional editor can adhere to style formats including APA, AMA, Chicago, and more
PaperHelp is a great tool to help you in your writing process for a wide variety of different kinds of content. They can help you with everything from book reviews and creative writing to business plans, movie reviews, admission essays, research papers, or thesis papers.
They allow you to choose from high school to professional academic levels so that the tone is correct. You can also track your progress as the edits are done, which can be comforting when you are waiting on a writing service.
Delivery of your paper can be provided in as little as three hours. Not only does this company provide affordable prices, but it also offers free samples to help you with essay writing. PaperHelp has been in business for over a decade, and they tend to have good customer reviews, making them one of the more dependable options for online proofreading.
Very rapid delivery of quality editing in as little as three hours, making it one of the fastest services on the market
A loyalty program makes it a good option if you need lots of help with proofreading and editing
24/7 support to ensure customer satisfaction
Provide editing for an extensive range of content types and will match the editor to the content to ensure editing is done correctly
GradeMiners focuses more on writing services than they do on editing and proofreading, but they still offer great editing. They offer a plagiarism report so that you won't have to worry when you turn in your paper.
They also offer a money-back guarantee for academic writing as well as editing and proofreading services, which may be part of why they have such a great online reputation. GradeMiners can produce academic documents on over fifty subjects and provide writing, editing, and proofreading services for any assignment.
They can get it done quickly, too, completing essay writing services in as little as three to six hours and part of a dissertation in two to five days. Choose from paper and essay writing from native English speakers to get the best possible content or choose English as a second language speakers if you want it done well inexpensively.
Writing and essay editing services are provided for over fifty subjects and any assignment, so you can get help with whatever you need.
Excellent customer reviews, with nine out of ten people reporting better grades thanks to GradeMiners.
Plagiarism checking with plagiarism reports provided
Superb confidentiality for all writing, proofreading and editing
Error-free results are nearly guaranteed since essay editing is provided for every paper and a paid double-check option is also available.
Choose from native speakers for extremely high-quality writing services or second language speakers for affordable prices.
Money-back guarantee for all services
Studdit exists to help any college student or graduate student who needs writing, editing, and proofreading services. They want to provide a better experience for students by eliminating unnecessary all-nighters.
Studdit can deliver high quality proofreading services as well as writing. Choose from four options from high school content to the professional level. Studdit can provide editing services and writing in over 100 subjects, and their deadlines start at just three hours.
You'll get an email and/or text message alerts as the editing process goes on so that you'll know exactly where your project stands. A 24/7 customer support team and user-friendly website give you plenty of support to feel confident about your order. If you're not happy with the paper you've received, you can send it back for free revisions.
Choose from a variety of writing style options from high school to professional
Get help with over 100 subjects
Deadlines start at just three hours so you can get the professional editing you need when you need it
Free revisions included if you are at all unhappy with the finished product
With a 24/7 customer support team, you'll get the kind of support you want from a proofreading company
Finest Essay prides themselves on only having experts in the subject with degrees of MA or higher to work on your content. 100% confidentiality is guaranteed in writing, proofreading, and editing services, so you won't have to worry about using them for any project.
Finest Essay offers prices that fall in between affordability and quality. If you need an essay editing service frequently, you'll appreciate the discounts and deals they offer to regular customers.
If you use Finest Essay for writing academic papers, you'll appreciate that they use Copyleaks and Copyscape to check writing to be confident that it will pass Turnitin. They don't use Turnitin because it saves files.
Turn around for online proofreading, editing, and writing starting at only 1 hour
If you like a writer, you can keep using them for future work
Get a copy of the sources used to write your paper
Choose to have the same paper written by different writers if you'd like to choose the best one
Get a 15% discount on your first order
Get a free revision or a refund if you don't like the quality of the writing
Writers have over four years of academic writing experience
Identify the Top-Rated Experts in your area
Shortlist the best of the best in your area
Show you how to get in touch today
Avoid wasting time searching and scrolling
What to Look for When Choosing Editing Services
When you're looking for professional editing and proofreading help, you have a lot of decisions to make and likely not a lot of time in which to make them. After all, one of the primary reasons that people seek out high quality editing services is because they are pushed for time to get a project done fast and error-free.
On the other hand, you may be looking for help with your academic writing simply because you want to produce the best possible content that you can. Almost every proofreading company also provide writing services.
However, you can choose only to use proofreading and editing services rather than having content written for you. Whether you're looking for just proofreading and editing services or you also want help with writing, here are a few things to keep in mind:
Why are You Using an Editing Service?
Knowing why you're seeking out such a service is essential when choosing which editing service to use. Some companies are better for just proofreading and editing, while others are a better choice if you also want writing.
If you need essay editing services for highly complex dissertation editing for academic and research institutions, you'll likely pick a different proofreading and editing company than if you just need some help with college essay editing.
Here are some of the reasons that you may choose to use an editing service and what to keep in mind for each of them:
College essay editing. You may work hard to produce quality writing for college essays, but find that grammar errors are costing you good grades. Choosing a service to proofread academic papers is a great way to boost your grades and college performance.
Essay writing. Sometimes there just isn't enough time in the day to get everything done for your college coursework. After all, your professors aren't necessarily checking with each other to make sure that you don't have dozens of pages to do at the same time. Essay writing services can reduce your burden and your stress level.
Ensure that your content makes a good impression. You may be great at what you do, but writing skill isn't among your best qualities. Editing and proofreading service can make sure that a job application, competitive essay, or other content is as good as it can be. An editing service can ensure that your writing meets the needs of your target audience and makes a great impression.
Help with research papers. Elite editing for complex research papers can ensure that you adhere to the correct academic style, that citing sources is done correctly, and that substantive editing is provided to produce the best possible paper to propel you in your career.
Help for non-native speakers. If English isn't your first language, producing excellent writing may be a challenge for you. Even if your ideas are great and your research is thorough, you may struggle to compete with your peers if you're not a native speaker. An editing service can make you competitive.
What Will be the Cost to Have Your Essay Edited?
There is a lot of variety in the price for essay editing. Choosing the most expensive option won't necessarily guarantee you the best service. Instead, you should look for the features that each editing and proofreading service offers and choose the option that works best for your needs.
If you aren't sure which to go with and want the best possible editing for your academic writing, it may be a good idea to choose two or more services and have them edit the same content to compare and see which you're happier with. Price varies a lot depending on a couple of key factors:
Turnaround time. The more time you give the company to produce the content you need, the less they'll charge you.
Academic level. You'll pay less for editing at the high school level than you will at the college level. Expect to pay the highest rates for highly advanced dissertations and graduate writing.
Length. The more words you need edited, the more you'll pay for the job. If you need less than 1000 words edited, carefully compare prices for the various companies since some offer significantly lower rates for only a few hundred words than others.
Quality of editor. You'll pay less for an editor that doesn't have an advanced degree or that isn't a native speaker than you will for native speakers with master's or graduate degrees.
Extra requirements. Expect to pay more if you need help with formatting, significant citations, fact-checking, or other extra requirements on top of line editing.
That said, here is a price comparison for five of the best essay editing services on the market, based on comparative length and turnaround:
Price Comparison for College-Level Editing and Proofreading Services
Editorly
$23 per 1000 words with a week turnaround
PaperHelp
$52 per 1000 words with a week turnaround
GradeMiners
$37 per 1100 words with a week turnaround
Studdit
$56 per 1000 words with a week turnaround
Finest Essay
$26.11 per 1100 words
Do Editing and Proofreading Services Provide Customer Service?
Having a professional working on your content can be very personal. It's also extremely important that academic documents are produced by your deadline.
After all, the later you set the deadline, the more affordable the project will be, but if you set a deadline right before a project is due, and the company doesn't produce it, you'll be in a bad situation. You'll be glad to know that most professional proofreading and editing services provide good customer service and detailed comments on your paper.
You can be in contact with your editor throughout the process, and you'll get updates telling you how the project is progressing. If you aren't happy with the service that you get, most companies will reimburse you or do the project over again for free. Check the average client review score for the company you're considering to determine whether they have good enough customer service for your needs.
What's the Difference Between an Essay Writing Service and an Essay Editing Service?
Nearly all essay professional editing services also provide writing. When you're getting an estimate for your project from the company website, you can choose whether you need something written or edited.
All of the prices we list here are for editing and proofreading services. In general, when you have something written by one of these companies, proofreading is also provided. Some companies, like Grademiners, also provide a paid proofreading service for all written content in addition to their standard editing.
If you're trying to save time, you may find that it's better for your time frame and budget to have the writing done for you rather than paying for proofreading and editing for the paper that you do, as it often doesn't cost much more to have the entire thing written for you than it would just do proofread and edit it.
Is Editing Service Reliable?
When you seek out college essay editing, you need to know that the content provided for you will be high quality and delivered on time. All of the proofreading and editing services listed here have good customer reviews and are able to work in a variety of academic level options to produce quality content free of punctuation errors and spelling errors.
What do Proofreading and Editing Services Cover?
Sentence structure
Punctuation
Formatting services
Citations
Target audience
Capitalization
Clarity
Tone
Paragraph breaks
And much more
FAQ
What kind of turnaround time can you expect from proofreading and editing services?
Turnaround varies depending on how long a paper is, how much work needs to be done, and the company you choose. In general, turnaround time starts at an hour for the quickest turnaround up to months if you have time to plan ahead. As a rule, you'll pay more the faster the editors work. If you'd like to save some money for the highest quality editing, make your requests as early as possible.
How much do proofreading and editing services cost?
Cost varies dramatically depending on the service you choose and what you need to be done. A basic price comparison is listed above. In general, you will pay less for less academic professional editors. For instance, you can expect to pay less when editing is being performed at the high school level instead of undergraduate or graduate work.
The faster the turnaround you require, the more you'll pay for the same editing quality. Choosing the best editor who will leave lots of detailed comments describing why they made the edits and offering suggestions will cost more than straightforward line edits. In order to find out exactly how much your particular project will cost, it's a good idea to inquire directly with a couple of proofreading and editing companies.
Is it legal to use professional editors?
All of the companies listed here operate within the law. Most have been in business for some time, some for over a decade. Whether you want to have something edited or written, using their services is perfectly legal.
However, the rules at your academic institution may forbid the use of professional editors, and they may require that all essay editing and writing is entirely done by you.
However, there is a definite gray area when it comes to the difference between getting help to make sure you produce the best content you can and turning in something that you didn't do yourself. You can talk to academic advisors at your institution to determine what is and is not allowed.
Which is the fastest essay editing service so that I can urgently check my essay?
Finest Essay offers the fastest turnaround, starting at only an hour for essay editing. However, keep in mind that editing may take longer depending on how long your essay is and the degree of editing that needs to be performed. Contact Finest Essay to see how quickly they can get your essay editing done. Remember that the faster you need your essay edited, the more expensive it will be.
When will I need essay editing and proofreading services?
There are many times when you may decide that above-mentioned services will be beneficial for you. You may decide that you need these services to improve your academic performance.
They may also come in handy if you compete with other professionals for a job or academic opportunity. Sometimes, you may just want quality editing to ensure that a personal document is as good as it can be.
Just about anytime you are producing written content, you may decide that professional services would be beneficial for you.
Choose the Best Editing And Proofreading Services for Your Needs
Picking the right service isn't easy. There are a lot of options to choose from, each with their own advantages and disadvantages. The service that is right for you will depend on the level of academic writing you're performing at, how much editing you require , your deadline, and your budget.
It's a good idea to check the customer reviews for the companies you're considering. Keep in mind additional factors that may come in handy for you, such as whether the company offers free revisions and whether they provide extra perks for repeat customers. If choosing editing services is an important decision that will impact you for some time to come, it may not be a bad idea to try a couple of different services to find the one that works best for your needs.
It may also be a good idea to choose a company like Finest Essay that allows you to keep using the same writer or editor if you're happy with the work that they do. On the other hand, if you just need one quick project taken care of, choosing an affordable option like Editorly might be your best bet. Keep in mind that no one service will be the best option for everybody, so choose based on your specific needs.