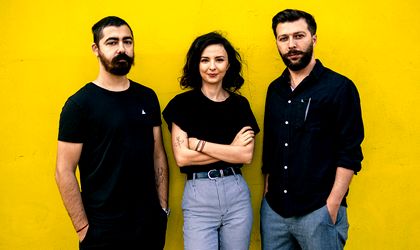 In July, the association Local Design Circle started the beginning for one of the most recent projects called RO42 — Forme locale (Local formes). With the occasion of this year's Romanian Design Week, the association proposed itself the creation of an exhibition through which to create a common ground for the designers' community in the country.
By Romanita Oprea
It was needed the creation of an index with the positioning on the map pf the designers and artists and verifying their availability to take part in the project. Where there wasn't possible the association of a county with a participant that was from that county, were contacted those who were born there, but left, the ones that moved later to the respective county or that have a connection with that county, such as their grandparents' house.
After the printing, the flags were exhibited during September 12 – 26 on the Romanian National Art Museum's fence, in Bucharest, on Calea Victoriei, where they were photographed and seen by a large number of passer-byes.
"During the first event Local Design Circle, in 2019, we took the pulse of the design community in Bucharest through a series of questions and we collected over 3000 answers. This year we wanted to create a common space for the community in the whole country," said Andrei Grosu, founding member Local Design Circle.
For the graphic representation of the counties, the participants had as a common theme the construction of the images from basic geometric forms: circle, triangle, square, but with the possibility of creating other forms through intersections, overlapping or resizing. They created works by reinterpreting the existing flags or by doing original works.
"I believe this is a project that deserves to be taken even further. In this search for the best designers from all over Romania, in this attempt of bringing them together, around an unique theme, a theme that has the gift of creating emotion, conversation, maybe even action," also said Andrei Bortun, the organizer of Romanian Design Week.
The participants were designers and artists with experience, as well as young students from art universities in the country.
The Local Design Circle team proposes itself to expose the works in as many spaces and contexts as possible, until then the works can be seen soon on the association's Facebook page and its website.
The project RO42 — Forme locale was realized with the support of Holde, during Romanian Design Week 2020, alongside Romanian National Art Musem and Trade Media.
The association's members are Andrei Grosu, Andrei Turenici and Artemisa Pascu. The team was completed by Andrei Sendrea, Dragos Botcau, Gabriel Barbu, Miloš Jovanović, Radu Manelici and Sebastian Anastasiei.