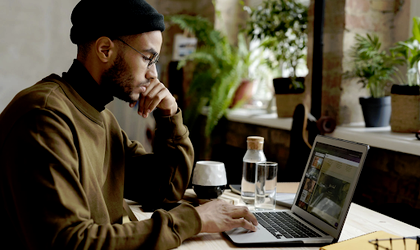 Logo design is influenced by changing trends and fashions, so the idea of a truly timeless logo is a bit misleading.
If you want to learn about what movements are shaping logo design right now, and how your company can take advantage of them, read on for a thorough rundown.
Using custom magnets on your cars
The value of real world brand building is often underplayed today, but there's a lot to be said for making a logo which stands out when it's plastered on the side of your fleet of vehicles.
That's where vinyl logo stickers come in handy, as they not only make an impact so long as the logo is designed for long distance legibility, but they also have the benefit of being affixed via magnets rather than adhesive. This makes them easy to remove when not needed, so a personal car can become a branded vehicle in an instant, and vice versa.
Leveraging typography
Lots of companies have logos that consist of nothing more than the brand name, with the typographic choice doing all of the heavy lifting.
This often means harnessing a unique, or heavily modified, typeface so that it doesn't look like some generic, off-the-shelf option. Doing so helps the logo match the brand's identity, and builds recognition with potential customers.
Choosing corporate colors
Bold colors make a logo pop, and the hues you choose need to be aligned with the palette that's used throughout your branding.
Thus the colors used in a logo not only need to work in this context, but also elsewhere, whether that's on product packaging, social media posts, the company website and so on.
Embracing simplicity
Some well-known logos may be complex and intricate, but the trend for simplification is far more prominent today, for the reason that straightforward logos are more memorable and instantly affecting.
Basic geometric shapes, if combined and colored in the right way, tick all the boxes in this regard. Just look at the biggest businesses around, from Microsoft and Google to Walmart and beyond, and you'll see how prevalent this is.
Branding Agencies
Top brand agencies in the world know that logos and colors no longer define brands. It's all about a holistic brand experience, where digital and physical touchpoints are intricately intertwined to create a future-forward brand.
Traditional design firms try to catch up to the new connected reality. While any forward-thinking marketing agency will always start with brand strategy, digital branding agencies understand that user experience is the crucial component of any brand these days.
Understanding what your business needs from a logo
There are a lot of things to weigh up when designing a logo for your business, such as:
Your brand personality & company ethos
If there's a disconnect between how your logo is designed and what your brand's identity is supposed to be, this will be immediately obvious to even the casual observer.
This should usually align with your industry, and with the way you present yourself in other contexts. You don't want a super-sleek and ultra-modern logo if you're selling retro-inspired furniture, for example.
Your target audience
In addition to factoring in your brand personality, you have to create a logo with your customers in mind. Researching what they expect from the brands that appeal to them most is handy, since it lets you get an idea of whether your own logo will meet or subvert their preconceived notions.
Your online presence
One thing that's true for all businesses today is that having an online presence is a must, which means making a logo that's social media-friendly has to be a priority.
This might be the most important consideration in modern logo design, so check up on the platforms you're using to connect with customers to see what will look best in the format required.
Final thoughts
Logo design isn't something to take lightly, so the more thought you put in, the longer a logo will serve your brand's aims successfully.